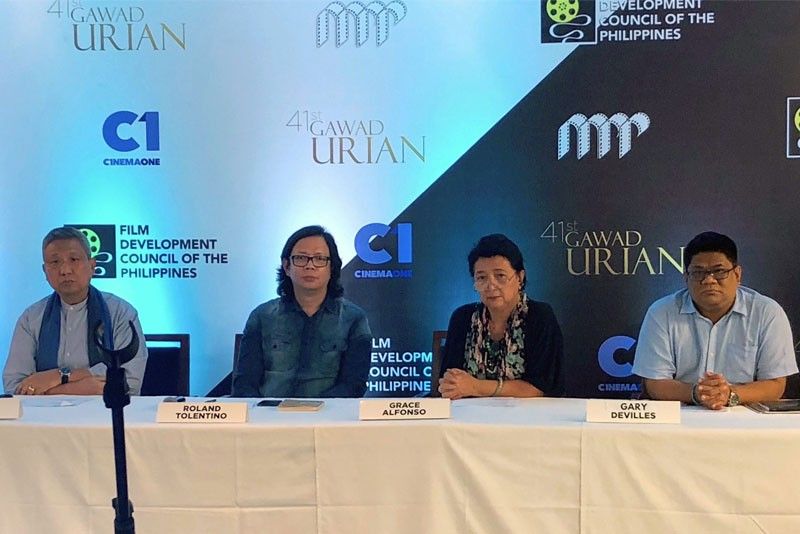 Some Manunuri members behind the annual Gawad Urian, from left: Nicanor Tiongson, Rolando Tolentino, Grace Javier Alfonso and Gary Devilles
Manunuri Butch: Schools should stop giving awards
FUNFARE
-
Ricky Lo
(The Philippine Star) - June 13, 2018 - 12:00am
Curtain-raisers:
• Heart Evangelista and husband Sen. Chiz Escudero are not the only ones grieving for the loss of their twins. Heart was three months pregnant when she suffered not just one but two miscarriages in a span of three weeks. Two months earlier, Jessa Zaragoza was also three months pregnant when she suffered a miscarriage of what could have been her and husband Dingdong Avanzado's second child (after Jayda who turned 15 last June 1).
• The seven rooms of Happy Ongpauco's Bed & Breakfast in Tagaytay City overlooking the Taal Lake are named I Love, I Escape, I Surrender, I Lust, I Dream, I Dare and I Desire. Guess in which room did a power couple spend overnight a few years back. Yes, in the I Lust room. They have since separated. It wasn't, to quote Jose Mari Chan's song, "a love to last a lifetime," but, ehem, a lust to last a weekend.
• The Anthonian Alumni will have a reunion on July 6 at the Gold Coast Hotel & Casino in Las Vegas. Every Anthonian is requested to get in touch with Dr. Pesumal Chandru, lawyer Resty Arevalo or Armando Quemuel at 818-7055378.
* * *
Funfare's recent item about "too many awards (which one is credible?)" drew a lot of reactions, two of them from visiting journalist Jennie Ilustre ("I agree…!") and "Mr. Edgar" who claimed that "the proliferation of awarding organizations has virtually made receiving an award with little meaning ­— with the exception of those that have been in existence for decades and are well-known for the credibility of their recognition (like the Peabody Awards). Many of the awarding organizations today are either copycats or were established to be self-serving."
Of course, the Gawad Urian (which is holding its awards night on Thursday, June 14) tops the list by far as far as credibility is concerned. "The Urian is the credible awards," said Tempo's Ronald Constantino, and I agree with him. But in fairness to the FAMAS, which gave out awards last Sunday (list of winners in tomorrow's issue), according to Ronald, "this year's winners are okay." Again, I agree.
Maybe some award-giving bodies don't have much (or enough) time to "dissect" the nominees.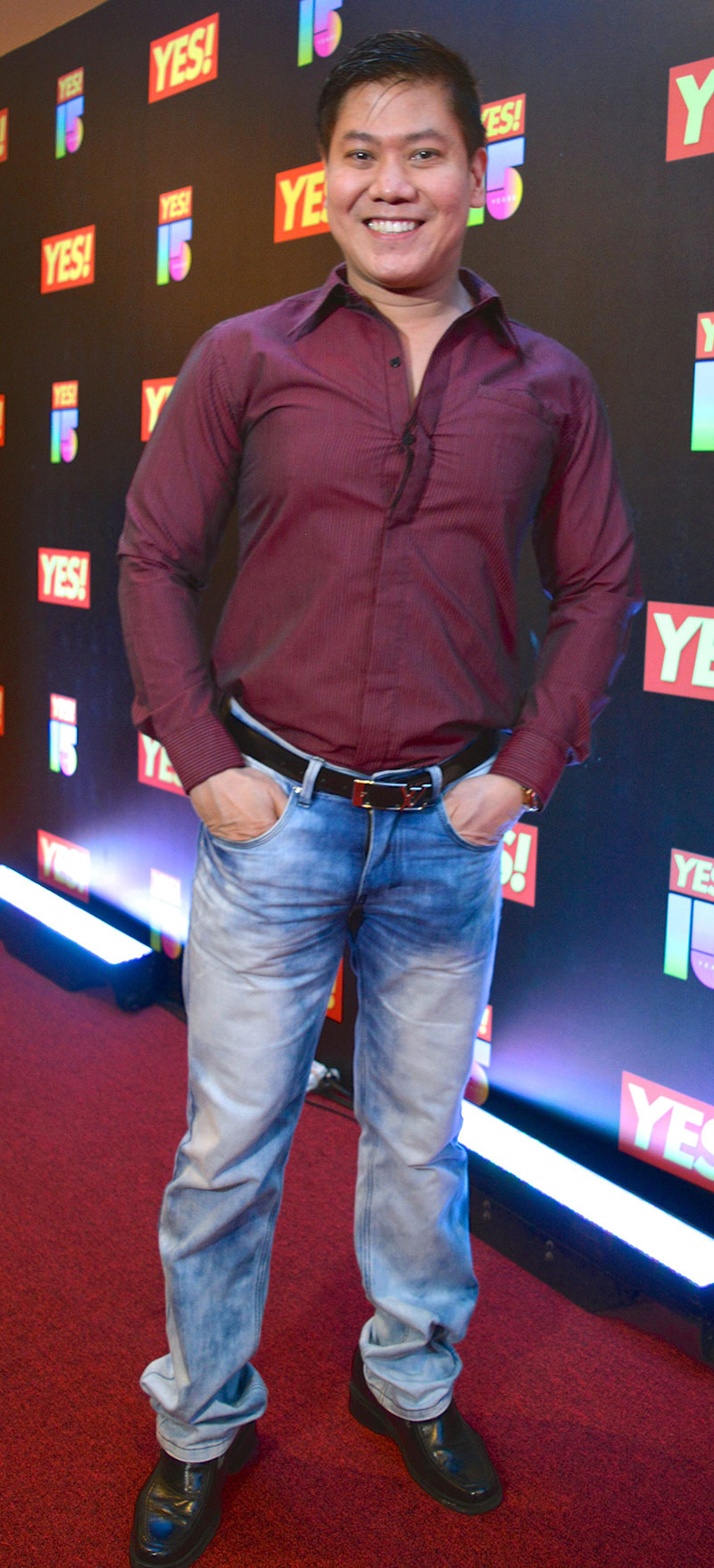 Butch Francisco — Photo by Ver Paulino
"The Manunuri (critics behind the Gawad Urian) choose the best and not the most popular," said Butch Francisco who is a long-time member of the Manunuri. "Social relevance counts for so much. Urian is the only one that honors regional films. We are the most thorough, I guess."
Do too many awards "diminish" their credibility?
"Yes, I do agree that there are too many awards," conceded Butch. "That explains why awards rites are not sellable anymore on TV. The credibility is not necessarily diminished for as long as the body is not rocked by corruption scandal."
Butch said that he has no problem with the other award-giving bodies that include almost every school.
"We may not agree with their choices but that is a matter of taste," adding, "schools should stop giving awards. How do students monitor daytime TV when they are supposed to be in school?" Again, I agree.
Newscasters or 'fashionistas'?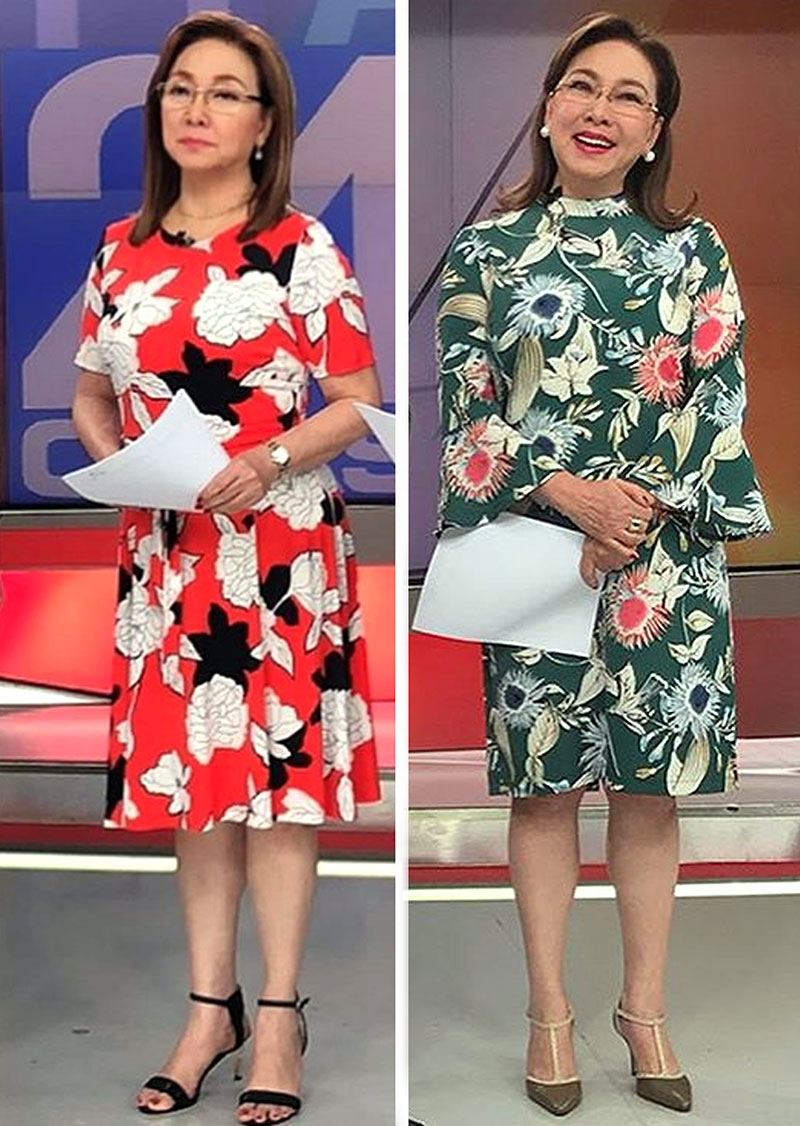 GMA's 24 Oras newscaster Mel Tiangco beats the rest as far as being a 'fashionista' is concerned — Photos from msmeltiangco's Instagram
Another reader, Manolo Echavez (no address given), is asking if local newscasters are honest-to-goodness "deliverer" of news or "trying-hard fashionistas?"
Manolo noted that most of our local newscasters appear on TV dressed (to the nines) as if set to rush to a dressy party as soon as they are done with the day's work.
"They wear flowery clothes and so many accessories that are totally distracting," stressed Manolo, "parang nagpa-fashion show araw-araw. Unwittingly, they call attention to what they are wearing and not to the stories that they are reporting, so unlike the newscasters of networks like CNN, BBC, etc. who are dressed appropriately."
I reminded Manolo that when I interviewed CNN ladies Christiane Amanpour and Veronica Pedrosa (who has since moved to another channel), they said that it's a big no-no for them to "over-dress" (my word). You don't see them flaunting their wardrobe and accessories on TV, do you?
Manolo has a suggestion. "Can't the networks remind their newscasters to sort of 'dress down' a bit? Okey lang sana if they are hosting a lifestyle show and not a newscast." Yeah, why not?
Asked who he believed is the "fashionista" newscaster of them all, Manolo said, "Mel Tiangco (of GMA's 24 Oras), hands down!"
No comment from this end.
(E-mail reactions at entphilstar@yahoo.com. For more updates, photos and videos, visit www.philstar.com/funfare or follow me on Instagram @therealrickylo.)