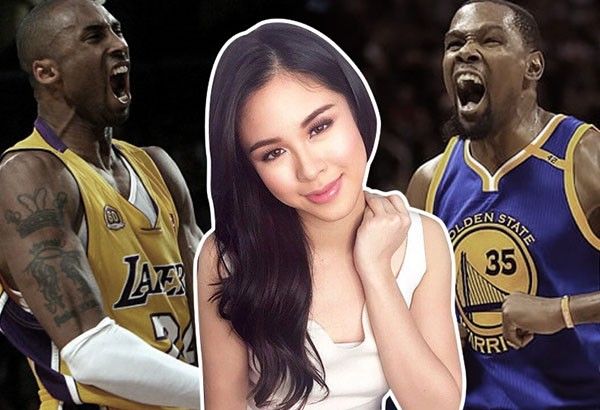 From left: Kobe Bryant, Kisses Delavin, and Kevin Durant
Screenshots from Facebook/Kobe Bryant, Kevin Durant, Kisses Delavin, composite by Philstar.com/Jonathan Asuncion
Kisses Delavin apologizes to Kobe Bryant, Kevin Durant
MANILA, Philippines — Kapamilya actress Kisses Delavin apologized to National Basketball Association (NBA) stars Kobe Bryant and Kevin Durant after she answered "Kobe Durant" to a question online.
In the "5-Seconds Challenge" posted by Regal Films on YouTube, Kisses and onscreen partner Donny Pangilinan were asked to give three answers in five seconds.
When it was Kisses' turn, the girl behind the camera asked to give her three of her favorite NBA players.
The young actress answered "Kobe Durant" that drew laughter from both Kisses and Donny.
In a press conference for their movie "Walwal," Kisses apologized to the superstar players.
"I'm not at my best that time. Sorry kay Kobe Bryant at Kevin Durant," Kisses said.
Besides Kisses and Donny, "Walwal" also stars Elmo Magalona, Kiko Estrada, Jerome Ponce, Devon Seron, Jane de Leon, and Sophia Senoron.
The film tackles the friendship of four best friends: Dondi (Elmo), Intoy (Jerome), Marco (Kiko) and Bobby (Donny).
Directed by Jose Javier Reyes, the film will be shown in theaters on June 27.
RELATED: Donny or Tony? Who will Kisses Delavin bring to Star Magic Ball 2018?