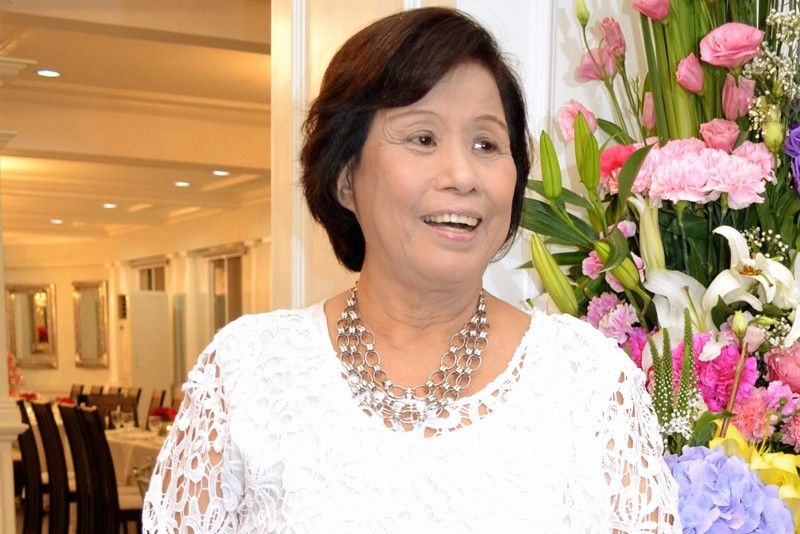 Regal Matriarch Lily Monteverde: A time to contemplate on what we are, not what we have, and how we must love the people around us —Photo by Ver Paulino
The case of the 'missing' 34 films
FUNFARE
-
Ricky Lo
(The Philippine Star) - March 29, 2018 - 12:00am
A Lenten message from Mother Lily
Unlike the heirs (Lilibeth Nakpil, et al) of Sampaguita Pictures, Regal Matriarch Lily Monteverde and Da King Fernando Poe Jr. who have preserved their films (FPJ kept them in an aircon room at his Tagaytay home), Pascual siblings William and Baby (who died early this year) were not able to save any of the 34 movies produced by their family-owned companies Baby Pascual Films and Melrose Films, just like Premiere/Peoples Productions that turned most the master negatives into torotots used to make noise on New Year's Eve.
"We didn't foresee the advances of technology," William admitted during an intimate dinner with friends Mars Lu, Ed Instrella and your Funfarer hosted by businesswoman/part-time actress Rosalind Wee (and also one of this year's PeopleAsia magazine's People of the Year winners) at the spanking new Rizal Park Hotel Monday night. "Sayang na sayang. Had we known, we could have saved those films in DVDs…all 34 of them."
Yes, what a big waste! Like FPJ and Mother Lily, William and Baby could have earned millions by selling the rights to their films to a TV network (early on, ABS-CBN bought the rights to Regal movies and then FPJ movies from Da King's widow Susan Roces).
"Isn't there a way for us to gather copies of our films?" wondered William whose company built up the likes of Jaclyn Jose and Julio Diaz. "Many of our films starred the industry's big stars"…find out who's who as you read on… "and they are collectors' items. I hope and pray that your (STAR) readers are reading this and they can help us locate our 'missing' films."
Here's the complete list (and lead actors), some of them directed by William himself (as indicated):
1. Wanted: Alex San Diego, Rudy Fernandez;
2. Juramentado, Ramon Revilla Sr. and Rosemarie Sonora;
3. Magdalena (Buong Magdamag), Claudia Zobel and Karla Kahlua;
4. Di Maghilom ang Sugat, Anna Marie Gutierrez, Cristina Crisol and Gino Antonio (directed by William Pascual himself);
5. Brusko, Lito Lapid and Eddie Garcia;
6. Babae sa Ulog, Jean Saburit and Ricky Belmonte;
7. Chikas, Jaclyn Jose, Lovely Rivero, Rachel Ann Wolfe and Tanya Gomez (by William Pascual);
8. Hulihin si Boy Sputnik, Jess Lapid Jr., Liz Alindogan and Roderick Paulate;
9. Beach House, Al Tantay, Bembol Roco and Cherie Gil;
10. Sex Object, Charito Solis, Stella Suarez Jr., Julio Diaz and Liza Lorena;
11. Asal Hayop, Bembol Roco, Michael de Mesa, Dante Varona, Deborah Sun, Pia Moran and Rosemarie Gil;
12. Commandos, Dante Varona and Jess Lapid Jr.;
13. Home Sweet Home, Janice de Belen, Sheryl Cruz, Ricky Belmonte and Charito Solis (by William Pascual);
14. Wild Lips, Cherie Gil and Al Tantay;
15. Taong Bundok, Dante Varona and Jean Saburit;
16. Bertong Barako, Dante Varona and Pia Moran;
17. Parang Kailan Lang, Maricel Soriano, Chanda Romero and Charito Solis;
18. Totoy Saudi, Ricky Belmonte and Jean Saburit (by William Pascual);
19. Naked Paradise, Richard Gomez, Stella Suarez Jr., Charito Solis, Jestoni Alarcon and Divina Valencia;
20. Promo Girl, Vilma Santos, Eddie Gutierrez and Bembol Roco;
21. Mahilig, Charito Solis, Eddie Garcia, Celia Rodriguez, Tanya Gomez, Stella Suarez Jr., Dennis Roldan and Gino Antonio;
22. Ninong, Rhene Imperial, George Estregan and Carmi Martin;
23. Tatak Munti, Rudy Fernandez, Eddie Garcia, George Estregan and Rhene Imperial;
24. Showgirl, Rio Locsin and Phillip Salvador;
25. Takaw-Tukso, Jaclyn Jose, Anna Marie Gutierrez and Gino Antonio (by William Pascual);
26. Puppy Love, Gabby Concepcion and Janice de Belen (by William Pascual);
27. Magkasangga, Lito Lapid, Herbert Bautista and Ramon Zamora;
28. Tessa, Tessa Tuazon, Tom Babauta, Edgar Mande and Rosemarie Sonora (by William Pascual);
29. Lab Kita, Bilib Ka Ba?, Robin Padilla and Ruffa Gutierrez;
30. Babae, Ngayon at Kailanman, Gloria Diaz, Vivian Velez, Chanda Romero, Charito Solis, Dindo Fernando, Ronaldo Valdez and Tommy Abuel;
31. Pikit Mata, Kagat Labi, Amanda Amores, Greg Moreno and Anita Linda (by William Pascual);
32. Tapatan sa Tapang, Lito Lapid, Dante Varona, Jess Lapid Jr. and Ramon Zamora;
33. Sandakot na Kaligayahan, Charito Solis, Jaclyn Jose, Mina de Oro and Gino Antonio (by William Pascual); and
34. Showdown of Martial Arts, Rey Malonzo, Trovador Ramos and Marian de la Riva.
(William also directed two TV movies, Biyuda Alegre, starring Charito Solis and Herbert Bautista; and Inakay/Inakay, with Chanda Romero and Maureen Mauricio.)
(Note: Anybody who has any information that could lead to the recovery of those films may e-mail at: rickylophilstar@gmail.com)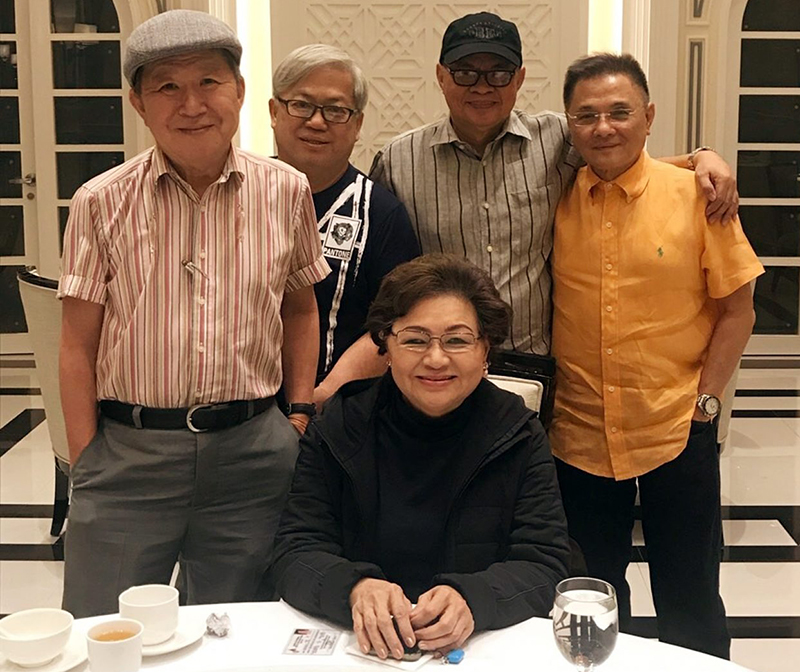 Director-producer William Pascual (standing, second from left) with friends Mars Lu (leftmost), Ed Instrella (second from right) and your Funfarer during a dinner at the spanking new Rizal Park Hotel Monday night, hosted by businesswoman/part-time-actress Rosalind Wee (seated, also one of PeopleAsia magazine's People of the Year 2018 winners)
* * *
Speaking of Regal Matriarch Lily Monterverde, did you know that unlike most showbiz denizens who are going out of the Metro, she's into a religious journey during the Lenten Season, starting last Saturday when she led a spiritual retreat at her own Valencia Events Place in Quezon City.
Mother Lily delivered a moving speech which she's sharing with Funfare readers:
Again it is that time of the year when we have to sit back and remain quiet. For most of the time we are swallowed by our work, our responsibilities, our obligations. We are too busy making a living to think about LIFE. Even more sad, we forget the reason why we have been given lives and what we do with these gifts.
But this is the season of contemplation. This is the season when we look back at ourselves. It is the time when we think of something much more than the work we do or the aspirations we want to fulfill. Instead, let us think about who we are, what we have become and what is the meaning of all this over and above our ambitions. For in the end, what matters is not what you have but how you gained what has been called yours.
In the end, we will be remembered not by how rich or famous or powerful we are. We will be remembered for what kind of lives we have led…and how we have become examples of goodness in the lives of others. For that is the very simple reason God placed us on this earth; that is why each and everyone of us was brought here. We all have specific missions but we all share a common goal. It has got nothing to do with fame, fortune or power — we are all here to be the best we can as loving, caring and forgiving human beings.
Christ had one very simple lesson He shared with everyone: Be good to one another. Simple as that sounded, it was the reason for His condemnation. It was not about being King of the Jews -— it was all about teaching by example. It was about being compassionate and listening to others. It is about putting the needs of others before one's personal desire. That lesson is so simple and shared by other religions as well.
But that seemingly simple and easy lesson of being good for others has become almost impossible in complex times such as the world we live in. In times like these where there is so much distrust and hatred, where truth has become so difficult to discover, we forget that mission we have in our lives to live for others as we live for ourselves. We forget that it was through the sacrifice of the Son of God that mankind found salvation.
With this retreat, let us let silence take over for a while.
Before we let the noise surround us again, let us choose to be quiet and look into ourselves to ask: What have I made of my life to make myself worthy in the eyes of God?
Only then can we hear that voice that has always been there but drowned out by all the noise and shouting. Only then can we find the Christ in us. Let us give ourselves the chance to find God in our lives.
What's up?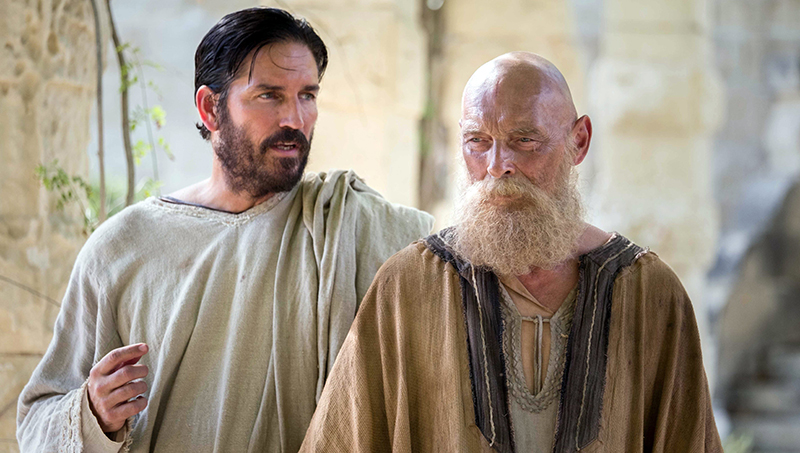 • Showing exclusively at SM Cinemas is Paul, Apostle of Christ, starring Jim Caviezel (above, left) as Luke, French actor Olivier Martinez as Mauritius Gallas and Game of Thrones alumnus James Faulkner (right). The film depicts Paul in the midst of a brutal Roman campaign against religion, persecuting all those who share the faith and preach the word of the Lord through the most gruesome methods ever devised. Watch it.
(E-mail reactions at rickylophilstar@gmail.com. For more updates, photos and videos, visit www.philstar.com/funfare or follow me on Instagram @therealrickylo.)