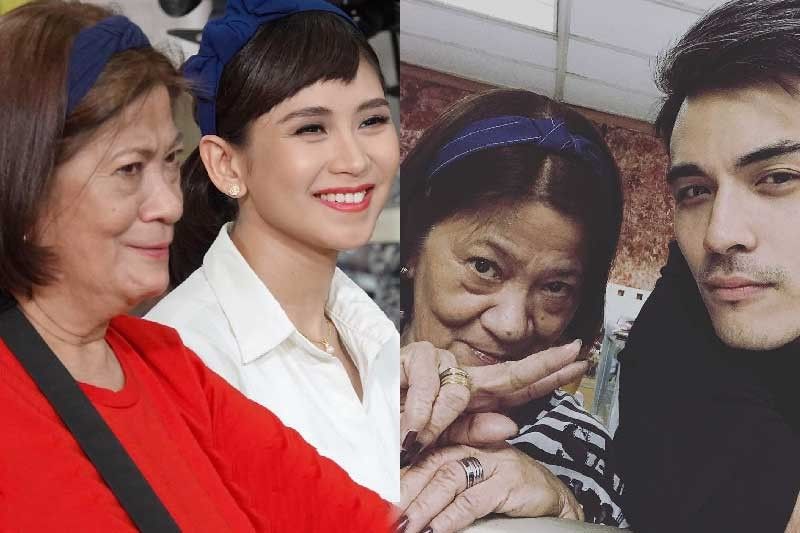 Celebrities Sarah Geronimo and Xian Lim with not-Aling Vicky
Composite photo from Instagram/Viva Artists Agency and Instagram/Xian Lim
Will the real 'Aling Vicky' please stand up?
MANILA, Philippines — After a clip of 2001 comedy film "Baliktaran: Si Ace at Si Daisy" resurfaced on social media and went viral this week, some celebrities started their quest to find "not-Aling Vicky." And they were successful.
In the viral scene posted by Facebook CinemaBravo last Sunday, a boy approached a group who were then playing mahjong and told "Aling Vicky" that her son fell in a sewer. Not-Aling Vicky left the group and joined the boy.
However, not-Aling Vicky came back saying she forgot something. Asked what she forgot, the character replied "Hindi nga pala ako si Aling Vicky."
The clip circulated online and was even shared by comedienne Pokwang.
Netizens poked fun in not-Aling Vicky's character and made memes and jokes about it.
Choose your imburnal warrior.
Calling Aling Vicky pic.twitter.com/jQaXq5Ysx9

— R (@only_R_egie) March 14, 2018
From a scale of 1 to Aling Vicky, gaano ka ka-assuming?

— Jian Genovana (@jiangenovana) March 13, 2018
Some celebrities joined the search for the viral sensation and was able to locate not-Aling Vicky.
Not-Aling Vicky is identified to be "Hermie Go" in real life. She is a line producer of Viva Films, who also happen to be the associate producer of "Baliktaran: Si Ace at Daisy."
Among the celebrities who found not-Aling Vicky are Xian Lim and Sarah Geronimo.
Xian meets Aling Vicky!
Ctto Xian's IGs pic.twitter.com/vEdozZQh6v

— UNITED KIMXIAN (@UnitedKimXian) March 14, 2018
Boy group Fbois of film "Fbois: Squadgoals" composed of Julian Trono, Vitto Marquez, Andrew Muhlach, Dan Huschka, Jack Reid also filmed how they found not-Aling Vicky. The film also had a cameo of Alessandra de Rossi.
Creative Manager and Marketing Manager at Viva Entertainment Inc.and Palanca winner Eric Cabahug also shared a photo of him and Go. Cabahug said not-Aling Vicky has been an institution in Viva.
Go previously starred in a video series "Payo ni Lola" for the film "Camp Sawi."