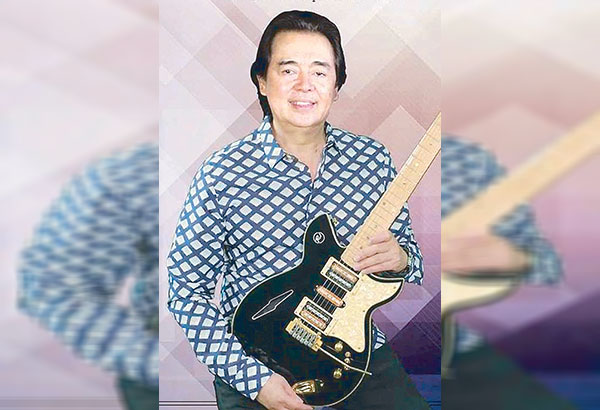 RJ Jacinto pays tribute to the songs he grew up with in the album.
RJ & the songs he grew up with
Music has become such a pervasive part of our lives that we now tend to measure time and describe what it is or what it was once through the popular music that became the soundtrack of the period.
What was the song playing when you had your first dance? Do you recall the music on the jukebox when your date stood you up? What about the hit song on the day your first child was born? Or the song played during a friend's funeral? That one made you think of what you want played on your own. On the other end, it also made you think of the first song you remember, plus all the others you grew up with.
The very first one I can remember was my mother singing Pretend by Nat King Cole. From then on, music became such an important part of my growing-up years that most of the old songs I hear are almost always connected with some part of my life. So pleasant. Some unpleasant. But because the music is there, the memories also stay.
Like all of us, Ramon Jacinto grew up with music. It became so important to him that he made it his other career. The other one, as most of you doubtless know, is that of businessman. From time to time, RJ, as he is known to everybody, would come up with albums featuring his version of assorted tunes. For this year, he came up with the album that got me thinking of the songs of my life. It is titled Philippine Rock n' Roll Icon RJ Pays Tribute To Songs He Grew Up With.
RJ is now a rocking 72. Therefore, the songs he grew up with are from the '50s and '60s eras. He recalls the time in his liner notes. "Before rock 'n' roll came to the Philippines, big band orchestras and cumbancheros (acoustic combos) were the dominant force in the Philippine music scene.
"As a young boy and growing into my teen years, I was exposed to Spanish acoustic trios or combos that played acoustic guitars and a stand-up bass. Big band music in the Philippines had the Tirso/Carding Cruz Orchestra playing great percussion and Latin music. Popular foreign Latin bands were Xavier Cugat and Perez Prado."
In memory of those cumbancheros and their Spanish repertoire, RJ has included Amor Amor Amor, El Reloj, Quizas Quizas Quizas, Besame Mucho and the cha-cha tune that Pinoys still dig the most, Rico Vacilon.
From there, RJ got into the beginning of rock 'n' roll. "As I was starting to play guitar in the mid- to late '50s, I sang Jimmie Rodgers folk/rock songs then transitioned to electric guitar music playing Johnny and the Hurricanes, Duane Eddy, Ventures and Shadows rock 'n' roll instrumentals during 1960 to 64. My first hit with my high school band was a rock 'n' roll instrumental which I composed in 1961 called Weightless when I was 16 years old."
For this, the growing-up RJ, who was then on the threshold of rock 'n' roll, has chosen the standard The Nearness Of You; Nat Cole's Walking My Baby Back Home from the '50s; one of the first tunes to ever morph into rock 'n' roll with no effort at all, Good Rockin' Tonight, Neil Sedaka's Run Samson Run, Goodnight My Love by The Fleetwoods, Save Your Heart For Me by Bryan Hyland and Under The Boardwalk by The Drifters from the early '60s. Take special note of the album's best cuts, where RJ's singing and playing is quite impressive, two tunes by folk rocker Jimmie Rodgers, Bimbombey and Woman From Liberia.
Then with his metamorphosis into a rocker completed, RJ's final cuts are his take on the big hit by the instrumental band The Shadows, Tales Of A Raggy Tramline and his own compositions, Weightless and Blue When You're Gone.
It has been quite a musical ride and I am glad that RJ shows no sign of wanting to get off. He just keeps on rocking and we listen and we dance and best of all, we remember.
For live versions of the hits contained in RJ's new album, check him out at Bistro RJ on Friday evenings at the Dusit Thani HoteI in Makati.