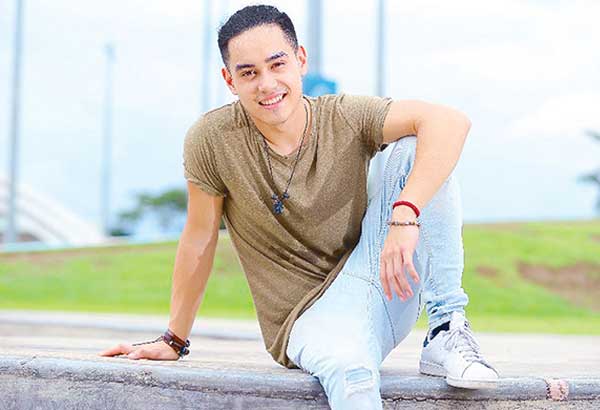 'There's always room to learn. On my dying day, I want to have learned all that I can.'
Last but definitely not the least
FUNFARE
-
Ricky Lo
(The Philippine Star) - September 14, 2017 - 4:00pm
Body Talk with Kim Last, the That's My Bae from UK
Until lately, Kim Michael Last wore his hair long ("My trademark," he told Funfare in an earlier interview). He looks better (and more manly) clean-cut, doesn't he?
Born to an English father and a Filipina mother in London on Jan. 20, 1997 (Aquarius), Kim studied Law/Government Politics/English at Chelsea Academy in London before he came to the Philippines for good three years ago to pursue a career in showbiz, starting as a model in mall shows.
"A dream come true" is how Kim described his discovery as one of the six That's My Bae cuties of Eat, Bulaga! "I have always dreamed of being in showbiz." He used to be a back-up dancer for Morissette Amon and KZ Tandingan, and was about to be a personal trainer in boxing when he joined the That's My Bae search. "Until then," said Kim (whose two siblings are married), "I was just going to the gym every day."
A dead ringer for Leandro Muñoz (now based in the US with his wife and his daughter from a previous relationship), Kim has learned to speak good Tagalog (without his British tongue getting entangled with such malalim na mga salita like "kung tutuusin" and "nakapangingilabot"), conditioned as he has been in his regular stint on Sunday PinaSaya and, with his fellow Baes (Kenneth Medrano, Tommy Peñaflor, Jon Timmons, Joel Palencia and Miggy Tolentino), on Bulaga and Trops.
He admitted to having a "fling" with a girl he didn't name, saying that, after all he came to pursue a career and not to nurture a love life (he has more than enough time for that).
At 5'8", Kim weighs 132.27 lbs.; and wears S/M-size shirt and size-10 shoes.
What kind of workout do you do?
"Power lifting."
What part of your body needs improvement?
"My height or my chest."
Part of a girl's body that you notice first?
"Her eyes and lips." (His ideal girl is one with "big eyes, big lips, knows how to cook and how to look after herself, mabait and selfless.)
What about your diet?
"Seafood. Whatever I see I eat (no diet)."
What's for breakfast, lunch and dinner?
"For breakfast, rice and ulam with a lot of meat (giniling, tocino, etc.). For lunch, usually foreign food (pizza, burgers, hot wings). And for dinner, heavy meat, heavy rice and heavy carbs (adobo with a lot of rice and potatoes)."
Any snacks between meals?
"Chips, fries and sandwiches."
What kind of food do you avoid, and what kind do you always crave for?
"I avoid fish because I'm not too fond of fish. I always crave for chicken wings."
What vitamins are you taking?
"Multivitamin for men (Mega Man Plus) and vitamin B complex."
How much water do you take per day?
"At least one liter."
How many pillows do you sleep with?
"Six…The more the better."
Favorite sleepwear?
"Boxers or shorts. I can never sleep in jeans or socks."
Do you snore or sleepwalk?
"I do snore when I'm really tired. But when I'm not tired, no snoring."
Last thing you do before you go to sleep?
"Pray and say good night to my dog."
First thing you do as soon as you wake up?
"Go back to sleep. Set the alarm for five minutes."
How do you cope with stress? Do you meditate, listen to music (what kind?), watch movies (what kind; last movie that you saw)?
"Boxing when I'm stressed to channel my anger. Music, usually hardcore, raw rap (Kendrick Lamar). For movies, I like horror (Annabelle was the last movie I saw)."
How do you take care of your skin?
"Just get rid of make-up as soon as I'm done with work."
Favorite hideaway?
"My room…in the dark."
Your nightlife?
"Either at taping or resting in my room."
Your outlook in life.
"There is always room to learn. On my dying day, I want to have learned all that I can."
Three women that you think have nice bodies?
"Emilia Clarke, Margot Robbie and Scarlett Johansson."
Using only body language, how would you make a girl know that you admire her?
"Smile and stare at her lips a lot."
(E-mail reactions at entphilstar@yahoo.com. For more updates, photos and videos, visit www.philstar.com/funfare or follow me on Instagram @therealrickylo.)