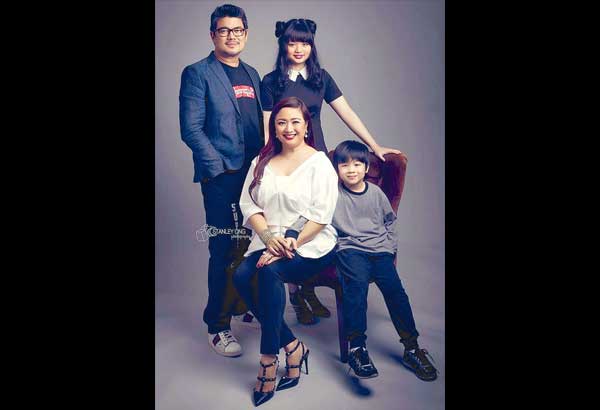 Birthday Boy Julius Babao with wife Tintin Bersola and their children Antonia (Anya) and Antonio (Nio)…— Photos by STAN ONG
For Julius Babao, happiness is turning 50
FUNFARE
-
Ricky Lo
(The Philippine Star) - July 28, 2017 - 4:00pm
Last July 15, Bandila news anchor Julius Babao celebrated his 50th birthday at the Joy Nostalg Restaurant of the Oakwood Premiere Manila.
Unknown to many, Julius is known in the art community as one serious art collector. When he turned 40, Julius asked help from his friends in the art world by donating proceeds of their artwork in an auction to raise funds for the building of 60 houses for poor families of Gawad Kalinga.
Now that he is 50, Julius plans to hold more fundraisers for his many advocacies. "I'm happiest when I'm with my art friends," said Julius who was recently named one of the "The 10 Men Who Matter (2017)" by PeopleAsia magazine. "I can always count on them when the need arises."
As a nod to his turning Golden Boy, Funfare asked Julius to name 50 of his favorite artists, places and events.
You are a known art collector, who are your favorite artists?
"I have many favorites. But the first artists that come to my mind are artists I am friends with."
1. Elmer Borlongan. I have been a collector of Emong's work since the '90s. Emong's style is uniquely Filipino. His subjects are often about ordinary street folks. Despite his often sad themes, he manages to inject humor in most of his compositions. That is why every artwork of his is interesting and worth collecting.
2. Mark Justiniani. I've known Mark since the '90s. My very first painting of his is from a book that he co-wrote and co-painted with Karen Flores, The Chair King. Years later, I commissioned Mark to paint the cover of our wedding invitation in 2003.
3. Ronald Ventura. He is undoubtedly one of the country's most famous artists locally and internationally. He still holds the record for the highest selling painting in a Sotheby's auction. I own a couple of his paintings.
4. Geraldine Javier. Every artwork of hers is unique. She always reinvents her artwork that is why there is always something new to look forward to in all her exhibits.
5. Nona Garcia. Known for being versatile, Nona can paint anything. Murals, miniature artworks, create lightboxes made of x-ray, paper cutouts and more. Yet despite her enormous talent, she hardly exhibits. That's why collectors are left longing to see more of her artworks.
6. Jose Santos III. One of the country's most sought-after artists. Only a few lucky individuals own his paintings because he rarely exhibits. You can see his masterpiece at the lobby of St. Luke's Global.
7. Bencab. Not just a National Artist but a great artist.
8. Ang Kiukok. Another great artist. I miss Mr. Kiukok. He was a good friend.
9. Malang. Filipinos should be proud of Mr. Malang. He is known for using colors in his paintings that are familiar to Filipinos. Even his subjects depict familiar and nostalgic Filipino scenes. A true national artist.
10. Jigger Cruz. I've known him since he was just starting out in the industry. I'm happy to have seen him grow and develop into a fine artist. Louis Vuitton recently commissioned Jigger to make a painting for them. How cool is that?
11. Bernardo Pacquing. I don't know if his paintings contain dopamine but I always end up happy and smiling after looking at his paintings. He is one of the best abstract artists in the country.
12. Andres Barrioquinto. He used to be known as the "Dark Man of the arts." His artworks are more colorful and happier now. But whether dark or colorful, they are always beautiful and worth collecting.
13. Lynyrd Paras. He has always been consistent with his art. His figures are iconic and easily recognizable. His recent show at Pinto art museum is probably one of his bests.
14. Joven Mansit. I admire the intensive work behind every painting of his. His paintings are copies of old photographs which he juxtaposes with his own brand of art. The result is often mesmerizing.
15. I also collect sculptures by Daniel dela Cruz, Gabby Barredo, Riel Hilario, Salvador Alonday and Ramon Orlina.
Who are the people most important to you?
16. My wife Tintin is No.1, of course. She's my partner and my best friend. That's why we will never get tired of each other. We love going out on dates every week, we both love traveling, we enjoy each other's company, we love spending time with our kids. I love her for all eternity.
17. Antonia, our firstborn. She is growing up to be a fine lady. Like her parents, Antonia loves art and music. I won't be surprised if she becomes an art collector. She loves writing stories and poetry just like her mom. I don't know if she'll end up working in ABS-CBN, but who knows?
18. Antonio (Nio). There is never a dull moment with him. His sense of humor is epic. He is a very sweet boy who always tells us how much he loves us. He wants to be a famous YouTuber someday. We love our kids very much.
19. My dad Romeo. He left us years ago. I always think about him and wonder how life would be if he were still alive today. I know he is in Heaven now because he is a good person.
20. My mom Azucena. I admire how she was able to take care of us while dad was always at work. She is a loving mother who only thinks of what's best for her kids. She lives with us now and helps us take care of the kids. I love her dearly.
21. Dr. Joven Cuanang. He is like a second father to me. He is my ninong, my doctor and my art adviser.
22. Lori and Louie Ojeda. True friends through thick and thin.
23. Big Boy Cheng. My partner in crime. LOL. A really good friend.
You are well traveled. What are your favorite cities or countries?
24. My favorite city is Rome. That's where I learned to appreciate good coffee, pasta and pizza. I just love everything about the city.
25. Tuscany. I truly believe that I was an Italian in my past life. Tuscany is so rich in art and culture. And, of course, the wine is fantastic. And I just love looking at the Tuscan landscape, specially the rows of cypress trees.
26. The Holy Land. I was fortunate to have visited the Holy Land with Tintin in the years 1999, 2000 and 2001. That's a place where I literally felt closer to God.
27. Paris. Tintin and I have visited Paris a couple of times. Each visit is always a new experience. I love visiting museums and just chilling out on the streets.
28. New York. I love the New York vibe. It's so unpretentious. I always look forward to watching plays on Broadway.
29. Los Angeles. I used to dislike LA. I thought it was a boring place. I changed my mind last year after visiting the home of my design heroes, Charles and Ray Eames, and seeing the magnificent Walt Disney Concert Hall designed by Frank Gehry. LA is now one of my faves.
30. Tokyo. Shopping in Japan is heaven. The problem is I always end up maxing out my credit card.
31. Hong Kong. I love Hong Kong in the winter. It's been a tradition to bring the family to Hong Kong every Christmas season since Anya was born in 2005.
32. Sitio Remedios in Currimao, Ilocos Norte. Our home away from home.
33. Dagupan City, Pangasinan. The city where I was born and where I grew up.
What are your unforgettable experiences?
34. Our wedding in 2003.
35. The birth of Antonia and Nio.
36. Being able to anchor Alas Singko Y Medya.
37. Being able to anchor TV Patrol and Bandila.
38. Surviving the Pinatubo coverage in 2001 when I almost died.
39. Celebrating my 40th birthday with Gawad Kalinga.
40. Building my first house.
41. Winning various awards from different award-giving bodies.
42. Meeting Sting (formerly of the Police).
43. Meeting Michael Jackson, my childhood hero.
45. Being able to help lots of people through my programs Mission Possible on ABS-CBN and Aksyon Ngayon and Lingkod Kapamilya on DZMM.
You are now being branded in social media as the Style Tito, Hype Tito or the Tito of Manila, what's your favorite style of clothing?
46. Anything Supreme. It's a famous brand of streetwear that I am comfortable wearing. That's also the reason why I gained a younger set of followers on social media.
47. I like wearing shoes by Skechers. I have a collection of Go Walks that are so comfy. I don't mind wearing yeezys once in a while though.
48. For Bandila, I have my suits tailored by Oscar Dangca. He is known on Instagram as Oscarbespoke.
49. I get my leather shoes from Base London.
50. For casual wear, I get them from No Fear and Popcorn General Store.
(E-mail reactions at entphilstar@yahoo.com. For more updates, photos and videos, visit www.philstar.com/funfare or follow me on Instagram @therealrickylo.)