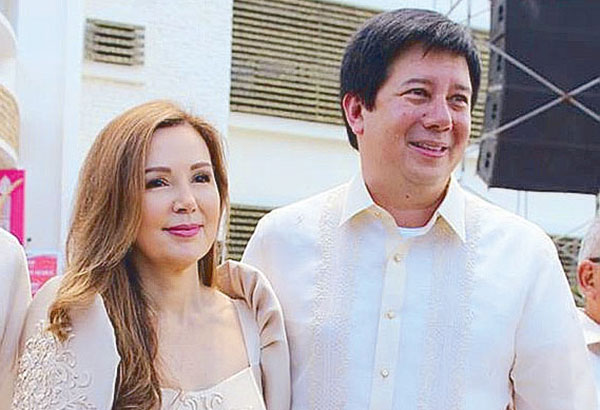 Tacloban unites for Sangyaw Fest
Tacloban City once again celebrates the Sangyaw Festival of Lights in honor of Señor Sto. Niño, kicking off with a motorcade through the city's main streets last June 9 to signal the opening of the month-long festivities.
Tacloban Mayor Cristina Gonzales-Romualdez (photo, with husband former Tacloban Mayor Alfred Romualdez) led the motorcade which was participated in by the festival sponsors, city government employees and the 2017 Miss Tacloban candidates. The Sangyawan Park at the Balyuan Grounds was also inaugurated and opened to the public after the motorcade.
The 2017 Sangyaw Festival also held a job and business fair on June 12 at the Astrodome, coinciding with the City Charter Day Anniversary.
More events: Mr. Sangyaw Tacloban on June 28 at the Robinsons Activity Area and Sangyaw Foundation Ball; Waray Talents Concert at the Tacloban City Convention Center on June 27 and 28; Fiesta Trade Fair at Plaza Rizal on June 28; and the traditional fluvial and land processions, and pontifical Mass on Fiesta Day, June 30.
The highlight of the 128th Tacloban Fiesta is the Sangyaw Parade of Lights on June 29, which features decorated floats with LED lights and street dancers partying to the tune of Sangyaw Theme.
Former First Lady Imelda Romualdez-Marcos started the Sangyaw Festival in the '70s every June 29. Imelda's nephew Alfred revived the festival in 2008 when Tacloban was converted into a highly-urbanized city.