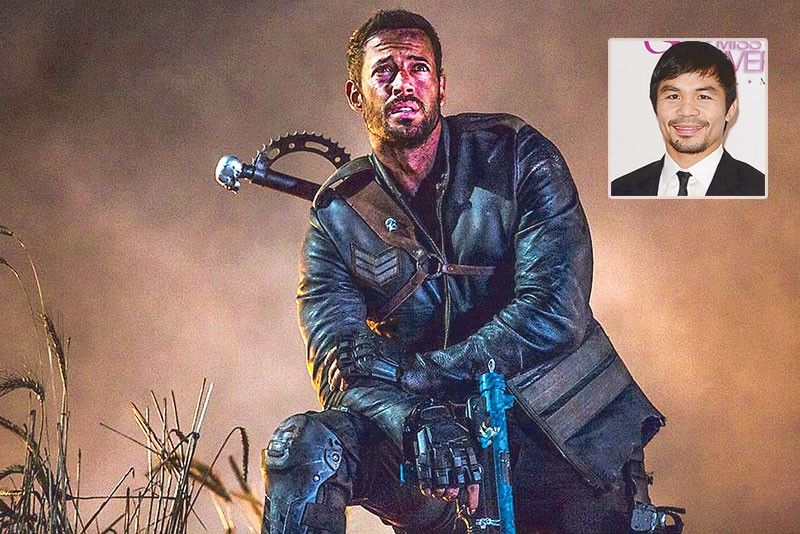 William Levy on Pacquiao (inset): He's a great guy. I met him in person. He's a very humble person.
How Levy got cast in Resident Evil
Raymond Lo
(The Philippine Star) - February 1, 2017 - 12:00am
MANILA, Philippines – It's rare to have a candid conversation with an actor during a roundtable interview because you have five or six other journalists with multiple questions of their own competing with you to get the star's attention. Such was not the case with Cuban-American actor William Levy, whose extraordinary good looks had some of the women journalists in my table quietly exclaiming their attraction to the guy after our roughly 25 minutes conversation with him was over. They were attracted to him not because he was extremely handsome but because he can be funny when he wants to and he can be serious when he had to. But I digress.
So, what was our topic? Our beloved senator and sports hero Manny Pacquiao, of course!
He asked me where I am from. I told him I was originally from the Philippines. "Oh, the Philippines, too?" He mentioned that he was just done interviewing with my friend Yong Chavez of ABS-CBN and he informed me that there was another Filipino he knew.
"He's a great guy," William said referring to the senator. "I met him in person. That guy is a very humble person."
We spent about a couple of minutes talking about Manny. I updated him of Manny's political career and he was excited to learn all about it. Until another journalist reminded us that we were there to talk about William's latest film, Resident Evil: The Final Chapter, the sixth and final film in the billion-dollar franchise created by filmmaker Paul W.S. Anderson. The Resident Evil series has been scaring and entertaining a loyal set of fans for 15 years and this final film promises to be the biggest and most action-packed in the series.
William joins the cast as Christian, one of the few remaining survivors working with a militant group holed up in an abandoned building biding their time before making their final attack against the evil Umbrella Corporation and the mutant creatures it created.
"The story is always going to reach different audiences, and I didn't have to think twice about being part of something as amazing as Resident Evil," he said. "It was fun. I was a fan of the franchise!" He describes his character as having a "strong personality, he doesn't trust anybody. He shoots first and asks questions later."
How he got cast is something that he was so excited to share with us. He revealed that he got the part from a suggestion by a couple of the workers cleaning the floors at Screen Gems. "I met Clint (Culpepper) two years before and he asked a couple of people there, the workers cleaning the floor, about me. And they all say, 'Yeah, he should be in the movie!' And that's how I got the part."
We all laughed incredulously. We teased him if he was making it up. "I am not making it up. It's true! They told me the story. His manager and agent called him about getting the part but not how he got it until later. "I didn't know it at the time. They told me about it when I was on the set and they told me 'whenever you see Clint, say thank you!' It's amazing. It's true!"
But it's not always that easy for William. The 6' tall actor and former model had a successful career starring in telenovelas before crossing over to Hollywood in 2012 via the hit reality show Dancing with the Stars. It's been a slow rise for the actor thus far.
"It is hard, of course, but I think it's just a part of understanding. I think this country gives a lot of opportunities, it offers many opportunities to people from around the world. I am one of them. I was offered the chance to do whatever I like to do in life so I appreciate it so much about this country."
The foremost issue that hangs over Hollywood the past many months has been the perceived lack of diversity in the movies that are being produced and William is very much aware of it.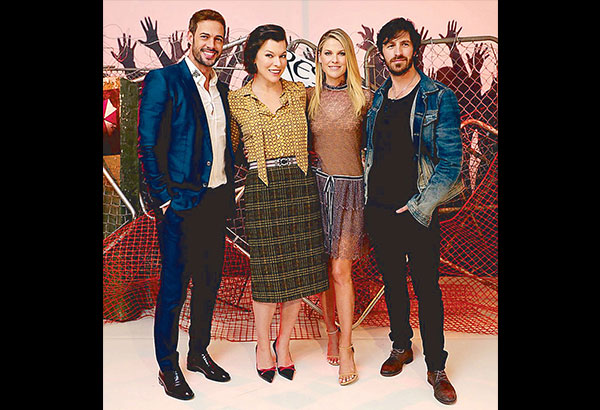 Levy with (from left) Mila Jovovich, Ali Larter and Eoin Macken
"I hope it doesn't work only for me but it works for everyone around the world because this movie offers that. This movie has a very international cast! We've got someone from Korea, we got someone from Japan, someone from England, from Cuba, Latino, someone from Australia — we are from everywhere in this movie. I think every movie should be like that."
Indeed! Resident Evil: The Final Chapter boasts of an international cast of talented actors and actresses including its superstar lead Mila Jovovich, who was born in Russia to a Serbian pediatrician father and a renowned Russian actress mother. Others in the cast include Scottish actor Iain Glen, American actress Ali Larter, who reprises her role as Claire, South Korean actor/singer/model Lee Joon-Gi and Japanese model Rola.
William himself is of multi-ethnic origin. "My grandfather went to Cuba when he was a little boy. He was Jewish. My grandmother was from Spain. They met. My grandfather didn't care if he was Jewish. He fell in love with her and he married her." There's a certain way the actor relates his personal stories. He mixes personal comments that are funny and self-deprecating and we spent most of the time laughing at his stories during the roundtable.
"My grandfather is a very great man. He was the one who did everything for me because I didn't have my dad next to me. I grew up with my mom, with my grandmother and him."
William has a tattoo on his arm written in Hebrew in honor of his grandfather. He decided to have it after a rough and emotional period in his life a couple of years ago. He related to us how a good friend called him one day and recited a scripture to him that lifted his spirit and finally released him from his anxiety. The quote is from Isaiah 41:10. And it reads, "So do not fear, for I am with you; do not be dismayed, for I am your God. I will strengthen you and help you; I will uphold you with my righteous right hand."
He has memorized the quote and he said it has been guiding him ever since. William has two kids and he is currently working on a secret project. He doesn't want to reveal what it is yet.
Resident Evil: The Final Chapter opens nationwide today.