From split-screen to big screen: 'AlDub is destiny'
MANILA, Philippines - Exactly a year ago today, AlDub was born.
For APT Entertainment's Mike Tuviera who megged Imagine You & Me, the first solo starrer of the love team of Alden Richards and Maine Mendoza, there's no better word to describe their "phenomenal" showbiz journey than "destiny."
"I don't want to sound corny but (Alden and Maine) are the embodiment of the word 'destiny.' If something's fated, it really happens. Things just happen to the two of them that they end up going towards each other. Like when they have challenges and problems, they end up really just leaning on each other," direk Mike told The STAR.
"I always tell them, 'You know, with everything that is happening, with the whole AlDub phenomenon, with all your fans… the only people who will understand (this) are you two.' Kahit kaming mga katrabaho n'yo or the people who are with you every day — all of us are still on the outside. We cannot even imagine what you are going through. Kayo lang dalawa.' So that makes them even closer."
Shot in Italy, Imagine You & Me serves as the "first anniversary gift" to fans from AlDub, an accidental pairing that started in a split-screen segment of the country's longest-running noontime show, Eat, Bulaga. As of Thursday night, the film has already raked in P21M in the box-office, according to a GMA News report.
Early reviews have been very positive with social media — the love team's strongest source of support — praising the producers' decision to do away with the mainstream film practice of overt product placements.
APT Entertainment along with GMA Films and M-Zet Productions are the producers of the film.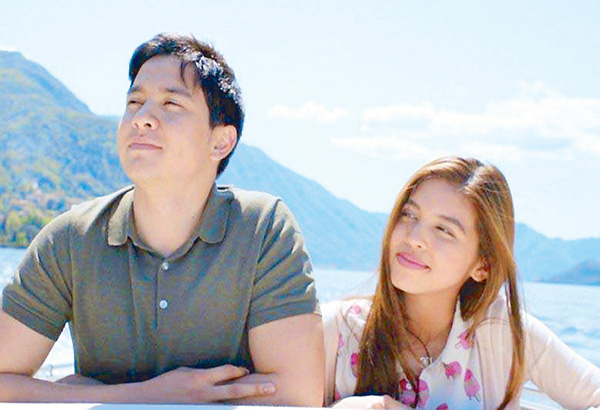 Alden and Maine in a scene from their first solo starrer that was shot in Italy
"(Making the film) was a dream come true for me. It was a fulfillment of a very long dream that I share with my father," said direk Mike, referring to his father, APT big boss Tony Tuviera.
"He always wanted to do a film set in that specific place in Italy. That was five years ago. Then when AlDub exploded, he tasked me to look for the proper story… for the first movie wherein AlDub would be the star."
Different story ideas were solicited. The first seven concepts were rejected before everything fell into place with the eighth.
"Obviously, he's (Tony Tuviera) so proud and he really sees them more like his kids than talents. That's why he's very protective of them. He was not going to greenlight any concept that's not perfect.
"He read all the concepts (submitted). They (producers) were very hands-on. This is not just a regular film. We have to pay homage to the fanbase because they have contributed so much to the (success) of AlDub. And in this one, if I can put a label to the movie, it's a passion project. We put a lot of love and passion into it because this is what AlDub deserves."
The producers pulled all the stops for Imagine You & Me. For one, they employed drones for the sweeping shots, particularly of Lake Como.
Imagine You & Me became the only second film ever allowed to shoot in Verona. (The first was the Hollywood adaptation of Dan Brown's Angels & Demons.) "Even our Italian counterparts initially said, 'You can't shoot there because hundreds of people go there every hour, long lines and everything.' It took us about two months to organize it. Nagawan naman ng paraan."
Asked about the movie's working budget, direk Mike said with a laugh, "I don't know. I don't want to know."
Still, what made the filming easier is the on- and off-screen chemistry of Alden and Maine, made stronger with over a year of togetherness.
"It's one thing really that you can't train. I told them that what will show (in the film) is the truth. Your closeness and your chemistry cannot be manufactured so in that regard, dumali yung trabaho ko, sobrang natural nilang dalawa. They really are super, super close. So it's like, what you see on camera is what you get," he said.
Interestingly, direk Mike (whose last film was the award-winning Cinemalaya crime-thriller The Janitor in 2014) wanted at first, a differently-themed solo starrer for AlDub. "My favorite genres are really either action or horror. One of the first things I did actually was to convince the bosses and the production company to let me try do an action and horror with them. Then they said that we had to do a rom-com because people want to see a rom-com first and that they expect that."
Nevertheless, he has every plan of doing it with the two stars in the future, especially that Alden, whom he first noticed in the horror film The Road, is also into thrillers.
Meanwhile, there's no telling yet what's in store for AlDub after this film and outside Eat, Bulaga's Kalyeserye segment. Asked if they could see themselves taking on TV or film projects without the other (like in a few of their many endorsement deals), Alden, who is rumored to star in a Kapuso teleserye with Jennylyn Mercado, was quick to tell The STAR in a separate interview: "Not anytime soon.
"We are more focused on this movie. We'll see what happens. We can't spill them yet," Alden added.
As for Maine, who is being managed by APT Entertainment's talent agency Triple A, direk Mike said, "I think one thing I can absolutely promise fans is that we're taking very, very good care of her. There are a lot of plans, even in the company. All the talents of Triple A, we treat them more as family. That's why my father has decided that its roster is small because he said, 'I'm not interested in talents, I'm interested in growing a family.' So with Maine, tutok na tutok kami on what she has done, what she's doing now and what she's about to do. For some of the fans (asking what are our plans for her), I know it's all out of love and concern for Maine, but rest assured we're doing everything for her."
In Imagine You & Me, Maine plays Gara, a hopeless-romantic OFW who crosses paths with Alden's heartbroken character Andrew, in Italy. The film is showing in over 200 cinemas nationwide. It will have international screenings in the US, Guam, Canada, Australia, Singapore, UAE and New Zealand. For a complete list of screenings, check out www.facebook.com/ImagineYouandMe2016.