FUNFARE
-
Ricky Lo
(The Philippine Star) - September 16, 2015 - 10:00am
Every singer you know has a "title" for himself/herself. Imelda Papin is the Sentimental Songstress, Jessa Zaragoza the Phenomenal Diva, Zsa Zsa Padilla the Divine Diva, Pilita Corrales Asia's Queen of Song, Regine Velasquez Asia's Songbird, Hajji Alejandro Kilabot ng Mga Kolehiyala (which he may now pass on to Michael Pangilinan), Sarah Geronimo is Popstar Princess, Jake Vargas the Prince of Mall Tour (according to his manager/mentor German "Kuya Germs" Moreno), Gary Valenciano Mr. Pure Energy, Martin Nievera the Concert King…and who else has a rightful claim to any title?
Yes, Dulce who is being billed as "Timeless Diva" in her concert on Friday (Sept. 18, with Regine Velasquez as special guest) and Saturday (Sept. 19, with Ayen Munji-Laurel) at the Music Museum. Unlike some of the other "title"-holders, Dulce doesn't take hers seriously...even if she should.
"Uy, hindi ako ang nagbigay sa sarili ko ng title na 'yan, ha," Dulce told Funfare, laughing, although she does deserve the title, she being, to borrow Batangas Gov. Vilma Santos' title, a singer for all seasons. "It was (musical director) Danny Tan and the producers of the concert who gave me the title. Maybe because marami na akong hinarap na bagay-bagay; hininog na ng panahon."
The concert will launch Dulce's son David Ezra, 27, who used to be a member of Filipino Tenors and Four Tenors.
"He's the true musician," said the proud mom. "He graduated from the UST Conservatory of Music. Ako, panay tsamba. But he was too shy to perform in a concert. He was a member of a band not as singer but as guitarist. Tinatakaw n'ya kami sa boses n'ya. But he is really talented, ha. I'm saying that not because I am his mother."
One of Dulce's five children (the first three by Dulce's ex-husband Danny Cruz and the last two by her current love), David is being groomed as the Filipino counterpart of Josh Groban. Like Groban, David is classically-trained but mixes the classical with pop which is the genre that he will perform at the concert, with Nessun Dorma and Broken Bow in his repertoire.
"Ako naman," said Dulce, "I will be doing diva songs such as those by Celine Dion, Whitney Houston, Jennifer Holiday and Barbra Streisand. Songs that I've never done before. May Miley Cyrus song pa nga, eh, although I won't be using a giant ball as prop, hehehehe!"
Together, mother and son will do duets.
"Surprise!" added Dulce.
The Timeless Diva is only Dulce's third major concert so far. She has been doing other shows both here and abroad. She has also proven herself in theater, with a Best Supporting Actress award for playing Olivia in the musical Katy. Other musicals to her credit: As Grizabella in Cats, Flower Drum Song and Les Miserables (as Fantine).
Back then when she was younger, Dulce so impressed organizers of the local auditions for Miss Saigon that they sent her to New York upon the invitation of megahit producer Cameron Mackintosh who wanted to hear her sing.
"They asked me to audition for Gigi the bar girl, but they told me na hindi bagay sa boses ko sa role."
Asked if she has any plan to audition for another musical (either on Broadway or on West End), Dulce begged off.
"I'm too old now for that."
Maybe she deserves to be described as "timeless" because, through the years, Dulce has beautifully preserved her voice which is so powerful that, when she's hitting high notes, you could feel the venue vibrate. One of these days, Dulce should try singing in front of a glass full of water and, like one legendary singer, shatter it into pieces.
How does she take her of her vocal cords?
"You know what is really bad for your vocal cords? Pollution. It's damaging to your throat. Smoking is also bad, irritating sa throat. I don't smoke but you can't avoid being with people who smoke. I avoid cold drinks; tap water is good enough for me. Before a show, I make sure that I get enough sleep, otherwise kung puyat ka uuga ang boses mo. If I have to eat, I do so several hours before the show. It's hard to sing with a full stomach."
And what kind of songs means so much to her, that touches her heart the most?
"I can relate to many songs. Every song should have a connection to you. You have to sing from your heart."
One song that expresses what Dulce has been through is My Way, especially the line that goes:…I've lived a life that's full/ I've traveled each and every highway/but more, much more than this I did it my way…"
(Tickets to Dulce's Timeless Diva concert at Music Museum on Sept. 18 and 19 are priced at P3,090; P2,575; P2,060; and P1,030. Call TicketWorld at 891-9999.)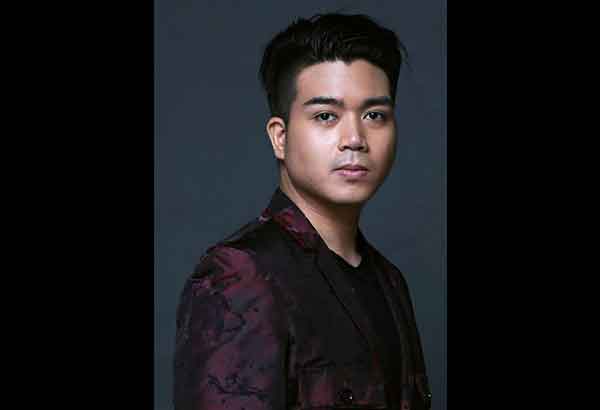 Dulce's son David Ezra will be launched during his mom's Timeless Diva concert at the Music Museum
(E-mail reactions at entphilstar@yahoo.com. You may also send your questions to askrickylo@gmail.com. For more updates, photos and videos visit www.philstar.com/funfare or follow me on www.twitter/therealrickylo.)