Turning full circle
August 28, 2015 | 10:00am
There are two things that TV5 chairman Manuel V. Pangilinan (MVP) and my father, lawyer Mafeo Vibal, have in common: Both are alumni of San Beda College and both have worked under the auspices of the late industrialist Ramon V. del Rosario (RVR) Sr. My father worked under LCC Corporation, the marketing firm of Bacnotan Cement Industries, Inc., at the same time that MVP was with Phinma. My father recalls that it was MVP who at one time was signing his salary checks. And MVP, in a recent conversation with him, said that he recalls my father's name among the people he worked with in Phinma.
So there it is, more than 40 years ago today that people like my father, who worked under RVR's tutelage, fondly recalling the sterling qualities and legendary leadership that has made the late Ramon V. del Rosario Sr. an icon of Philippine business. That this year's Ramon V. del Rosario Sr. awardee was handed to MVP is a testament that, indeed, RVR Sr. was able to instill the discipline and leadership qualities to his then young ward. MVP, in his acceptance speech during the awards night, mentioned those bygone days: "I joined Phinma in 1970. Phinma was already a leader in Philippine business then, and many young men and women were keen to work for Phinma, and RVR made sure Phinma procured the best young talents available — or as the Jesuits say, 'Quam plurimi et quam aptissimi" (as many as possible of the very best). After receiving the award, MVP said that it was like coming home because it was Del Rosario's Phinma which gave him the initial boost to what has been a phenomenal career.
So true to the saying that "What goes around, comes around," the seeds of excellence and integrity that RVR Sr. planted in the group of new recruits in Phinma more than 40 years ago have yielded excellent fruits. For six years, MVP was executive assistant to the president and took mentorship under Phinma founders Filemon Rodriguez and RVR Sr. "I'm usually not given to accepting tributes, but the RVR Sr. Award is exceptional and personally gratifying. Phinma gave me my first job — after Procter and Gamble turned down my application, despite being their scholar at Wharton," MVP disclosed, adding that all his efforts and achievements are his own way of contributing to nation-building.
"Nation-building must be considered with reference to the basic purpose of men and institutions — the growth of welfare. The test of their efficiency will ultimately rest on some standard by which each performs its respective tasks in improving the lives of our people. The RVR Award is not given solely for aesthetics or prestige — it comes with the admonition to continue the work of a man who lit the fire in so many of us to greatness," he said.
The Ramon V. Del Rosario Sr. Award For Nation Building is a project of the Junior Chamber International Manila (formerly, Manila Jaycees, Inc.), in cooperation with the Asian Institute of Management's Center for Corporate Social Responsibility. Its illustrious line of previous awardees included Jaime Zobel de Ayala (2014), Vicente Paterno (2013), Washington Sycip (2012), Oscar Lopez (2011) and Jesus Tambunting and Senen Bacani (2010). Aside from heading TV5, MVP also chairs some of the country's leading companies, such as PLDT, Metro Pacific, Philex Mining, Meralco, Maynilad and Manila North Tollways Corp., as well as media companies Smart Communications, Sun Cellular, Cignal TV and the Philippines' largest network of hospitals that include Makati Med, Asian Hospital, Cardinal Santos Hospital, among others.
In his speech, MVP shared three lifetime lessons that he had learned in the years that he had worked for Phinma: Keep It Simple, Keep it Real, Tell The Truth — lessons which had served him well. He related, "After Phinma, I took my own risk by emigrating to Hong Kong, taking inspiration from RVR's example. Nowadays, I always tell our students and young entrepreneurs to 'be bold because you're young enough to fail." MVP narrated that Carlos Palanca reportedly told RVR that he was a "fool" to leave Philamlife (the insurance giant) at the young age of 35 to establish a company of his own. RVR Sr.'s reply, as immortalized in the Phinma story, was simply to point to the well-spring of his daring: "I am young enough to make a mistake," he told Palanca. "If I wait any longer, I'd be too scared."
Thus, the challenge is for the nation to be bold and daring to address what for MVP is the central core of our problem: Poverty, which is a major roadblock to nation-building. For him, "poverty is the enemy — addressing it must be the business of business." The solution he posed is job creation, not just in numbers, but substantive jobs that will impact the poor.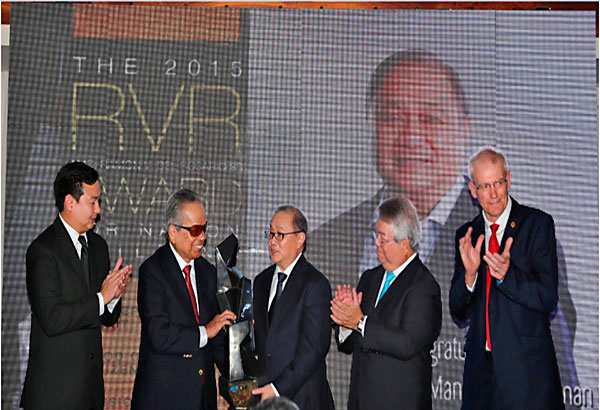 MVP receives the 2015 RVR Awards for Nation Building from this year's judges