The Erich Gonzales you did not know
MANILA, Philippines - She has graced magazine covers, been adjudged the 12th of the Philippines' 100 Sexiest Women in the World by FHM magazine, one of the 100 Most Beautiful Faces of the Year by Yes! magazine and Box-Office Queen for Digital Independent Film. She won the 2010 German Moreno Youth Achievement Award at the FAMAS Awards, was nominated for Best Actress in the recent 2014 Metro Manila Film Festival for her role in Shake, Rattle & Roll XV's Ahas episode and, together with screen partner Enchong Dee, won various Best and Most Popular Love Team awards. She has clinched quite a number of beauty and fashion endorsement deals. She is also known to be a fine actress who can "easily shed tears," as can be seen in her ongoing ABS-CBN teleserye Two Wives and has been dubbed Primetime Princess, Pinay Barbie and Television Sweetheart.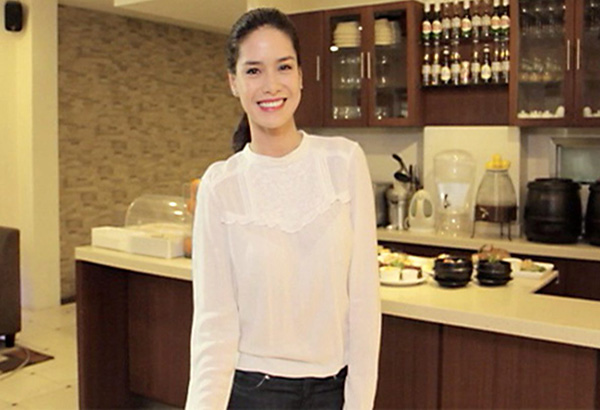 The actress inside her very own restaurant The Breakfast Club with two branches located at Sto. Domingo and Pioneer Center in Kapitolyo
It was in 2005 when my husband's niece, then 14-year-old Erika Chryselle Gonzales Gancayco, was named champion of the Star Circle Quest. Her win in the stiff countrywide competition was a turning point in her life. She dropped the Gancayco surname for the more appealing screen name Erich Gonzales and moved to Manila from Davao to try her luck in showbiz. Projects came pouring in until her portrayal as the lead of Katorse that instantly catapulted her to stardom. Tapings and shoots for top-rated teleseryes and movies did not deter her from going to college as she believed in the prime importance of education.
Although Erich (a favorite guest co-host of Kris Aquino in her TV show Kris TV) is always under the scrutiny of the public eye, there are many things about this 24-year-old that are known only to a handful of people. First and foremost, she does not have long or complicated rituals to keep herself always fresh-looking. Her beauty regimen is simple: Wash face thoroughly, put moisturizer, wear sun block when needed and drink lots of water. Second, she is an avid reader (she reads books voraciously, borrowing several books from this author and returning them just to borrow several more). Third, Erich, even with her thin frame and seemingly fragile body, is very athletic. She plays badminton like a pro (practicing the sport when her schedule permits) at the Celebrity Club — sans make-up and wearing loose shirt and shorts — and amazes her training coach, Kuya Charlie, with her powerful smashes. A knowledgeable volleyball player who is blessed with a good height and stamina, she has played volleyball in various sports events. She also enjoys running. If there are things that she really misses because of hectic commitments, her reading and sports top the list.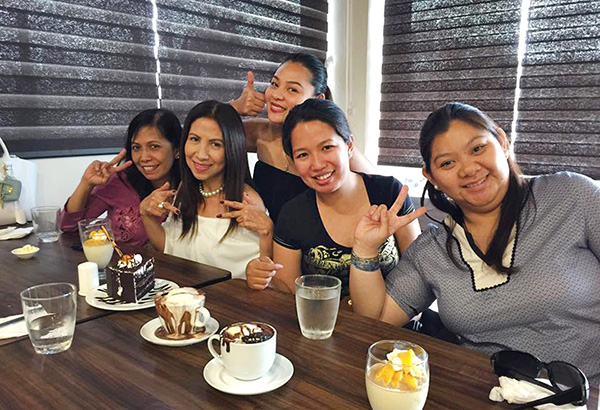 The author (seated second from left) with her Congress officemates sampling the different desserts offered by The Breakfast Club
One other thing that a lot of people have no inkling about is that Erich is wise with her money and a hardworking businesswoman. She realizes that even if she may be considered earning much from all her TV and movie deals and product endorsements, she knows that these will not last forever. Some friends who are in the build-and-sell business have encouraged her to invest in real estate. She joined them in some of their projects.
On Nov. 24, 2013, Erich partnered with her non-showbiz boyfriend to put up The Breakfast Club (TBC) Restaurant on 43 Tirad Pass St. cor. Sto. Domingo Ave. in Quezon City. The endeavor was such a success (with its buffet breakfast comprising of soup, beef tapa, corned beef, longganisa, garlic rice, bangus, scrambled eggs and all-you-can-drink coffee) that in seven months, she put up a second branch at the Pioneer Center in Kapitolyo, Pasig. She is a hands-on entrepreneur who does her best to market the restaurant while her "silent" but ever-supportive boyfriend meticulously takes care of the operations. (For details, call The Breakfast Club, Sto. Domingo branch at 711-2661 or The Breakfast Club in Kapitolyo at 0922-7873300).
Because she learned how to invest her money wisely, Erich need not worry about her future. Asked about her career plans, Erich says, "As long as they want me here, I am here to stay. There is no dream role for me. Kahit ano po, basta maganda ang story at yung character, I will do it." In consonance with her avowed quest to always learn more, Erich further declares, "I would also want to work with more veteran actors and actresses. I know I still have a lot of great things to discover from them."Another thing that she wants to do in life is travel more often. "Basta marami pa po akong gustong gawin," Erich enthuses.
Informed that a high school in Orion, Bataan, is now named after her grandfather, the late Supreme Court Justice Emilio Angeles Gancayco, Erich would like to send this message to its students and all the other young people in this country: Study hard and stay in school.