MiG Ayesa making waves in New Zealand's Annie
FUNFARE
-
Ricky Lo
(The Philippine Star) - June 25, 2014 - 12:00am
After a rockin' performance in Rock of Ages last year at the Carlos P. Romulo Theater at the RCBC in Makati City, MiG Ayesa went back to the States and promptly came back sans fanfare to go surfing with friends.
Asked Funfare's Big Apple correspondent Edmund Silvestre, "Wondering where our favorite international actor-singer is at the moment?"
Yes, the globetrotting Fil-Aussie rocker is somewhere Down Under — New Zealand to be exact — for a limited engagement of the British touring production of the famous musical Annie.
Annie, the heart-warming rags-to-riches tale of a plucky young girl's journey from the hard-knock New York orphanage to the opulent mansion of billionaire tycoon Oliver Warbucks, has been adapted numerous times on stage and film. The musical and its unforgettable song Tomorrow even made a little, talented girl named Lea Salonga (who played the title role in the Repertory staging) a household name in the Philippines.
In this New Zealand tour, MiG is playing Rooster Hannigan, the evil brother of the terrifying and scheming Miss Hannigan, that most hated orphanage principal who loves to torment the adorable Annie and the rest of the orphans.
Although Rooster is just a secondary antagonist to the Miss Hannigan character, MiG manages to shine (just like his Stacee Jaxx character in Rock of Ages) and is consistent in doing what he does best — stealing scenes, unintentionally, of course.
And he also gets a star billing in the poster and Playbill credits with the word "Featuring" above his name.
Among the many reviews that never fail to cite MiG's performance, Edmund quoted critic Katie Kenny of stuff.co.nz who wrote, "Rooster Hannigan is evil, but MiG Ayesa is wickedly irresistible as he steals across the stage."
More rave reviews gathered by Edmund:
Kim Choe of 3News calls MiG's Rooster "delightfully slimy and swindling."
The New Zealand Herald's Paul Simei-Barton writes: "Mig Ayesa's rendition of Easy Street captures the intense yearning of a small-time crook with his eye on the main chance."
Jess McAllen, also of stuff.co.nz, says MiG "is perfectly-cast, dominating the stage with his bad-boy presence."
Said Edmund, "Even Annie producer, James Cundall, couldn't hide his admiration for MiG's dazzling charm on stage. Cundall told the media, 'MiG Ayesa is pure superstar, one of the biggest talents in the show'."
MiG was last seen in New Zealand playing the lead role of Galileo in We Will Rock You in which he also starred in the UK.
"Up to now, not many people know that MiG was born in the Philippines and raised in Australia where he has a big fan base, MiG began his professional career on stage playing Ritchie Valens in the Australian tour of Buddy," added Edmund.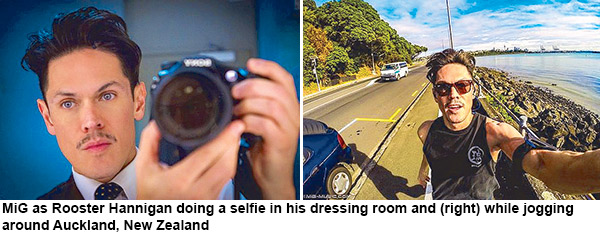 He was then chosen to join Buddy's London cast during which they appeared at the Royal Variety Performance for her Majesty Queen Elizabeth II. He went on to star in the West End productions of We Will Rock You, Rent and Michael Jackson's Thriller Live.
MiG later landed on Broadway when he joined as a vocalist in the electrifying dance spectacle Burn The Floor that was followed by his successful stint as Stacee Jaxx in Rock of Ages.
"It was the Ages role that cemented his stature as a Broadway artist," noted Edmund. "MiG would later star in the US tour and Manila production of Rock of Ages, with the show and his performance getting rave reviews. Just last year, he reprised the role of Galileo for the 10th anniversary world arena tour of We Will Rock You."
MiG is also a well-known face on Australian TV having starred as Joe King in the AFI award-winning series The Ferals and other high-profile shows.
Having finished a successful tour of Britain, Annie's 32-strong cast is currently wowing theater-goers (in limited engagement) in Auckland, New Zealand, from June 13 to July 6, following an equally successful staging in Wellington, NZ from May 23 to June 8.
Aside from MiG, other familiar faces from British TV and stage also star in the musical that include Su Pollard (Miss Hannigan), David McAlister (Oliver "Daddy" Warbucks) and Frazer Hines (Franklin D. Roosevelt).
The three young Kiwi girls who share the role of the red-headed orphan are Zoe Fifield, 13, Ilena Shadbolt, 12, and Amelia Walshe, 11 — all experienced stage performers alternating every night as Annie. They were cast from over 600 who auditioned from across New Zealand.
MiG's New York-based uncle and aunt (and avid supporters), Drs. Ramon and Ching Legarda said MiG never fails to surprise his family and friends when he would just pop up in a far away place starring in a show.
"Most of the time, we learn about his whereabouts just by reading the papers," said MiG's Tita Ching. "He's at the prime of his stage career and we know he's enjoying every minute of it."