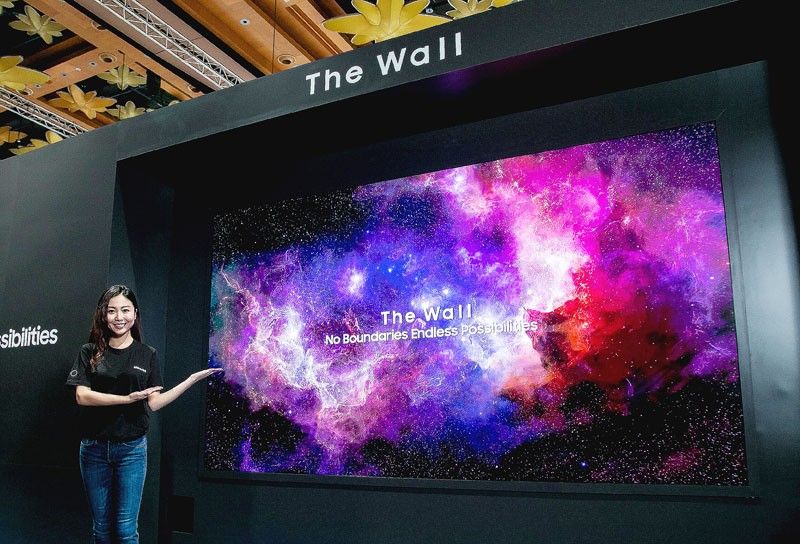 Samsung's enormous microLED display dubbed as 'The Wall' is a breath-taking spectacle at the SEAO forum.
Samsung unveils new innovations for 'connected living'
MANILA, Philippines — More than a half century ago, acclaimed director Stanley Kubrick's 2001: A Space Odyssey gave us a haunting depiction of humanity's inevitable demise at the hands of an artificial intelligence infamously known as HAL 9000.
Decades after the fictional brutal killing of the ill-fated astronauts on board Discovery 1, Kubrick's science-fiction masterpiece to this day, remains as one of the pop culture references on the possible uprising of artificial intelligence.
Although we're obviously way past beyond 2001 (and we still haven't gone where no man has gone before) and Kubrick's take on an artificial intelligence revolt has not happened (yet), the state of AI today, fortunately, is quite promising.
During the 10th year of Samsung's Southeast Asia and Oceania (SEAO) Forum in Singapore, the South Korean tech giant has unveiled an ecosystem of digital appliances powered by a virtual assistant known as the new 'Bixby' in a bid to provide a modern way of connected living.
During his opening keynote speech, Samsung Electronics Singapore President Eugene Goh outlined the company's vision as the new generation of technologies such as the Internet of Things (IoT), AI, and 5G are "making their way into people's lives."
"By harnessing the power of the advances, we will pioneer a new generation of immersive, personal, and intelligent experiences." Goh said.
"All our innovations are linked to our bold vision for connected living. As Samsung continues in our relentless pursuit of innovation, we hope to expand connected living outside of your homes and into the cities that you live in." Goh added.
As humanity faces the dawn of a new era of technological breakthroughs, Samsung has geared up to harness the fruition of innovations amid the paradigm shift, by providing a seamless connected experience across its devices.
A suite of 8K and 4K QLED TVs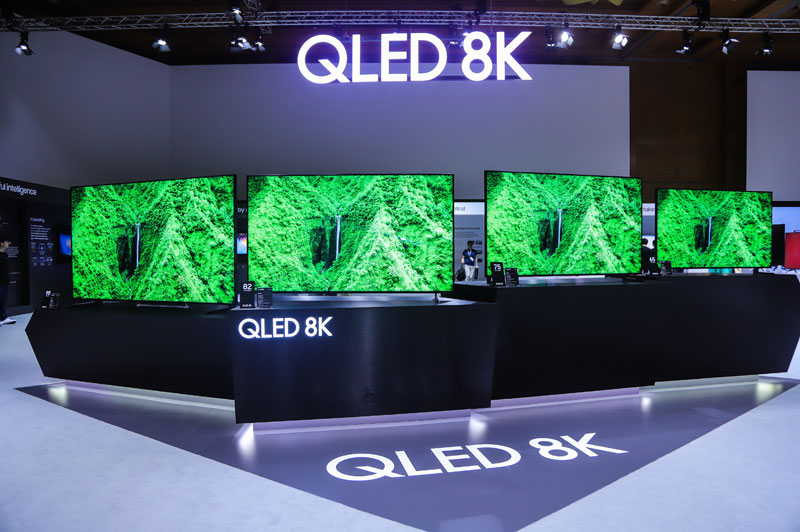 The 2019 QLED lineup of Samsung features more than 20 models that includes a slate of 8K and 4K TVs
Samsung has been the market leader in the TV industry for 13 years, and the tech giant has no plans of yielding its throne. That's why Samsung announced a barrage of QLED TVs to ensure its dominance in the realm of premium TV market.
Headlined by Samsung's massive TV dubbed "The Wall" and 'The Frame' that doubles as a home décor, the company's 2019 QLED lineup features more than 20 models that includes a slate of 8K and 4K TVs, including the 8K Q900R that measures from 65-inch to 98-inch screen sizes, a various 43-inch to 82-inch variants of its 4K Q90R, Q80R, Q70R, and the Q60R.
To provide more entertainment options, Samsung's Smart TVs will have the new iTunes Movies and TV Shows app and a support for Apple AirPlay 2.
Not only that, because Samsung's Smart TVs now work with Amazon Alexa and Google Assistant, users can also use voice commands (like what Dr. Dave Bowman did to HAL) to enjoy features such us turning it on or off or controlling the audio volume.
What's quite interesting in the suite of Samsung's 2019 QLED is its proprietary AI-powered Quantum Processor that is capable of optimizing lower-resolution sources into 8K-quality content. Samsung claims that this innovation also solves the scarcity of native 8K content today.
Translation? If you have low quality copies of, let's say, your favorite TV series or films, then Samsung's feat dubbed as 'AI Upscaling' can dramatically improve the images into 8K-like quality through texture creation, noise reduction, and edge restoration.
Family Hub refrigerator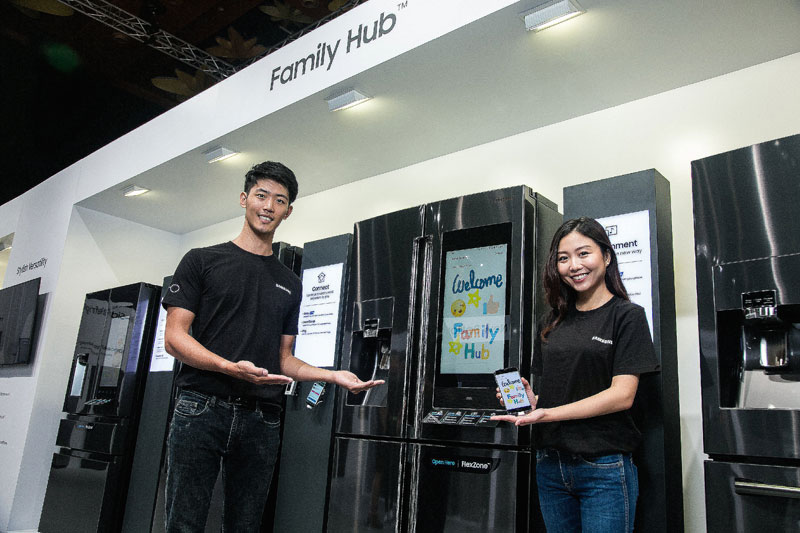 The new iteration of the Family Hub comes with the new Bixby that offers useful features such as providing the latest news or weather updates.
Samsung has also introduced its next generation Family Hub refrigerator that sets a new standard of modern living.
The new iteration of the Family Hub comes with the new Bixby that offers useful features such as providing the latest news or weather updates. Not only that, as it can also distinguish each family member's voice, providing a unique interaction with everyone by serving individual needs.
Apart from that, the Family Hub's innovative feat is the 'Meal Planner' as it offers a user to create healthier meals by providing recipes based on various food preferences, dietary requirements and the items inside the fridge. You can also check out the items inside the Family Hub refrigerator through a smartphone if you're at the grocery store to check for things that need refilling.
We can all agree that the living room is the place where family members bond. But with the refrigerator's 'Family Board', family members can now also interact and share special memories with one another at the kitchen.
With Samsung's Family Hub refrigerator, clever is undoubtedly an understatement.
Washing machine with QuickDrive technology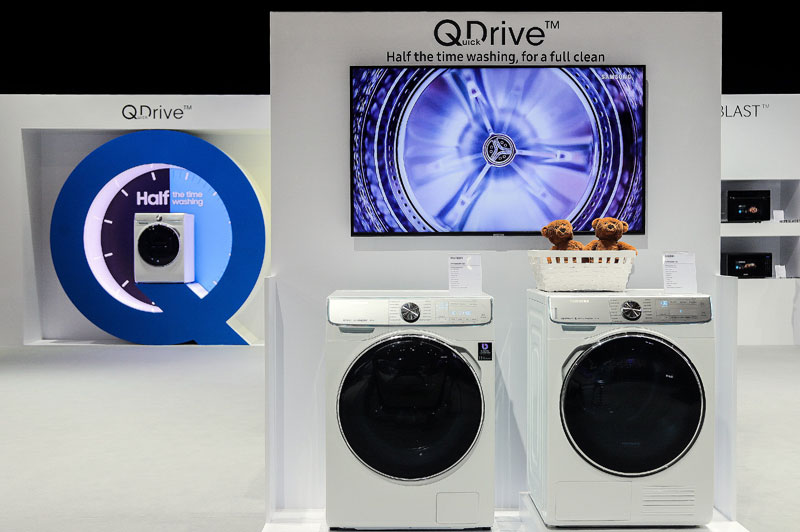 Samsung's QuickDrive technology can drastically cut laundry time by 50% and the use of electricity by 20%
With Samsung's WW7800M washing machine, doing laundry work has never been easier. Armed with its QuickDrive technology and with the help of the laundry assistant Q-rator, laundry time can now be cut by 50% and the use of electricity by 20%.
Apart from that, it also has other useful features such as the EcoBubble that provides superb washing performance by mixing water and air to produce fine detergent bubbles that pierce through fabrics while maximizing the detergent's effect despite low temperatures.
With the help of the Q-rator, the IoT-powered WW7800M also provides three smart features to help users manage their laundry more conveniently, such as the Laundry Planner that offers a user to easily manage the laundry's finishing time. It can also automatically give recommendations for optimal wash cycles with the use of the Laundry Recipe. While the HomeCare Wizard, monitors the washer with the use of a remote that can alert users from potential problems.
The introduction of Samsung's digital appliances is in line with the growing number of 'smart' homes across the globe. That's why if you are planning to redecorate your home or about to move in at a new condominium, investing on the right appliances is as crucial as selecting the furniture that suits your taste.
But then again, let's not think about HAL — for now.