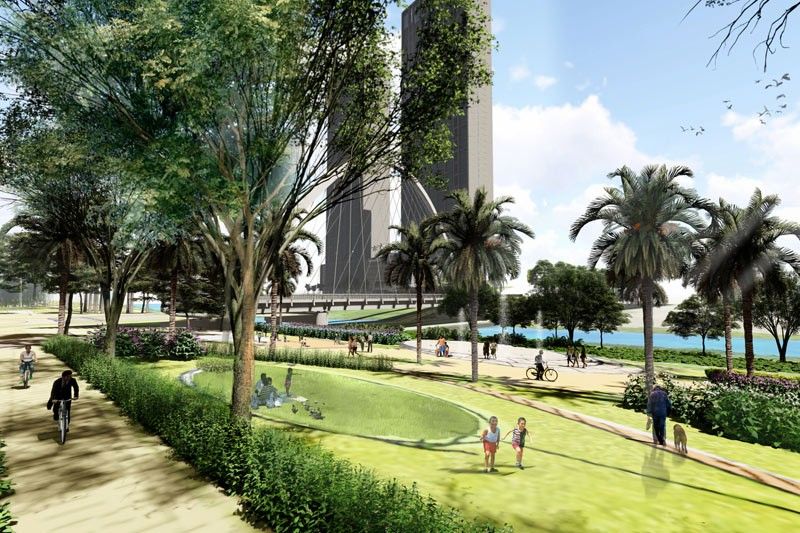 Parklinks River Terraces
Photo Release
Living at Parklinks is a walk in the greenest park
MANILA, Philippines — Wouldn't you like to live in a place where you're pampered with all the comforts of urban living but at the same time nurtured by nature's pristine offerings?
That aptly describes living at Parklinks, an urban estate along the C5 corridor being developed by ALI-Eton Property Development Corp., a joint-venture between Ayala Land Inc. and Eton Properties Philippines Inc., two of the country's leading property developers today. It's also proudly the two developers' greenest mixed-use development to date, what with 50% of the urban estate devoted to open space.
This gives you the opportunity to be part of a community you've always dreamed of—less dense with more breathing space; where you're less stressed and more inspired.
Fact is, you're well-placed to be living and working at Parklinks as you're surrounded by all the opportunities to live your dreams, achieve your full potential, enjoy a better quality of life, and be the best person you can be.
Bridging urban convenience, green spaces
Accessible via C5, Amang Rodriguez Avenue, and Ortigas Avenue, Parklinks will link Pasig and Quezon City through an iconic bridge over Marikina River, helping ease vehicular traffic northeast and east of Metro Manila. The bridge will have dedicated lanes for pedestrians and bikers, providing better options for travel within and around the development.
This scenic bridge gives a preview of the estate's coming attractions.
Mel Ignacio, Estate Development Head of Parklinks, shared that it will be a mere five-minute walk from the business hubs to the living spaces via a well-designed and managed system of parks.
"Our vision for Parklinks was for the development to be a one-of-a-kind business district which has all the amenities of a dynamic city, as well as the necessary qualities that could bring about an overall sense of quiet and balance for the people who will live and work there," Ignacio said.
In this green community, you're never too far away from a garden. Perhaps no other mixed-use development in the country was designed for green, relaxing, leisurely walks, or breezy strolls by the riverside.
The best things in life are yours for the taking as you live in utmost comfort and work in style in this garden city.
A picture-pretty three-hectare Central Park will have sprawling lawns fringing well-curated retail establishments, river park terraces, and riparian gardens fashioned after the natural landscape. Walk or bike if you like as there are dedicated footpaths and a bike network throughout the development.
With all these pandemic-responsive features (from the pedestrian- and bike-friendly paths to the easily accessible and engaging parks), Parklinks may well be one of the healthiest places to live and work in.
A refreshing waterfront lifestyle
From the gardens to the river park terraces and river esplanade will rise a new standard for waterfront living with ALI's flagship residential brands. Residential towers with units ranging from 30sqm to 306sqm will provide comfortable and holistic lifestyles through best-in-class building standards and amenities, such as sports and fitness facilities.
A refreshing new hub for business and leisure, Parklinks will be anchored by a mall located along the estate's C5 frontage. Designed as family-oriented mall, it will offer fresh lifestyle options and a 3,500-sqm sports complex that will house a basketball court, volleyball and badminton courts as well as a fitness gym and a dance studio to inspire everyone to live a more active lifestyle.
With its commercial development and open spaces, Parklinks caters to quite a broad market segment—those who are aspiring to live in a prime location within the metro and still like to enjoy the luxury of open space, greenery, and lots of views.
All these contribute to the overall value of the property and development which is expected to increase over time as the community flourishes.
Surely, to live, play and work at Parklinks is a walk in the greenest park in the metro.
To learn more about Parlinks, visit www.parklinks.ph. Also visit www.ayalaland.com.ph to discover more sustainable estates.