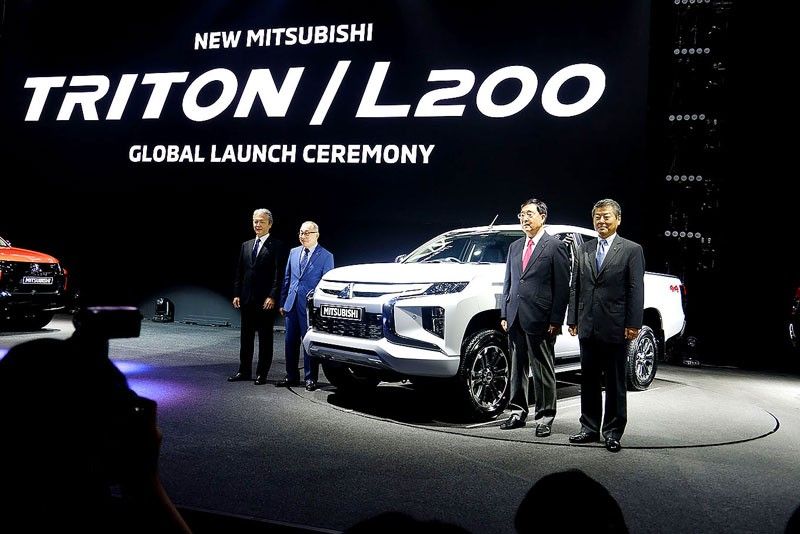 The all-new Mitsubishi Triton
Mitsubishi's global launch of all-new Strada
A host of the country's motoring journalists were flown by Mitsubishi Motors Philippines to Thailand for the Global Launch last Nov. 9 of the Triton L200, which is known in the Philippines as the Mitsubishi Strada.
It was announced during the launch that the one-ton pick up truck, which is the latest version of its series that's celebrating its 40th birthday, is being manufactured at the Laem Chabang Plant by Mitsubishi Motors Thailand. Right after the Bangkok world premier, the Triton/L200 is also due for other ASEAN markets like the Philippines, as well as Oceania, Middle East, Europe, Africa and Latin America, to eventually reach some 150 countries worldwide.
Frequent Manila visitor and Mitsubishi Motors president and CEO Osamu Masuko, in presenting the all-new model, stated: "The new Triton/L200 is one of the most important global strategic models. Its success will accelerate the momentum of the company's sustainable growth. The new model brings enhancements to the durability, reliability and comfort developed over the 40 years since the introduction of the series. I'm fully confident the new Triton/L200 will meet the diverse needs and wishes of our customers around the world."
During the launch's impressive presentation the international journalists present were apprised with some of the Triton/L200's unique technological features that include Advanced Safety Features like Forward Collision Mitigation, Blind Spot Warning with Lane Assist, Rear Cross Traffic Alert and Ultrasonic Misacceleration Mitigation System.
As for its Off Road Performance, it has Hill Descent Control, where with a flick of a switch the Triton/L200 or the Strada maintains the same downward speed without the use of brakes or the accelerator. The new Triton/L200 4WD models are fitted with either Super-Select 4WD, which delivers optimum traction and handling characteristics for any given surface, or Easy-Select 4WD, which simplifies switching between drive modes for different road surfaces. With the addition of new drive modes, both 4WD systems deliver improved off-road performance. Both Super-Select and Easy-Select 4WD systems use a new Off-road Mode, which has Gravel, Mud/Snow, Sand and Rock (in 4LLc only) settings. When engaged, Off-road Mode integrally controls engine power, transmission and braking to regulate the amount of wheel slip and thereby maximize all-terrain performance and self-extraction performance in mud or snow.
For Convenience, it has Automatic High Beam when no other traffic is present but goes off when it detects approaching or preceding vehicle. It also has driver assistance like the Multi Around Monitor, which generates a bird's eye view image of the area around the vehicle as well as Parking Sensors.
"The Strada's been around for 40 years already. It first came out in 1978, so that was the first-generation but for the Philippine market, we started with the second-generation. We introduced the Strada or the L200 name back in 1993 and then we introduced also the third generation, the fourth generation, and the fifth — which is currently now. The Mitsubishi Strada with its new bold face, with the dynamic shield, this will come out sometime in the 1st quarter next year," remarked Arlan Reyes, AVP for marketing services of Mitsubishi Motors Philippines Corp., who, together with manager for sales and marketing Rosemary Cruz, graciously hosted the Philippine motoring journalists in Bangkok.
With the very competitive current prices of most pickups in the country, a vehicle category that enjoys some tax benefits from the TRAIN Law, the Mitsubishi Strada is indeed worth watching out for.
Phoenix Fuels inks support for new moto website
On the heels of the support from the Motorcycle Development Program Participants Association (MDPPA), Phoenix Petroleum confirmed its major sponsorship of www.motomagphilippines.com, a soon-to-be launched website that would exclusively dwell on the motorcycle, its local and worldwide industry and more importantly its riders and their concerns.
"We are delighted to partner with MotoMag Philippines and the progressive people behind it. This is a great opportunity for us to reach out and connect with one of the fastest-growing mobility segments in the country. Congratulations MotoMag and more power," remarked Henry Albert "Bong" Fadullon, the dynamic COO of Phoenix Petroleum during the simple contract-signing event.
One of the website's major content is a Forum page that would address the concerns of the country's riders concerning laws, government rulings, regulations, etc. that are considered as inimical. The same page would have the government's clarification and response to these concerns. The objective is to establish a neutral and objective venue for such discourse avoiding direct confrontation between the two parties.
A staple fare of the website is a feature-to-feature comparison of three motorcycle models at the same time, a Comparo, which could serve as an aid for motorcycle buyers in deciding what particular model is best for them in terms of features, functions and cost.
There will also be pages that would contain motorcycle reviews, the latest motorcycle model launches and other industry news, moto sports, motorcycle repair and maintenance, a directory of motorcycle clubs as well as an Industry page with a directory of products and the latest news and corporate developments of the country's top-selling motorcycle companies.
Watch for this game-changing website.
SsangYong Philippines top exec announces retirement
Berjaya Motors Philippines top honcho Steven Tan gathered together close friends of retiring SsangYong Philippines president Dave 'Mr. Mac' Macasadia for an intimate lunch at the Sports Den of Valle Verde Country Club.
Mr. Mac's exceptional 37-year auto industry career started at Pilipinas Engine Corporation in 1981 as a senior supervisor in the import/export department.
In 1987, he moved to Isuzu Philippines working in the import/export and government relations. And, with his expertise in import and export, he moved on to Honda Cars Philippines (HCPI) in 1991 as middle manager up to 1993.
From HCPI, Dave moved to Ford Group Philippines' (FGP) sales department to start up its logistics and distribution network where he also rose to the position of AVP for sales planning and distribution. Shortly, he became VP for sales and marketing from 2002 to 2004, after which, he jumped to being the managing director of Mazda Philippines, at the same time, VP for customer service for Ford Philippines.
He stayed on with FGP up to 2012 after which he moved on in the same year to Berjaya Auto Philippines up to 2015 as director for customer service, handling Mazda.
His final chapter in the local auto industry, as of now is his being the president of SsangYong Berjaya Motor Philippines from 2015 to this year, when he decided to retire.
You can judge for your self the kind of experience Mr. Mac carries as he decides, giving way to his family's wishes, to retire and spend more time with his loved ones and stay away from stress as his doctor strongly recommends.
But knowing Mr. Mac, I don't want to say "goodbye" but instead "till I see you again" — also in the auto industry. You still have a lot to offer, my friend.
Happy Motoring!!!
For comments and inquiries, email sunshine.television.@yahoo.com or visit www.motoringtoday.ph.