Investing on employees works for DHL Express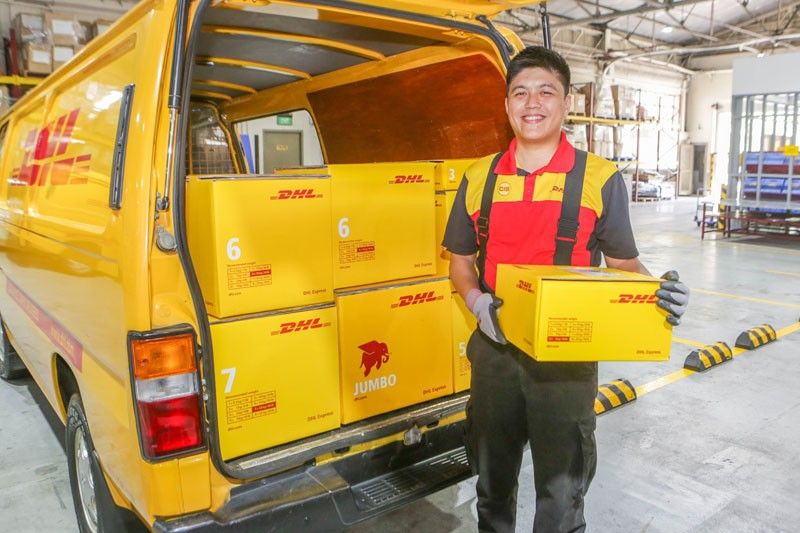 One of the best employers in the Philippines
MANILA, Philippines — Couriers or drivers working for logistics companies or delivery service firms oftenly described their job as physically demanding. Everyday, couriers have to pickup and deliver documents or parcels on time to various places amid erratic weather and miserable traffic conditions. In Metro Manila alone, the legions of package couriers weaving their way through hellish city traffic by scooters or mini trucks are powering up the country's online shopping boom.
While the boom in online shopping has given rise to the proliferation of delivery service companies, thus creating a need for more couriers, work can still be low-paying and difficult.
According to Indeed, the world's number one job site, the average monthly salary of a courier in the Philippines is only P12,820, below the minimum monthly average income of Filipino workers in the service sector.
But logistics companies are not created equal. Some companies strive to give their employees the best working conditions and have programs that help them grow professionally and climb up the corporate ladder.
From humble guard to supervisor
Take the case of Mark Villanueva, supervisor for DHL Express's Ortigas Service Center. He started in DHL Express as a security guard in 2003. It was the first time that the Cebuano lad had visited Manila and came here in search of better opportunities. At the time, he was assigned to the Makati Service Center.
"Every day, I saw what they do at the service center, and I told myself that their job might be suited for me. I like what they did on a daily basis. So when there was an opening for an operations agent in 2005, I applied and was hired. When I started, there wasn't much of an adjustment because I already know the job from observing them daily," Villanueva told The STAR.
In 2007, Villanueva was promoted from operations agent to courier. "I never really wanted to be a courier, but my manager at the time told me, 'Mark, you won't progress in this job with that kind of attitude.' That sort of challenged me to step up and apply as a courier and I was eventually hired," Villanueva said.
From there, Villanueva became a poster boy for professional growth in DHL Express. From courier, he was promoted to team leader, and now, service center supervisor.
"It's a warm feeling having the privilege of saying that to employees at DHL Express. I still have a lot to learn before I truly establish myself as a leader, but with the management we have that's very supportive, I can learn that easily," Villanueva said.
With his career progression, Villanueva is now able to provide well for his family. His finances have become stable and there is room for him to even climb up the ranks. But he still choses to be humble.
Getting it 'right the first time'
Like Villanueva, Keith de Lara also experience being a courier for DHL Express. He started in 2014 as a motorcycle courier and has been promoted to a van courier in less than five years. He told The STAR the challenges and travails couriers like him face daily.
Sometimes, there are incidents that are just beyond his control. "If you're driving a motorcycle and it rains, you really have no choice but to stop and take shelter. But DHL Express is very particular about the safety of their riders. If it comes to a point when we're stranded on the road, we just report to our supervisor to receive rescue," de Lara said.
Despite these hardships, de Lara doesn't complain. "I'm the kind of courier who gives clients an estimated time of arrival (ETA). And I'm proud to say that I get to deliver each parcel or document on time. The thought of being able to bring business success or personal happiness to clients fills me with warmth. That's my motivation," de Lara said.
To arrive at each pickup and delivery point on time, de Lara plans every detail of his deliveries meticulously.
"There's a principle at DHL Express that we call 'right first time.' That means, when you receive the shipment, you know already where you're going to deliver it, where you're going to place it inside your van and how you're going to place it. You need to commit to mind what it looks like so that when you take it out, you know already where to get. And upon getting and delivering it, you know already what's your next delivery is. You need to be ahead by three locations," de Lara said.
With his passion for satisfying his clients' needs and his dedication to making operations at DHL Express become more efficient and innovative, it's no wonder de Lara has been named DHL Employee of the Year for 2018. He is among the hundreds of DHL Express employees from Asia Pacific who will be honored at a ceremony in Vietnam this month.
"I'm really surprised that I got picked. I'm happy that even though I just started here in 2014, I was already able to commit a lot to the company," de Lara said.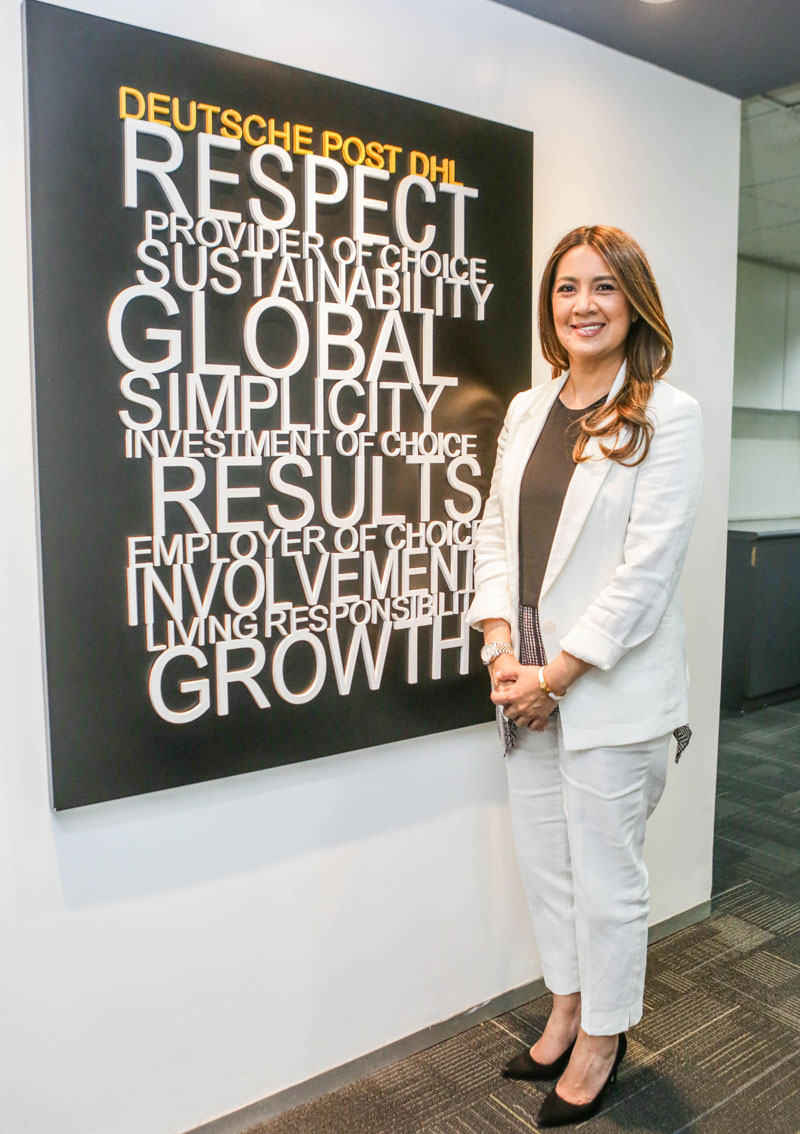 DHL Express Phl country manager Nurhayati Abdullah
Professional growth
Model employees like Villanueva and de Lara would not exist without the guidance of long-time career employees at DHL Express who have shared their knowledge and experience working for the world's largest logistics company.
Maricel Bumanglag is one such person. Having been at DHL Express for 17 years has given her vast knowledge of the way things are done at DHL Express and what clients need from the company, especially at demanding times. As the Customer Care and Key Accounts Manager since 2012, she has been involved in training supervisors, front line agents, and back-end personnel on how to respond to every client's needs.
Like Villanueva and de Lara, she started as a humble temp working as a customer service front liner – a job that's quite far from her engineering degree and her previous job as a private tutor. Her being part of DHL Express was even a product of sheer luck. One of the customer service front liners hired before her wasn't able to commit to the trainings, and so she was hired as a replacement.
"Although teaching wasn't related to my work at DHL Express, there were similarities, being that they're both service-oriented work. When you teach, you are able to give contributed something to students. When you are a customer service agent, you are also able to help out. The fulfillment that you get being able to help someone is what satisfies me in the job," Bumanglag said.
If Villanueva is the poster boy of professional growth at DHL Express, Bumanglag is its poster girl. Aside from front line customer service, she has worked at back-end support, backline operations, key accounts and customer operations, before becoming Customer Care and Key Accounts manager.
"The different roles I had helped me understand the logistics business better. From the front line team, I know what the customer expects. And if there's any issue that might arise, then I am able to also understand what might have happened. And when I moved to operations, I was able to explain the customers considering the operational process. All those experiences molded me to become what I am right now," Bumanglag said.
Investing on people
Villanueva, de Lara and Bumanglag exemplify how important excellent, motivated and goal-oriented employees are to the growth of every company. They're the foundations on which every successful company stands.
"The four pillars that DHL Express stands on are Motivated People, Great Service Quality, Loyal Customers and Profitable Network. It all starts with Motivated People because it's the indispensable building block that provides the next steps, the other pillars. We believe that if our people work from the heart, if our people are motivated, then they will provide Great Service Quality, customers will be loyal and, good business will eventually follow. We really start with the people, invest in our people," DHL Express Philippines country manager Nurhayati Abdullah said.
DHL Express's investment on its people, which includes periodic training and career mapping for supervisors and executives, providing attractive and competitive compensation packages, acknowledging and rewarding their employees' excellence, establishing a diverse, warm and closely-knit work community, and creating ideal working conditions has enabled the company to become one of the best places to work in the logistics industry.
In fact, in 2014, DHL Express received the Top Employer Global Certification from the Top Employers Institute and has received the certification for several years in a row. Likewise, in 2017 and 2018, human capital firm AON Hewitt named the company one of the Best Employers in the Philippines.
Last year, Fortune magazine and the Great Place to Work Institute also named the company as the second best multinational workplace in Asia and the sixth best multinational workplace in the world.
These accolades and testimonials from its employees prove that DHL Express truly is a company that values its people – both employees and clients. But more than that, it is proof that regardless of the demands and prevailing conditions, the logistics industry can be better and become an ideal place to work and experience professional growth.