Exec gears up PRA, retail trade for competitiveness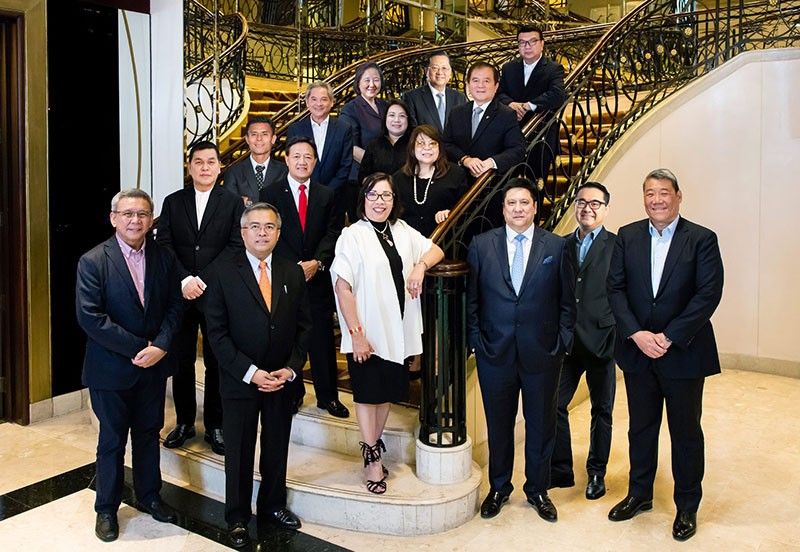 MANILA, Philippines — Sticking with a company for over three decades says a lot about a corporate executive. It shows not only loyalty, dedication and solid commitment; it also means the executive has gained a lot of expertise and specialized knowledge in her particular field.
Rosemarie Bosch Ong, currently the senior executive vice president and chief operating officer of Wilcon Depot Inc., is an expert in the field of retailing.
Ong's value to her company is best illustrated by her role in Wilcon's consistent growth, an unprecedented feat in the retail industry that has seen continuous challenges and changes.
Her impressive work and achievements have been noticed industry-wide. She recently received overwhelming support from her peers when she was voted president of the Philippine Retailers Association (PRA). Known to her peers and friends, Ong is not new to advocacies that seek to develop the retail industry.
She has been affiliated with the PRA since 2009 and has served for nine years as a member of its Board of Directors. She is a recognized leader in the industry with vast retailing experience.
The retail industry
The retail trade industry has seen tremendous challenges and progressive changes over the years brought about by various developments. This is best exemplified by the globalization of the market and the digitization trend that is expected to drastically alter traditional and current systems in business transactions.
Ong says the demographic shifts also shapes the retail sector, which include the changing lifestyles and preferences of millennials and baby boomers who constitute a significant portion of retail target markets. "The market is changing not only in age but also in preferences, because people are exposed to the world. They are exposed to what is new, and what's the best," she says.
She says the PRA, the national organization of retailers, suppliers and mall developers/operators in the country, has been taking initiatives to put customers in a position to make better choices, as they face "overloads" of choices and competition.
"Basically, the role of the retailing organization is to help customers choose intelligently. We have so many choices now, (so it's important to know) how to be intelligent in choosing the right products that fit not just their needs but their budgets as well," she says.
Ong, who will be recognized and will receive the International Women's Entrepreneurial Challenge Award (IWEC) 2018 at the organization's 11th Anniversary Conference and Awards in China Europe International Business School campus in Shanghai, China this September, cites the case of the home improvement and construction supplies business, which has evolved into a "modern trade channel" in terms of ease of choosing products. Other retail players have also evolved in how they present their products and how they make it easy for customers to choose.
Asia's next retail destination
The PRA and the Department of Tourism (DOT) have been undertaking initiatives aimed at making the Philippines a choice retail and shopping destination in the Asia-Pacific region. Ong expects the Philippines to attract more foreign brands, especially as its positive economic growth is expected to boost the industry.
"It's a free market, and since we want to achieve global competitiveness the entry of these foreign brands, compels local retailers to be more competitive and to upgrade their standard as well," she says.
Ong sees the continuous entry of foreign brands into the Philippine market, while more local brands strive to penetrate overseas markets as well. She also believes local retail-industry players are prepared for stiffer competition brought about by the arrival of foreign brands.
To liberalize retail trade, the government now plans to bring down the minimum capital requirement for foreign retailers planning to set up operations in the country from the current $2.5 million to $200,000.
"There will be more competition so we are not just talking about big retailers. Even the small global, regional retailers can come in and compete with our local retailers. We have to be ready for that. It's a call for Filipinos to be more global in their outlook and approach, to be really more competitive globally," Ong says.
Ong expects the retail industry this year to exceed the 5.4-percent growth in 2017 on the back of projected strong economic expansion resulting from the implementation of the government's Build Build Build program and the Tax Reform for Acceleration and Inclusion (TRAIN) Law.
"The government's program that infuses huge capital on infrastructure development will definitely help boost the economy and at the same time create and intensify economic activities. If there is economic activity, definitely, consumption will increase. It will be a consumption-driven economy, so definitely it will help all retailers," she explains.
Ong believes the implementation of the TRAIN law will expand and boost the growth of the country's middle class. "If the middle class will grow, it would be good for the economy because wealth is distributed more equitably. We don't see that effect yet, but excise taxes will also affect prices. Of course, in an active economy, things balance out properly, equitably and positively," she says.
Retailing experience
Ong has been the senior executive vice president and chief operating officer of Wilcon Depot Inc. since 2006. The country's leading home improvement and construction supplies retailer debuted at the Philippine Stock Exchange in March 2017.
Currently, Wilcon operates a total of 46 stores across the country, with five more expected to open before the year ends.
"We always come up with new strategies for new products, and new innovative ways of presenting our merchandise. Our growth is really driven by the products we sell, and the new markets we go to. Strategies focus on improvements in our services, in offering convenience to our customers. So, like online shopping, it's one area we look at to expand our sales, and grow our business further," Ong says.
Ong invites all retailers and business enthusiasts to join in the two-day NRCE 2018 – organized by the PRA slated on Aug. 9 to 10 at the SMX Convention Center in Manila with the theme 'Reinventing Retail." Back to back with NRCE 2018 is the Stores Asia Expo, the only focused and dedicated retail suppliers' expo showcasing the "tools for global retailing" from over 100 exhibitors. It's the biggest in the Philippines and one of the longest running retail suppliers' expo in Asia, which expects to draw more than 3,000 visitors and decision makers from the retail and related industries.
"As the new president, I envision a more engaged and inclusive organization. My duty and responsibility will focus on serving the association with loyalty, dedication and solid commitment and bring it to greater heights," Ong says.