The once mighty Pasig River
FILIPINO WORLDVIEW
-
Roberto R. Romulo
(The Philippine Star) - June 25, 2021 - 12:00am
My daughter Liana Romulo is my guest columnist for the week. An avid scuba diver, she highlights how our polluted rivers spell disaster on a global scale.
We Filipinos take great pride in the beauty of our prize-winning islands. Just before the pandemic, Travel+Leisure readers again gave Palawan the No. 1 spot on their "Top 25 Islands in the World" list, beating out tourist favorites like Bora-Bora, Bali, and Maui. Less publicized is that seven out of the top 10 rivers that eject garbage to the oceans also belong to us. According to data published in National Geographic, as well as on the "Our World in Data" website, together the 10 rivers produce a staggering 81 percent of the world's plastic waste found in oceans.
If you think one list has nothing to do with the other, think back to high school science class—and you may recall the Earth's water cycle and how everything is connected. Rivers empty into oceans, transporting water, organisms, nutrients … and trash.
"The Philippines alone contributes around one-third of the global total," reads the horrifying report. At the very top of the list is the Pasig River, with the Tullahan River tied for No. 2. Given that China's Yangtze river, which used to be considered the world's top emitter of waste, is more than 250 times the length of the Pasig, one has to wonder how things got so bad.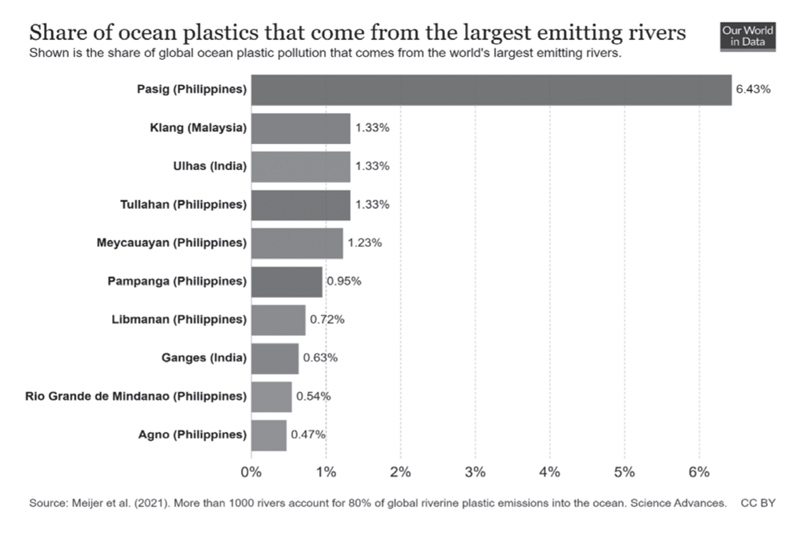 Enter San Miguel Corporation
A formidable new partnership that comprises San Miguel Corporation (SMC), the Department of Environment and Natural Resources (DENR), and various mayors and government agencies launched its Pasig River five-year cleanup project this month with a budget of P2 billion. A separate P1 billion cleanup of the 27-kilometer Tullahan River began last year.
"There have been many cleanup efforts in the past …" said SMC's president Ramon Ang, as reported by Unbox.ph. "But decades of pollution and compounding problems … are too significant and complex to overcome even for the best-intentioned advocates and organizations."
Indeed, government leaders and environmental groups have for decades thrown enormous sums of money at rehabilitating the once mighty, now dead Pasig River. There was the Pasig River Rehabilitation Commission (PRRC) created in 1999 under former president Estrada. Over a 20-year period they recovered easements, transforming them into parks and walkways. They also diverted more than 27,000 metric tons of waste through a series of cleanup and resettlement operations. They even won an international award in 2018, but clearly—since the Pasig is today responsible for 6.43 percent of global ocean plastic pollution—those efforts were not enough.
There was also the Pasig River Rehabilitation Program, a joint undertaking of Denmark and our government under former president Corazon Aquino; Gina Lopez's Kapit Bisig Para sa Ilog Pasig project; and the Piso Para sa Pasig campaign of former first lady Amelita Ramos.
Manila Bay restoration
Any chance of reviving Manila Bay depends on the rehabilitation of the Pasig River, the Tullahan River, all the tributaries, and even the Laguna de Bay. If not, the results will be temporary at best, as the 25-kilometer Pasig connects to the Laguna de Bay and Manila Bay. Merely "beautifying" Manila Bay with, for example, dolomite sand … well, let's just say we should improve water quality and marine life before we think about cosmetics.
SMC's plan to remove hundreds of thousands of tons of waste, using specialized equipment, is a step in the right direction, assuming that the river really is dead and that existing animal and plant habitats aren't also dredged in the process. The goal is to extract 50 thousand metric tons of waste from the Pasig River per month for five years. This means what SMC removes in a month will be nearly double what the PRRC diverted over several years.
International problem
In my imagination, seabirds in California are building nests with bits of Creamsilk sachets, while turtles off the coast of South Africa are choking on SkyFlakes wrappers. There's no doubt that we're doing serious damage to the global marine environment. Locally, dirty rivers contribute to disease, flooding, the cities' stench, and our collective loss of face. Clean rivers would help mitigate future pandemics, address food security issues by providing fish, and decongest roads by transporting commuters on charming riverboats. Clean rivers would make the Manila Bay cleanup possible; and as global temperatures rise and our summers get hotter and hotter, clean rivers would help cool overheated city-dwellers.
Our collective loss of face
We simply cannot accept seven out of 10! The Philippines is part of the Coral Triangle, where there are more species of fish and corals than any other place on earth. We are an archipelago of divers, fisherfolk, pearl-hunters, and seamen so skilled that we played key seafaring roles in Magellan's 16th century circumnavigation of the globe and Melville's 19th century Moby Dick. Today, we are some of the hardest working, respected, and sought-after members of international ships' crews.
If we respect the sea, as I know we do, then we can't leave it all to San Miguel and the DENR, who are giving us an important jumpstart on two of the seven rivers on the list of shame. It's up to us to maintain what they start—by keeping our plastic waste on land, by using much less plastic in general, and by teaching others to do the same.
Polluting our rivers is the same as destroying the coral reefs of Dumaguete and poisoning the whale sharks in Palawan. We must connect the dots if we are to remain on the "World's Best" list while leaving the "World's Worst." We must connect the dots fast because if a documentary filmmaker—like the one who recently released the exposé Seaspiracy— catches wind of our seven-out-of-10 infamy and decides to explore our rivers undercover, we're going to be praying that the editors of Travel+Leisure don't have Netflix.