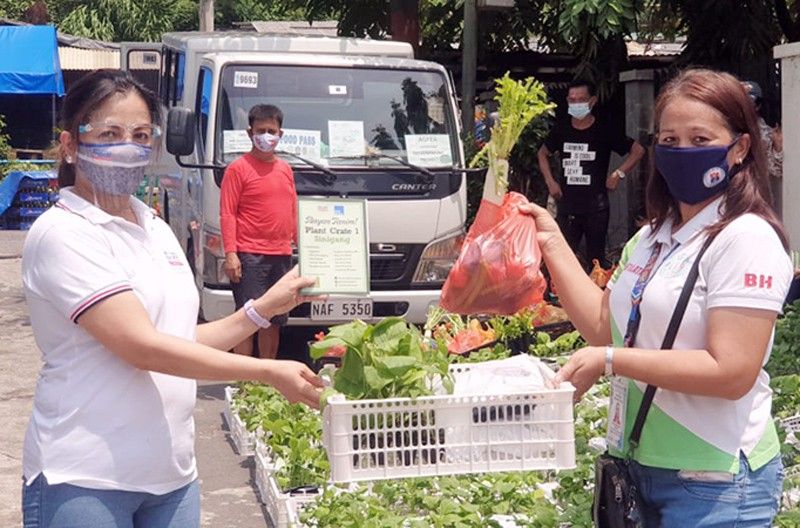 Metro Pacific Investments Foundation president Melody del Rosario (left) turns over 100 Bayan Tanim planting crates to Brgy. 128 Smokey Mountain in Tondo.
STAR/File
MPIF launches Bayan Tanim
(The Philippine Star) - September 20, 2020 - 12:00am
MANILA, Philippines — Metro Pacific Investments Foundation (MPIF) officially launched Bayan Tanim, a program aimed to help disadvantaged communities recover from the adverse effects of the COVID-19 pandemic by growing household crops from their backyard.
Bayan Tanim was developed to provide communities and displaced workers with the means to grow their own vegetables safely at home. It is also in support of the Plant Plant Plant campaign of the Department of Agriculture, which supplied the seeds, and the Move Food Initiative of Agrea Agriculture System International Inc., which supplied the planting crates. The crates contain basic cultivation essentials such as seeds, seedlings, fertilizer, soilless potting mix, as well as fresh vegetables directly sourced from local farmers.
In partnership with First Pacific Co. Ltd., MPIF turned over the first 100 Bayan Tanim plant crates to the local government of Brgy.128 Smokey Mountain in Tondo, Manila. The planting crates will help expand the range of crops grown in their local community garden, a collective effort of their residents to build a sustainable source of food.
"Growing your own produce is a simple solution to numerous health, environmental and economic problems. There is an untapped potential for small scale home vegetable growing that leads to self-sufficiency, sustainability, including physical and mental well-being. During these uncertain and challenging times, Bayan Tanim can transform us into a plant nation for a sustainable means of living that communities can rely on long after this pandemic is over," MPIF president Melody del Rosario said
With the assistance of Alagang Kapatid Foundation Inc., MPIF aims to determine and assist the vulnerable sectors that have been drastically affected by the pandemic. Partner companies such as Light Rail Manila Corp. (LRMC) have also committed to help communities within their concession areas. Other target communities lined up for the next schedules will be in Barangay Culiat, Epiphany in Caloocan, and people living near the public cemeteries near Parokya ng Pagkabuhay in Novaliches, Quezon City. Aside from distributing the Bayan Tanim plant crates, MPIF intends to extend support through community markets as livelihood.
Bayan Tanim is the third phase of MPIF's COVID-19 efforts, following substantial PPE distributions to medical frontliners in over a dozen hospitals and Kaya Natin To, a relief pack distribution effort to over 3,700 families in underserved and marginalized communities.