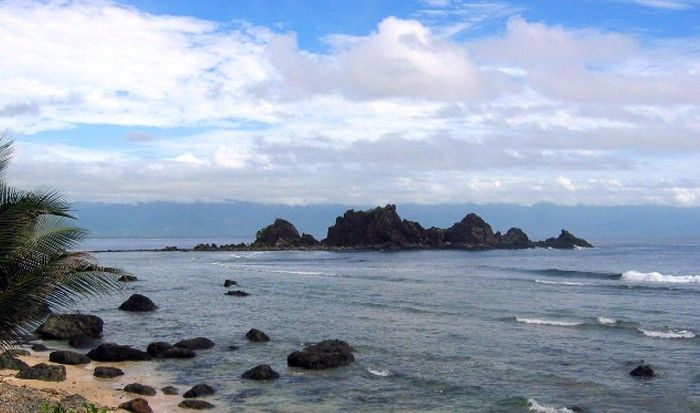 Dimadimalangat Islet in Baler, Aurora province is a rock formation in Barangay Cemento that serves as the point for southernmost tip af Baler Bay.
Baler government photo
DOT names new Calabarzon director
MANILA, Philippines — A former tourism executive of Aurora province, whose brainchild made Baler the birthplace of Philippine surfing, has been appointed as regional director for the Department of Tourism's Calabarzon unit.
In a statement, DOT-Calabarzon said Michael Angara Palispis was sworn in by Tourism Secretary Bernadette Romulo-Puyat as tourism director for Region 4-A.
Palispis has years of experience in the tourism industry, previously serving as the provincial tourism officer of Aurora. In 2010, he was awarded the Most Outstanding Tourism Officer of the Philippines by the Department of Tourism-Association of Tourism Officers of the Philippines (DOT-ATOP).
He said Aurora and Calabarzon share the same tourism promise, with the same offerings and resources from their landscape to their history, culture and people.
Palispis said he will replicate in Region 4-A how he positioned Central Luzon during his term as president of Association of Tourism Officer of Central Luzon (ATOCEL), a position he held for six straight years.
He said his first order of business is to fast-track all DOT accreditation of tourism enterprises as the industry begins to reopen amid the COVID-19 pandemic.
"Our tourism chief can rest assured that Region 4-A will deliver. The goal is to process and release all pending applications for accreditation, including serving certificates of authority to operate to accommodation and tourism establishments across the Southern Tagalog region," he added.
DOT stressed earlier that all accommodation establishments that intend to commence commercial operations in community quarantine zones, whether for the accommodation of guests or operations of in-house food facilities for take–out or delivery, shall secure a DOT Certificate of Authority to Operate prior to any operations.
To secure the certification, DOT–accredited hotels and other accommodation establishments need only to submit to the DOT Regional Office with jurisdiction over their area the letter of intent to operate, while non-DOT-accredited hotels and accommodation establishments will need to apply for accreditation to ensure compliance of basic requirements.
Under the interim guidelines for the application for accreditation of tourism enterprises, there are three types of certifications that a tourism enterprise may receive particularly the certificate of accreditation, certificate of provisional accreditation and a certificate of basic registration.
Moreover, Palispis said that as soon as the situation permits, he wanted to start organizing Calabarzon's tourist destinations into clusters based on their available resources and products, committing to develop them to their maximum potentials.
"The plan is to complement each destination, rather than pit them against one another," Palispis said adding that the region can sell its tourism products more conveniently and easily.