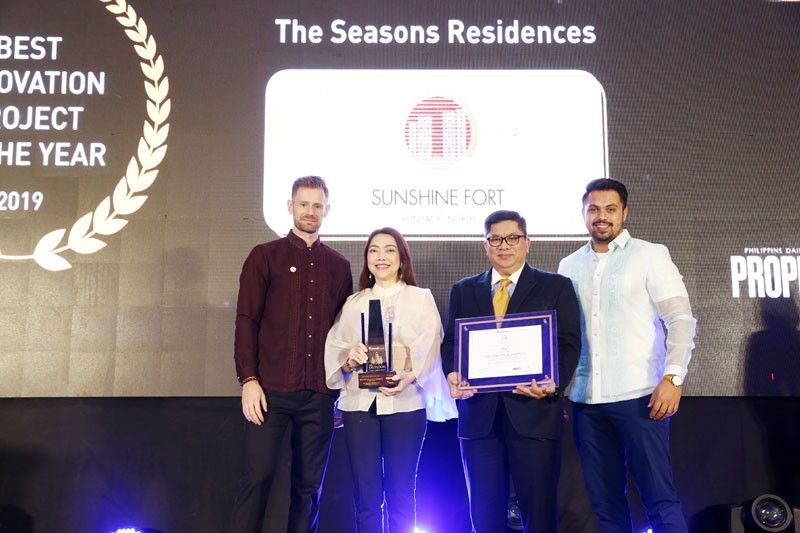 The seasons residences named best innovation project: The Seasons Residences, a soon-to-rise four-tower premium condominium developed by Federal Land Inc. and global partners Nomura Real Estate Development Co. Ltd. and Isetan Mitsukoshi Holdings Ltd., was recently named the Best Innovation Project at The Outlook 2019 Philippine Buyer's Choice Property Awards organized by Lamudi. The award category fetes the top developer that demonstrates the future of real estate by introducing groundbreaking improvements and technology-driven solutions. Receiving the award are Federal Land VP for project development Cherie Fernandez and SVP for sales and marketing John Frederick Cabato (2nd and 3rd from left, respectively), joined by Lamudi Philippines key accounts manager Mark Bailey (left) and Buskowitz Group chairman and CEO James Buskowitz.
RedDoorz leads in affordable hotel chain category in Philippine
(The Philippine Star) - December 1, 2019 - 12:00am
MANILA, Philippines — RedDoorz, Southeast Asia's largest and fastest-growing hotel management and booking platform, is now the leading affordable hotel chain in the country with the most number of hotel properties across the country.
The hotel chain credits its growth to its award winning technology that provides business solutions to generate more partner hotels strategically located in major central business districts and key cities all over the country. RedDoorz has also produced loyal and new customers on the lookout for deals and cost efficient arrangements, solutions to the traffic situation and opportunities to travel and enjoy new experiences.
RedDoorz now has more than 200 hotels in more than 20 different cities nationwide, providing standardized hotel experience for domestic and international travelers. When it started Philippine operations in October 2018, the hotel chain was operating with less than a hundred properties. A year later, it experienced a 300 percent growth, with the number of employees increasing from just around 50 in 2018 to 200 at present. It is targeting to add 300 more properties in 30 cities and employ 300 direct and 3,000 indirect hotel staff by the end of 2019.
RedDoorz has been disrupting the hotel and hospitality sector in Southeast Asia since the company was formed in 2015. With RedDoorz's presence in major cities in the country including Manila, Cebu, Davao and Tagaytay, the company focuses on opening new properties in tourist-heavy destinations especially for the upcoming holidays in areas like Boracay, Bohol, Antique, Capiz, Dumaguete, Palawan, Tacloban, and other key cities in Visayas and Mindanao before the year ends.
"We can say that about 90 percent of RedDoorz customers are domestic travelers. Most of them travel to and from Manila or Davao or any other cities in the Philippines for business as well as travelers who wants access to nearby tourist areas. We also observed that our customers who are usually booking rooms in the city want to lessen stress especially because of traffic... or even booking our hotels to be able to do more lifestyle activities and spend more time for important moments with family and friends. We want to be in every relevant street corner in the Philippines," RedDoorz SVP for marketing and communications Liviu Nedef said.
Nedef explained that RedDoorz does not own the hotel properties but partners with existing hospitality institutions to provide them with technology and marketing strategies to ensure that all RedDoorz partner properties provide standardized services and amenities at affordable costs. Travelers can choose from three different hotel categories ranging from RedDoorz Standard to RedDoorz Plus and RedDoorz Premium, with each category offering a varying degree of value services for all guests.
All RedDoorz partner hotels guarantee simple but essential traveler needs – from clean rooms, clean bed sheets, free WiFi connectivity, to toiletries and bottled water – perks not usually associated with affordable hotels. RedDoorz not only makes it cost effective but ensures standardized and convenient app usage for consumers - being RedDoorz as the brand of choice of traveling Filipinos.