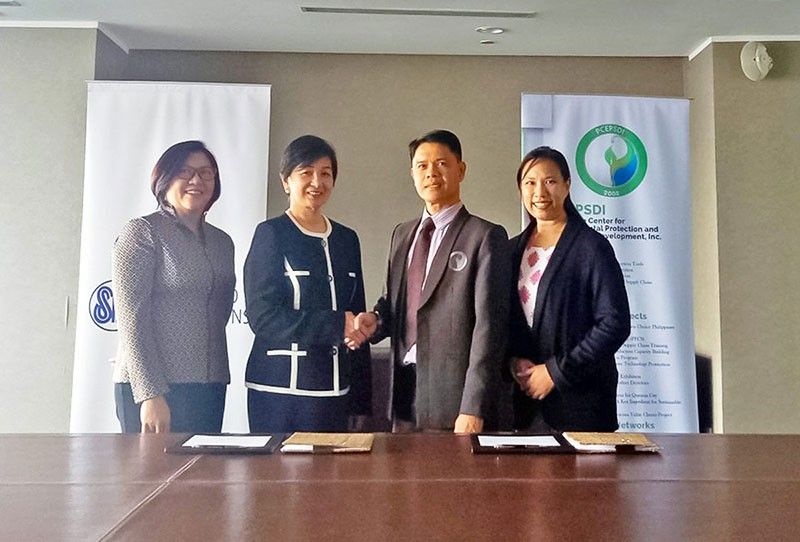 Photo shows (from left) SMHCC vice president for quality and sustainability Leah Magallanes, SMHCC executive vice president Peggy Angeles, PCEPSDI president and executive director June Alvarez and PCEPSDI projects and programs director Maureen Grace Lebria sealing the agreement.
SM hospitality unit sets bar high for green procurement
(The Philippine Star) - October 20, 2019 - 12:00am
MANILA, Philippines — As part of its thrust towards sustainable consumption and production (SCP) in the Philippines, SM Hotels and Conventions Corp. SMHCC recently signed a memorandum of agreement with the Philippine Center for Environmental Protection and Sustainable Development Inc. (PCEPSDI). The agreement highlights SMHCC's commitment to promote sustainable tourism aimed at encouraging greater involvement on greener consumption.
SMHCC executive vice-president Peggy Angeles said SMHCC's partnership with PCEPSDI "solidifies the company's objective to upgrade our sustainability programs, core practices and internal capacity building by applying SCP practices such as resource efficiency and cleaner production, greening the supply chain and green procurement, and waste management, among others."
Specifically, SMHCC spearheaded an awareness program on green procurement through a full-day workshop conducted by PCEPSDI attended by a total of 100 top suppliers of Taal Vista Hotel, Pico Sands Hotel, Pico de Loro Club, Tagaytay Highlands, SM Investments Corp. Procurement Group and SM Retail. The basic premise of this specific kind of procurement program is that every single purchase has hidden health, environmental, and social impacts throughout the entire supply chain.
The green procurement workshop was able to educate and professionalize both the procurement staff and suppliers who are the significant drivers of the program. Sustainable product specifications were set and identified such as the use of paper materials for goods and packaging and green cleaning products for housekeeping. Moreover, to promote efficiency, an e-ordering system will be implemented to reduce impacts associated with printing and transporting paper documents.
The choice of suppliers will be based on their solid credentials for sustainability. Those who use harmful materials in the products they supply will be replaced.
PCEPSDI president and executive director June Alvarez highly encourages SMHCC's proactive efforts and involvement. "We are grateful for this partnership with SMHCC. We look forward in supporting their efforts towards sustainable tourism through our Green Choice Philippines Program together with our other project partners such as DOT, UN Environment Program, WWF-PH, and Tourism Congress of the Philippines. We intend for tourism in the Philippines to be a strong environmental and sustainable driver wherein SMHCC has agreed to be at the forefront of this endeavor."