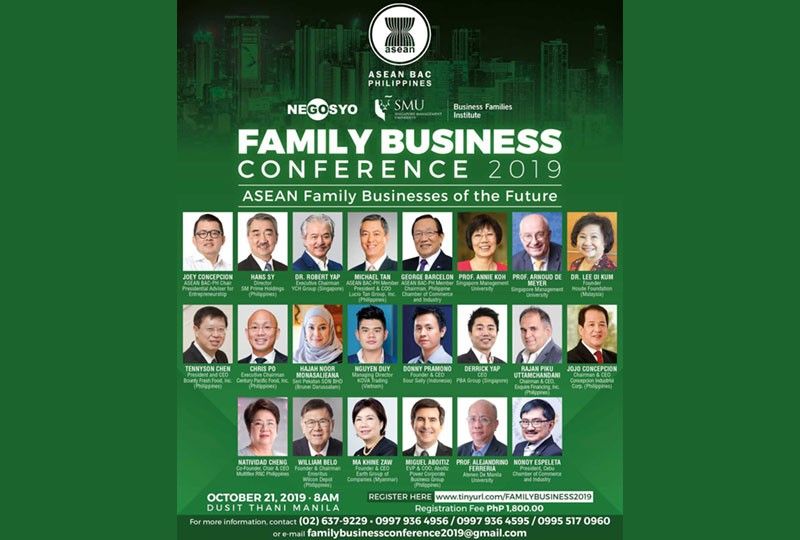 The country's first-ever Family Business Conference 2019 is happening on Oct. 21 at Dusit Thani Hotel, Makati City.
The Asean Family Business Conference 2019
GO NEGOSYO PILIPINAS ANGAT LAHAT!
-
Joey Concepcion
(The Philippine Star) - October 10, 2019 - 12:00am
I started being an entrepreneur during my senior high school days. From helping out with small management tasks to heading core positions, and assuming later on the leadership in our company. I am beyond proud to have helped RFM Corp. grow into what it is now, a leading food and beverage company in the country.
My role as presidential adviser on entrepreneurship to former president Gloria Macapagal-Arroyo and now President Duterte has given me the perspective and vision on how our country can be more inclusive.
In the Philippines, as well as in other Asian economies, most businesses are run by families. Family-owned businesses play a major role in the local economy, driving sustainable livelihoods and generating jobs for millions of Filipinos in the labor force. Family companies, either public or private, can have a great influence on how we can make our country more inclusive so our smaller companies will have a better chance to become bigger.
On Oct. 21, the ASEAN Business Advisory Council, in partnership with Go Negosyo and together with the Singapore Management University, will hold the first ASEAN Family Business Conference at Dusit Thani Manila with the theme, ASEAN Family Businesses of the Future. This is the first ASEAN family business conference to be done in the Philippines and if successful, each of the ASEAN countries may adopt the program. The ASEAN Mentorship for Entrepreneurs Network (AMEN) is now being rolled out starting with Malaysia, Indonesia, and Philippines.
Every business family has to overcome the challenge of generational transition. While economic growth of the region is on the rise, succession, sustainability, innovation and entrepreneurship remain as the biggest concerns. Business families need systematic succession plans to ensure a smooth transition to the next generation. The next generation of leaders, who are the most well placed to embrace technological advancements, carry the task of leading their firms into transformations. Sustaining and professionalizing the operations of the family business are also key to ensuring longevity. For Asian family firms, professionalization is a necessary step to make sure that family relations stay harmonious and that the business is built on a strong foundation that can support future growth.
Our esteemed speakers will share how they leverage family entrepreneurship to strike a balance between succession and sustainability. One speaker and role model is Hans Sy. He is the fourth child of Henry Sy, the late founder of the largest conglomerate in the country, SM Investments. Another is William Belo, the founder and chairman emeritus of Wilcon Depot Inc., which is a leading home improvement and construction supply chain in the country. Michael Tan of the LT Group of companies, who concurrently serves as COO of the Asia Brewery Inc., along with Christopher Po of Century Pacific Food Inc. will also serve as panelists.
At the conference, they will share the stage with other exceptional businessmen from across the ASEAN, such as Robert Yap of Singapore's YCH Group, a leading end-to-end supply chain management services in Asia. Recognized for his visionary leadership, Robert contributes as an advisor on numerous local and international platforms. He is also the president of the Singapore National Employers Federation and the co-chairman of the ASEAN BAC.
Filipino family businesses can learn a lesson or two from the best practices of innovative businesses abroad, such as KOVA Trading, a leading paint-and-coating group in Asia. Nguyen Duy, the CEO, is the third-generation owner of KOVA, which was founded by his grandmother. In 2014, at 24, Duy took on the crucial task of transforming the 20-year-old brand into a competitive global player. Under Duy's leadership, KOVA expanded its reach to Europe and the United States, operating through 12 subsidiaries and seven factories across the ASEAN.
Aspiring businesses can also gain insights from Donny Pramono, founder of Sour Sally, which is a pioneer frozen yogurt brand in Indonesia. His motto in innovation is, "Think different, not (only) better." Another young family business innovator is Derrick Yap, the CEO of Platform for Bots and Automation (PBA) Group, a bearings and mechanical components trading company in Singapore. Derrick, who took over the company helm from his father at a young age, earned through his innovative ideas the respect of not only his father, but their employees, partners, and customers, across the 13 countries where PBA operates.
We will also have Professors Annie Koh and Arnoud de Meyer as representatives from the Singapore Management University. Other leading family enterprises in the country are also joining the conference, such as Miguel Aboitiz of the Aboitiz Power Corporate Business Group, Jojo Concepcion of Concepcion Industrial Corp., Natividad Cheng, co-founder, chair & CEO of Multiflex RNC Philippines, Tennyson Chen of Bounty Fresh Foods Inc., and notable family businesses across the region including Chirawan Diskul of Siam Park Bangkok, Hajah Noor Monasalieana of Seri Pekatan BDN BHD, Ma Khine Zaw of Earth Group of Companies, and Dr. Lee Oi Kum of Houde Foundation.
Rajan Uttamchandani of Esquire Financing Inc., Prof. Alejandrino J. Ferreria Ed.D, and Industry and Virgilio "Nonoy" Espeleta of Cebu Chamber of Commerce and Industry will also be part of the plenary sessions.
In the past, and even more so today, the stakes are high for family-run businesses. The challenge is for next generation leaders to ensure that they are not left behind in today's ever-changing and continuously evolving global landscape. To secure longevity and sustainability, public and private family businesses must be able to adapt, innovate, and effect good succession strategies as well as professionalize their operations. These practices, which can serve as growth strategies for other aspiring public or private enterprises, are also critical in ushering in inclusive development not only in the Philippines, but in the whole of ASEAN.