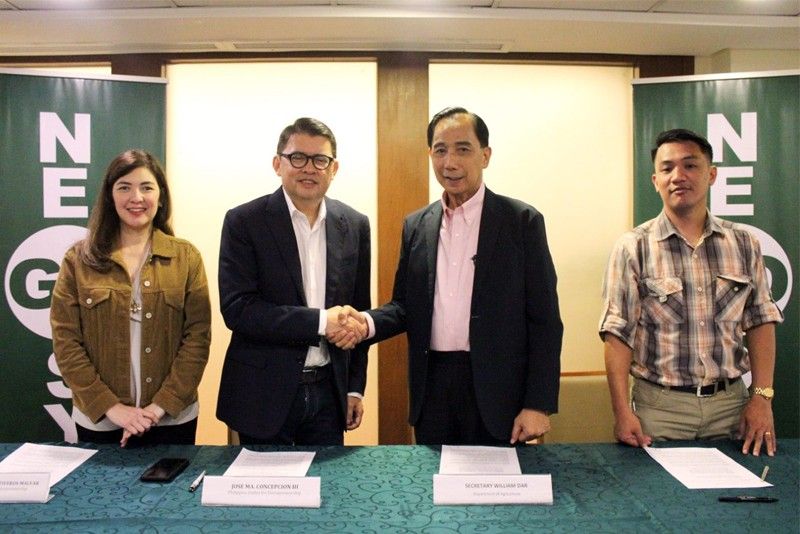 PA Joey Concepcion recently signed the deal for expanded agribusiness programs with Agriculture Secretary William Dar.
Successful agribusiness through PPP
GO NEGOSYO
-
Joey Concepcion
(The Philippine Star) - September 12, 2019 - 12:00am
Lately, there have been many issues surrounding the agriculture sector that continue to challenge our local farmers and other agri-stakeholders.
Tagged as the most challenged sector, agriculture is continuously affected by many factors including market price, logistic requirements, uncontrollable variables such as drought or typhoons, infestation, and other calamities that affect the productivity of crops and livestock.
If our farmers are not equipped with the necessary skills, capital, and technology to protect their businesses and harvests, they will not be able to meet the demands of the entire country. We should all be reminded that we are an agricultural nation, one that relies heavily on the produce of our farmers.
Helping to address these grave concerns, one of the solutions pitched by stakeholders is to establish a strong partnership between the government and the private sector. Already, Big Brother enterprises and government institutions are supporting the farmers to help them produce higher-quality yield, which hopefully will make farmers more globally competitive.
Last Sept. 3, Agriculture Secretary William Dar and I signed a deal for the expansion of Go Negosyo and DA's agribusiness programs for our farmers and fisherfolk. We were also joined by Go Negosyo adviser for agripreneurship and Mindanao development programs head Ginggay Hontiveros-Malvar and DA's Dakila Padua.
Secretary Dar emphasized the importance of creating a productive, competitive, inclusive, sustainable and, most especially, resilient agribusiness climate in the country. As an institution dedicated to uplifting the working and living conditions of our farmers, DA renewed its commitment to support Go Negosyo's agri-development programs, including one of our flagship initiatives, the Kapatid Agri Mentor Me Program (KAMMP).
During our signing, Dar said, "Inclusive agribusiness is the way forward. We will reinvent and redirect Philippine agriculture towards the path of modernization and industrialization, with the aim of making it more productive, competitive, sustainable, resilient, and inclusive. And let us not forget the goal of increasing the income of our farmers and fisherfolk. Prosperity for all."
KAMMP, done in partnership with the Department of Agriculture, has already helped thousands of agri-preneurs across the country sustain and scale up their farming businesses through mentorship and module seminars. We aim to encourage more agri-stakeholders, associations, and cooperatives to become agripreneurs by capacitating them in various areas of business.
Since its launch in 2017, KAMMP has been able to bring the program to all 16 regions, successfully training more than 2,500 farmers, and producing graduates in close to 1,000 agri-based cooperatives and farmer associations.
Entrepreneurial mind-setting and values formation, marketing management, basic accounting, finance management, farm operations management, agri-supply and value chain, basic coop management, basic business law, and business plan development are among the seminar modules taught by Go Negosyo's mentors. Our mentors are all successful agri-practitioners and business owners with extensive experience in the field.
Go Negosyo-DA is also set to implement the second phase of its KAMMP program called the Angat Lahat sa Agri-Business (ALAB). The program aims to instill in graduate mentees and cooperatives the significance of the value chain approach as an inclusive growth model for businesses, as well as provide firm linkages to market and financing sources for possible expansions.
Prior to our meeting, I also met with the DA-Agricultural Credit Policy Council, led by director Jojo Badiola, Kennemer Foods Corp. CEO Simon Bakker, and Agronomika Finance Corp. general manager Jonna Bickel, for the MOA signing of the "Agriculture value chain financing with capacity building for smallholder cacao farmers" partnership in Mindanao.
This initiative aims to increase the exposure of small farmers and fisherfolk to economic opportunities through the Agricultural Value Chain Financing Support and Capacity Building through Entrepreneurship and Organizational Development (ASCEnD) to develop the capacity of non-bank rural financial institutions (NBRFIs), particularly private financing/lending corporations.
Through this partnership, Go Negosyo aims to form a stronger legion of stakeholders that will strengthen the capacity of NBRFIs and further aid the financial needs of small farmers throughout the value chain. It will also ensure the increase of production capacities and income of small farmers.
We have to improve the lives of our farmers and make the sector more resilient, ensuring that it is able to overcome any challenge and calamity. The landscape of prosperity will only change if we focus on the important role of our farmers and other players in agriculture.
Agriculture is the backbone of our economy. That is why social progress relies heavily on the transformation and modernization of our agriculture sector. Arming our farmers and fisherfolk with the latest technical know-how and providing them the right opportunities to succeed is how we can change the game.