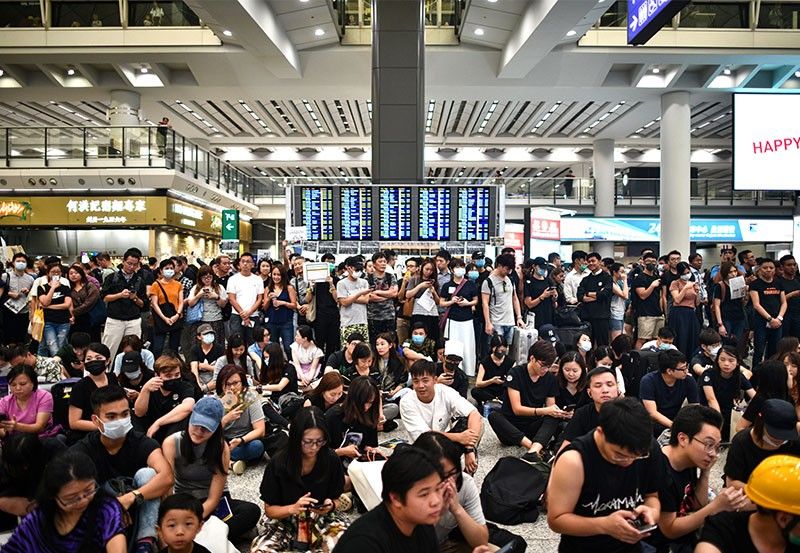 Protesters rally against a controversial extradition bill at the arrivals hall of the international airport in Hong Kong on July 26, 2019. Thousands of Hong Kongers, including flight attendants, held a rally in the airport's arrivals hall on July 26 to "educate" visitors about the demonstrations currently gripping the international finance hub as it braces for another weekend of protests.
AFP/Anthony Wallace
LIST: Flights canceled due to Hong Kong protests
(Philstar.com) - August 5, 2019 - 8:49am
MANILA, Philippines (Updated 4:31 p.m.) — The Manila International Airport Authority announced that flights to Hong Kong would be canceled due to ongoing protests in the semi-autonomous Chinese territory.
The protests in Hong Kong, triggered by a controversial extradition bill, have caused a slowdown in airport operations.
As of 8 a.m. on Monday, here's the list of canceled flights:
NAIA Terminal 3
Cathay Pacific
August 5
CX907 HKG – MNL
CX906 MNL – HKG
CX919 HKG – MNL
CX918 MNL – HKG
CX903 HKG – MNL
CX902 MNL – HKG
CX935 HKG – MNL
CX934 MNL – HKG
CX912 MNL – HKG
CX939 HKG – MNL
CX976 MNL – HKG
August 6
CX912 – MNL – HKG
CX976 – MNL – HKG
NAIA Terminal 2
Philippine Airlines
August 5
PR318 MNL – HKG
PR319 HKG – MNL
PR306 MNL – HKG
PR307 HKG – MNL
Philippine Airlines advised its passengers that they may be accommodated on available flights for August 6. Passengers with affected flights may also rebook or refund their tickets within the next 30 days with rebooking and refunding fees waived.
"Our Hong Kong station team and the airport authorities are in regular communication. The goal is to restore normal airport operations at the soonest possible time," PAL said in an advisory.
Rescheduled flights
AirAsia, meanwhile, has rescheduled the following flights for August 5:
Z21264 MNL – HKG (New Departure: 17:05)
Z21265 HKG – MNL (New Departure: 20:00)
AirAsia passengers whose flights have been delayed for more than three hours or have been canceled may also change their flight to a new travel date, retain the value of their AirAsia BIG loyalty account for future travel with the airline or obtain a full refund.
"Guests who continue to travel are strongly advised to allow extra time to travel to/from the airport as well as follow the instructions of our ground staff and airport authorities," AirAsia said in an advisory. — Patricia Lourdes Viray
As It Happens
LATEST UPDATE: May 24, 2020 - 2:30pm
Millions march in Hong Kong in a powerful rebuke of an extradition law feared to expose them to China's capricious justice system.
May 24, 2020 - 2:30pm
Police fired tear gas at protesters in Hong Kong on Sunday, as hundreds of pro-democracy campaigners gathered in their first rally after China sparked outrage with a proposed new security law.
The protesters were marching between the busy districts of Wan Chai and Causeway Bay when the tear gas was fired, after earlier police warnings against the assembly. — AFP
April 6, 2020 - 8:26pm
A former Hong Kong lawmaker was convicted on Monday of using a loudhailer to assault police officers during huge pro-democracy protests that convulsed the finance hub last year.
Au Nok-hin is the first former member of the city's legislature to be successfully prosecuted for taking part in the protests and the most high profile figure convicted to date.
Hong Kong's courts have a huge backlog of cases stemming from last year's protests which dominated the city for seven straight months and upended its reputation for stability.
Some 7,000 people were arrested, many of them youngsters, in the near-daily clashes between riot police and protesters. — AFP
February 13, 2020 - 7:08pm
China appoints a senior official known for a hardline crackdown on Christians to head its main policy-making body for Hong Kong, following months of pro-democracy protests in the semi-autonomous city.
The reshuffle comes after months of political unrest -- the starkest challenge to Beijing since the former British colony was returned to Chinese rule in 1997.
Senior Beijing official Xia Baolong, currently secretary-general at the national committee of China's top political advisory body, was promoted to director of the Hong Kong and Macau Affairs Office of the State Council. — AFP
January 13, 2020 - 6:06am
Human Rights Watch chief Kenneth Roth says he had been denied entry into Hong Kong, where he had arrived to launch the watchdog's annual report after months of civil unrest in the city.
Hong Kong has been battered by nearly seven months of occasionally violent protests, its biggest political crisis in decades. Millions have turned out on the streets of the semi-autonomous financial hub to demand greater democratic freedoms.
Roth was to give a press conference on Wednesday to unveil his organisation's latest global survey, which accuses China of prosecuting "an intensive attack" on international human rights agencies.
I flew to Hong Kong to release @HRW's new World Report. This year it describes how the Chinese government is undermining the international human rights system. But the authorities just blocked my entrance to Hong Kong, illustrating the worsening problem. https://t.co/GRUaGh8QUb pic.twitter.com/iTHVEXdbwO

— Kenneth Roth (@KenRoth) January 12, 2020
— AFP
January 10, 2020 - 1:55pm
Nearly one in three adults in Hong Kong reported symptoms of post-traumatic stress disorder during months of often violent social unrest in the city, according to a study published in The Lancet medical journal Friday.
And around one in 10 had symptoms of probable depression, figures comparable to those seen in areas of armed conflict or following terrorist attacks, the decade-long study led by researchers from the University of Hong Kong found.
Prevalence of PTSD symptoms was six times higher than after the last major pro-democracy "Occupy" protests in 2014, rising from about five percent in March 2015 to almost 32% in September-November 2019.
The increase corresponds to an additional 1·9 million adults with PTSD symptoms in the city of 7.4 million.
Up to 11% of adults reported symptoms of depression, from around two percent before the Occupy protests, and 6.5% in 2017, the study estimated. — AFP