LIST: Flights canceled due to Hong Kong protests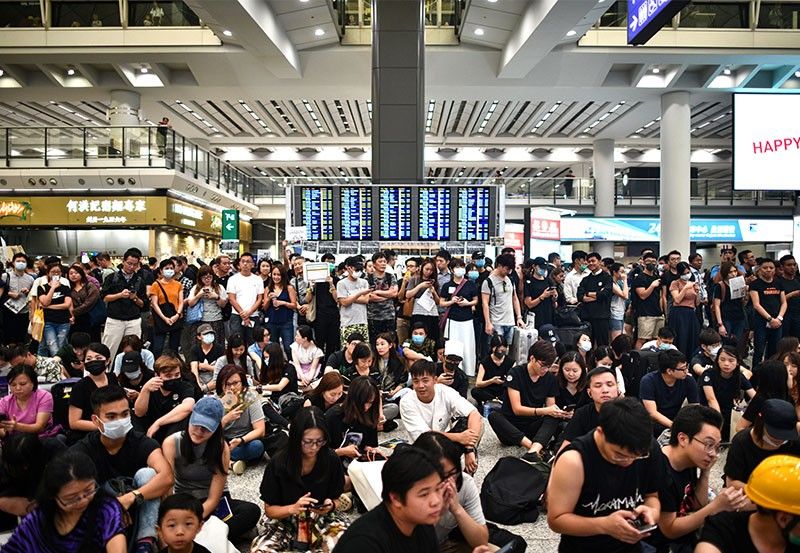 MANILA, Philippines (Updated 4:31 p.m.) — The Manila International Airport Authority announced that flights to Hong Kong would be canceled due to ongoing protests in the semi-autonomous Chinese territory.
The protests in Hong Kong, triggered by a controversial extradition bill, have caused a slowdown in airport operations.
As of 8 a.m. on Monday, here's the list of canceled flights:
NAIA Terminal 3
Cathay Pacific
August 5
CX907 HKG – MNL
CX906 MNL – HKG
CX919 HKG – MNL
CX918 MNL – HKG
CX903 HKG – MNL
CX902 MNL – HKG
CX935 HKG – MNL
CX934 MNL – HKG
CX912 MNL – HKG
CX939 HKG – MNL
CX976 MNL – HKG
August 6
CX912 – MNL – HKG
CX976 – MNL – HKG
NAIA Terminal 2
Philippine Airlines
August 5
PR318 MNL – HKG
PR319 HKG – MNL
PR306 MNL – HKG
PR307 HKG – MNL
Philippine Airlines advised its passengers that they may be accommodated on available flights for August 6. Passengers with affected flights may also rebook or refund their tickets within the next 30 days with rebooking and refunding fees waived.
"Our Hong Kong station team and the airport authorities are in regular communication. The goal is to restore normal airport operations at the soonest possible time," PAL said in an advisory.
Rescheduled flights
AirAsia, meanwhile, has rescheduled the following flights for August 5:
Z21264 MNL – HKG (New Departure: 17:05)
Z21265 HKG – MNL (New Departure: 20:00)
AirAsia passengers whose flights have been delayed for more than three hours or have been canceled may also change their flight to a new travel date, retain the value of their AirAsia BIG loyalty account for future travel with the airline or obtain a full refund.
"Guests who continue to travel are strongly advised to allow extra time to travel to/from the airport as well as follow the instructions of our ground staff and airport authorities," AirAsia said in an advisory. — Patricia Lourdes Viray
As It Happens
LATEST UPDATE: May 12, 2022 - 8:27am
Millions march in Hong Kong in a powerful rebuke of an extradition law feared to expose them to China's capricious justice system.
May 12, 2022 - 8:27am
An elderly Catholic cleric critical of Beijing was released on bail by Hong Kong authorities, local media reported late Wednesday, hours after he was arrested under the city's national security law.
Retired cardinal Joseph Zen was seen waving to reporters in a video posted on Twitter, as he left a police station in Chai Wan. He was released shortly before the White House issued a statement demanding he be freed.
Cantonese pop singer Denise Ho, who was also among the group of veteran democracy advocates arrested under the law, was similarly released on bail, local media said. — AFP
May 3, 2022 - 2:46pm
Hong Kong has plummeted down an international press freedom chart as authorities have wielded a draconian new security law to silence critical news outlets and jail journalists, a new report says on Tuesday.
In the last year alone it has plunged 68 places to 148th, sandwiching the international business hub between the Philippines and Turkey.
"It is the biggest downfall of the year, but it is fully deserved due to the consistent attacks on freedom of the press and the slow disappearance of the rule of law in Hong Kong," Cedric Alviani, head of RSF's Taiwan-based East Asia bureau, told AFP.
"In the past year we have seen a drastic, drastic move against journalists," he added. — AFP
April 27, 2022 - 8:24am
Heavy-handed government action, self-censorship and physical threats against journalists have left Hong Kong's media freedoms in a "dire" state, a UK-based campaign group says.
Hong Kong Watch urges Western countries to defend journalists in the former British territory, including by offering them visas to relocate and outlets for Cantonese-language programming overseas.
The governments of both Hong Kong and China were guilty of "dismantling media freedom in Hong Kong", in part through a sweeping National Security Law imposed by Beijing in 2020, the group says in a new report.
"The situation for media freedom in Hong Kong is dire," it says. — AFP/Jitendra Joshi
April 20, 2022 - 5:03pm
US video hosting service YouTube Wednesday suspends a channel promoting Hong Kong official John Lee's uncontested bid to be the city's next leader, saying the move was in compliance with sanctions against the ex-security chief.
Lee is expected to be appointed the business hub's new chief executive by a committee of 1,500 Beijing loyalists next month. He faces no rivals.
Parent company Google defends the decision to remove his channel, saying the move was in compliance with US sanctions, which ban American companies and individuals from providing services to targeted officials.
"After review and consistent with these policies, we terminated the Johnlee2022 YouTube channel," a company spokesperson says. — AFP
April 20, 2022 - 1:54pm
A pro-democracy Hong Kong radio DJ was jailed for 40 months on Wednesday for "seditious speech" under a British colonial-era law authorities have embraced as China flattens dissent in the city.
Tam Tak-chi, 49, is among a growing number of activists charged with sedition, a previously little-used law that prosecutors have dusted off in the wake of massive and sometimes violent pro-democracy protests in 2019.
The DJ's sentencing was aggravated because his seditious speech continued after China imposed a national security law on Hong Kong in 2020, Judge Stanley Chan said Wednesday while announcing the punishment.
"Live long, mother, wait for me," Tam shouted afterwards as he was taken away from the court.
Better known by his moniker "Fast Beat", Tam hosted a popular online talk show that backed democracy and was highly critical of the government, often using colourful language. — AFP