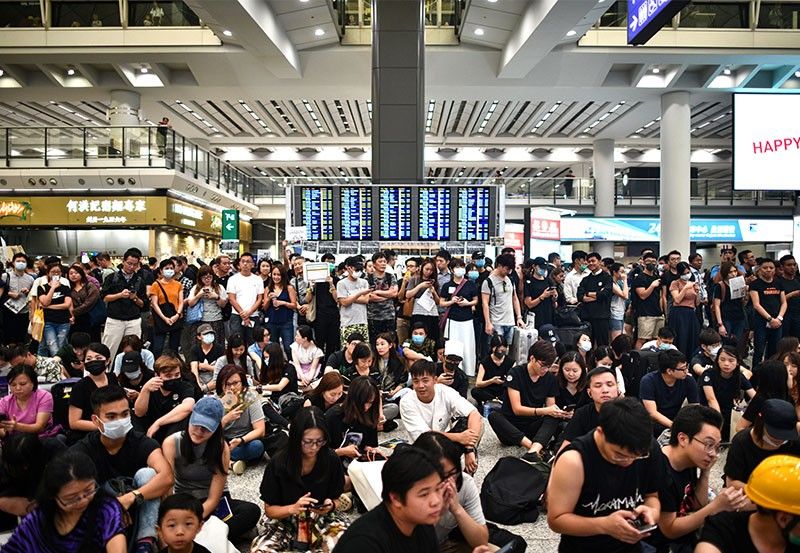 Protesters rally against a controversial extradition bill at the arrivals hall of the international airport in Hong Kong on July 26, 2019. Thousands of Hong Kongers, including flight attendants, held a rally in the airport's arrivals hall on July 26 to "educate" visitors about the demonstrations currently gripping the international finance hub as it braces for another weekend of protests.
AFP/Anthony Wallace
LIST: Flights canceled due to Hong Kong protests
(Philstar.com) - August 5, 2019 - 8:49am
MANILA, Philippines (Updated 4:31 p.m.) — The Manila International Airport Authority announced that flights to Hong Kong would be canceled due to ongoing protests in the semi-autonomous Chinese territory.
The protests in Hong Kong, triggered by a controversial extradition bill, have caused a slowdown in airport operations.
As of 8 a.m. on Monday, here's the list of canceled flights:
NAIA Terminal 3
Cathay Pacific
August 5
CX907 HKG – MNL
CX906 MNL – HKG
CX919 HKG – MNL
CX918 MNL – HKG
CX903 HKG – MNL
CX902 MNL – HKG
CX935 HKG – MNL
CX934 MNL – HKG
CX912 MNL – HKG
CX939 HKG – MNL
CX976 MNL – HKG
August 6
CX912 – MNL – HKG
CX976 – MNL – HKG
NAIA Terminal 2
Philippine Airlines
August 5
PR318 MNL – HKG
PR319 HKG – MNL
PR306 MNL – HKG
PR307 HKG – MNL
Philippine Airlines advised its passengers that they may be accommodated on available flights for August 6. Passengers with affected flights may also rebook or refund their tickets within the next 30 days with rebooking and refunding fees waived.
"Our Hong Kong station team and the airport authorities are in regular communication. The goal is to restore normal airport operations at the soonest possible time," PAL said in an advisory.
Rescheduled flights
AirAsia, meanwhile, has rescheduled the following flights for August 5:
Z21264 MNL – HKG (New Departure: 17:05)
Z21265 HKG – MNL (New Departure: 20:00)
AirAsia passengers whose flights have been delayed for more than three hours or have been canceled may also change their flight to a new travel date, retain the value of their AirAsia BIG loyalty account for future travel with the airline or obtain a full refund.
"Guests who continue to travel are strongly advised to allow extra time to travel to/from the airport as well as follow the instructions of our ground staff and airport authorities," AirAsia said in an advisory. — Patricia Lourdes Viray
As It Happens
LATEST UPDATE: August 19, 2019 - 6:52am
Millions march in Hong Kong in a powerful rebuke of an extradition law feared to expose them to China's capricious justice system.
August 19, 2019 - 6:52am
US President Donald Trump on Sunday warned China that carrying out a Tiananmen Square-style crackdown on Hong Kong pro-democracy protesters would harm trade talks between the two countries.
"I think it'd be very hard to deal if they do violence, I mean, if it's another Tiananmen Square," Trump told reporters in New Jersey. "I think it's a very hard thing to do if there's violence."
Hong Kong has been roiled by protests for more than two months and on Sunday hundreds of thousands of democracy activists had marched peacefully in the city despite rising unrest and stark warnings from Beijing.
There have been increasingly stark warnings from Beijing over the protests, and state media has run images of military personnel and armoured personnel carriers across the border in Shenzhen. — Agence France-Presse
August 18, 2019 - 3:09pm
Hong Kong democracy activists gather for a major rally to show the city's leaders their protest movement still attracts wide public support despite mounting violence and increasingly stark warnings from Beijing.
Ten weeks of demonstrations have plunged the financial hub into crisis with images of masked black-clad protesters engulfed by tear gas during street battles with riot police stunning a city once renowned for its stability.
Communist-ruled mainland China has taken an increasingly hardline tone towards the protesters, decrying the "terrorist-like" actions of a violent hardcore minority among the demonstrators.
Despite the near-nightly clashes with police, the movement has won few concessions from Beijing or the city's unelected leadership. — AFP
August 17, 2019 - 5:13pm
Hong Kong democracy activists kick off a weekend of fresh protests in a major test for the movement following criticism over an airport protest earlier this week -- and as concerns mount over Beijing's next move.
Ten weeks of demonstrations have plunged the international finance hub into crisis, with the communist-ruled mainland taking an increasingly hardline tone, including labelling the more violent protester actions "terrorist-like".
Activists are billing two planned rallies on Saturday and Sunday as a way to show Beijing and the city's unelected leaders that their movement still enjoys broad public support, despite increasingly violent tactics deployed by a minority of hardcore protesters that have cast a shadow. — AFP
August 17, 2019 - 3:51pm
Hundreds of pro-China demonstrators march through Sydney Saturday in response to a growing number of rallies in support of the Hong Kong democracy protests as tensions between the two groups increasingly flare in Australia.
They march through the city chanting "One China", waving the Chinese flag and holding placards saying "Stop riots end violence in Hong Kong".
"There has been a lot of violence and violent protests in Hong Kong," Sydney-based lawyer and rally organiser who asked only to be called Zhao says. "And Hong Kong people have suffered from that and we want to voice our call for peace and order in Hong Kong." — AFP
August 16, 2019 - 2:41pm
Hong Kong's police are confident they have the resources to continue battling pro-democracy protesters, even if violence escalates further, pouring cold water on concerns that the authoritarian mainland might need to intervene.
Three senior commanders say they were unaware of any plans by China to bolster their own ranks with mainland troops or police officers, even if the political chaos worsens.
And they admit that any move to do so would place the city's police force in uncharted waters. — AFP