HIDDEN AGENDA
-
Mary Ann LL. Reyes
(The Philippine Star) - July 31, 2019 - 12:00am
One of the municipalities that is expected to greatly benefit from the Philippine National Railways (PNR) North 2 Project, which will run from Malolos in Bulacan to Clark in Pampanga, is Guiguinto, also in Bulacan.
PNR Clark, formerly known as the Northrail Project, is considered as one of the big-ticket projects of the Duterte administration.
Phase I will run from Tutuban to Malolos in Bulacan and is set to be finished by end 2021. The second phase will extend to Clark International Airport. One of the stations will be in Guiguinto.
PNR Clark is expected to add to the attractiveness of Guiguinto, what with the North Luzon Expressway already making this first-class municipality a destination of choice for a number of major industries.
Another major infrastructure project that will have a huge impact on this town's future is the P735.6-billion Bulacan International Airport of the San Miguel Corp. (SMC) group in Bulakan town, which is just five kilometers away from Guiguinto.
Today is the deadline for the Swiss challenge or the process in which a challenger is allowed to offer a better bid than what the original proponent (SMC) offered. SMC is allowed to match the better offer. If there are no challengers (nobody is actually expected to challenge SMC's unsolicited offer) and once the concession agreement with the Department of Transportation is finalized, SMC president Ramon Ang has said that they can start construction by end of this year.
According to Guiguinto Mayor Ambrosio "Boy" Cruz, even before the projects have taken off, the municipality is already earning around P500 million per year and this amount is expected to grow to P700 million to P800 million in the next five years.
But in order to preserve the environment and continue making the municipality a safe place to live in for its resident, Cruz said they prefer to host light industries. In fact, Guiguinto, already plays host to more than 250 ornamental garden plants and landscape businesses. Its Halamanan Festival, held every January, showcases the town's garden and landscape industry. As the garden capital, Guiguinto is home to the biggest player in the industry, Bulacan Garden Corp.
Aside from plants, Guiguinto has also become a favorite destination for those in the warehousing business. Cruz said that right now, there are around 120 hectares of warehouses in the town and this is expected to grow to 200 hectares.
One of the companies that has decided to make Guiguinto home for its warehousing business is Wongchuking Holdings, which just last July 24, inaugurated TIP 3, a vast complex of 11 warehouses averaging 1,000 square meters each. Built at a cost of P127 million, the warehouses reportedly are attracting lessees from the rice industry.
Wongchuking Holdings has two more warehouse complexes, TIP 2 also in Guiguinto composed of five warehouses and another in Sta. Maria, Bulacan with two warehouses of 3,500 square meters each.
Cruz, who graced TIP 3's inauguration, said that this is the kind of business that the town wants to attract, especially since what is important is that the environment is protected and that industrial peace is maintained.
The blessing of TIP 3 actually marks the second celebration for the Wongchuking group in a span of four days. Just last July 21, the basketball team formed and sponsored by Mighty Sports Apparel and Accessories (owned by the Wongchucking group), together with Go for Gold, duplicated its 8-0 win-loss record in 2016 when it swept the 2019 William Jones Cup held in Taiwan. The Mighty Sport-Go For Gold team, led by coach Charles Tiu and assistant coach Rajko Toroman, had for its players San Miguel Alab Pilipinas' Renaldo Balkman, Zach Graham, Eugene Phelps, Gab Banal, Jeremiah Gray, Roosevelt Adams, Joseph Yeo, Aaron Black, Hamady N'Diaye, McKenzie Moore, Angelo Wongchuking, Jason Brickman, and Michael Williams.
The Mighty Sports team won a third-place finish at the 30th Dubai International Basketball Championship held last February. Banal, Gray, Adams, Yeo, Brickman, Wongchuking also joined the Dubai tilt.
As a testament to Mighty Sports' massive contribution to Philippine sports and due to the growing popularity of its sports apparel and accessories, Cignal TV has entered into a partnership with Mighty Sports for the latter to be the merchandise partner for Samahang Basketbol ng Pilipinas and Gilas Pilipinas. Mighty Sports is currently the official outfitter for Xavier School's sports program and the College of Saint Benilde men's basketball team.
Mighty Sports officials explained that the partnership with Cignal allows Mighty Sports to produce and sell various merchandise, including shirts, jackets and other apparel and accessories, both online and retail, for the different Gilas events. Mighty Sports' Caesar Wongchuking said they promise to make it more affordable for the fans and supporters of Gilas to buy Gilas merchandise. Gilas Pilipinas' next stop, of course, is the 2019 FIBA World Cup in China.
Not so hidden agenda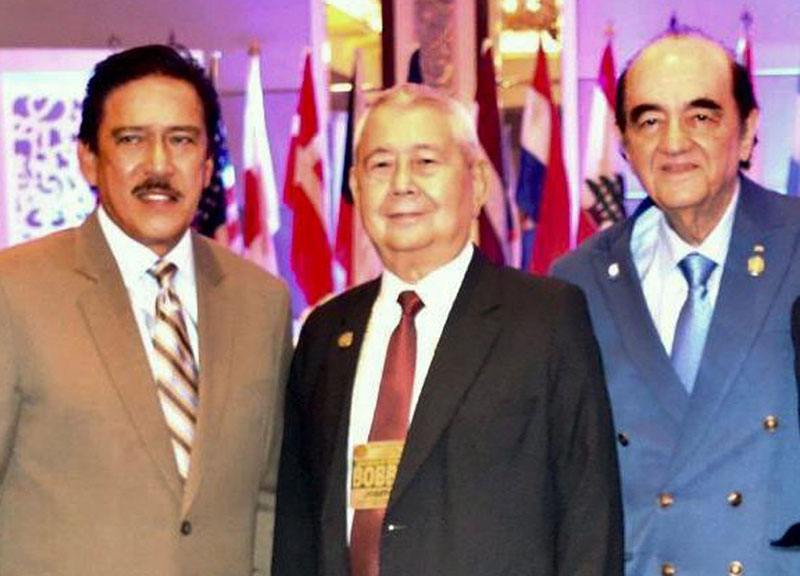 RCM INDUCTION: Rotary Club of Manila guest of honor, Senate President Tito Sotto, is shown with RCM president Jack Rodriguez (right) and director Robert Lim Joseph during the induction of officers and board of directors for RY 2019-2020 at the Manila Hotel recently. Others new officers are Jesus Pineda Jr. as immediate past president and Herminio Esguerra as vice-president who are also members of the board. Meanwhile, joining Joseph in the new board as directors are Rafael Alunan III, Carlos Reyes, Nicanor Villasenor III, Albert Alday, Amado Valdez, ex-officio members include Albert Alday (secretary), Nicanor Villasenor III (treasurer), David Reynolds (sgt at arms), Renato Policarpio (asst secretary), Jason Ong (asst treasurer), and Jason Bogovich (deputy sgt at arms).