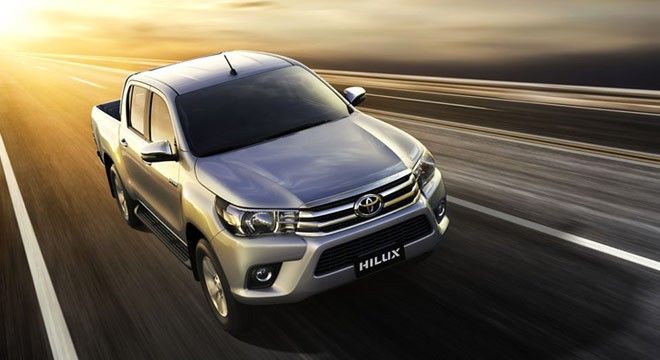 Toyota Hilux dominates pick-up segment in H1
MANILA, Philippines — The country's leading automotive firm Toyota Motor Philippines Corp. (TMPC) dominated the pickup segment in the first half through the Hilux as sales reached over 10,500 units.
TMPC said the Hilux beat competitors in the pickup segment as sales of the vehicle model grew 35 percent year-on-year to 10,554 units, reflecting the growing demand for commercial vehicles in the country.
By area, Metro Manila accounted for a large part of Hilux sales with 4,261 units sold for the period.
This was followed by Central Luzon with 1,219 Hilux units sold.
"Hilux is synonymous with Toyota. The model has been in our lineup for more than five decades, and proves itself time and again to be the prime example of Toyota's strength as a manufacturer," said Elijah Marcial, vice president for marketing at TMPC.
"Through the years, the Hilux garnered a global reputation for its sturdiness. Its overall utility as a pickup truck, combined with high ground clearance and excellent towing power, makes for a reliable daily hauler for business and family use," she said.
At present, the Hilux is available in 12 variants at all TMPC dealerships nationwide, with the price starting at P829,000.
To achieve higher sales this year, the Hilux is also included in TMPC's Toyota Dealightful Savings promo which allows customers to avail of up to P100,000 cash discount for the 4x4 G variants until July 31.
TMPC has remained the top automotive firm in the country as it sold a total of 73,454 units in the first semester, up slightly from the 73,136 units in the previous year.
Apart from the Hilux, TMPC's other best-selling models for the January to June period were the Vios, Innova, Fortuner and Wigo.
For the month of June alone, TMPC's sales rose 27.8 percent to 14,568 units from last year's 11,403 units.
TMPC president Satoru Suzuki said the firm expects sales to rise by single digit or less than 10 percent this year to reach around 165,000 to 168,000 units.
Last year, TMPC's total vehicle sales declined 16.8 percent to 153,004 units from 183,908 units in 2017 as the higher tax imposed by the government on automobiles weakened demand for cars.