First Gen breaks ground for Batangas LNG terminal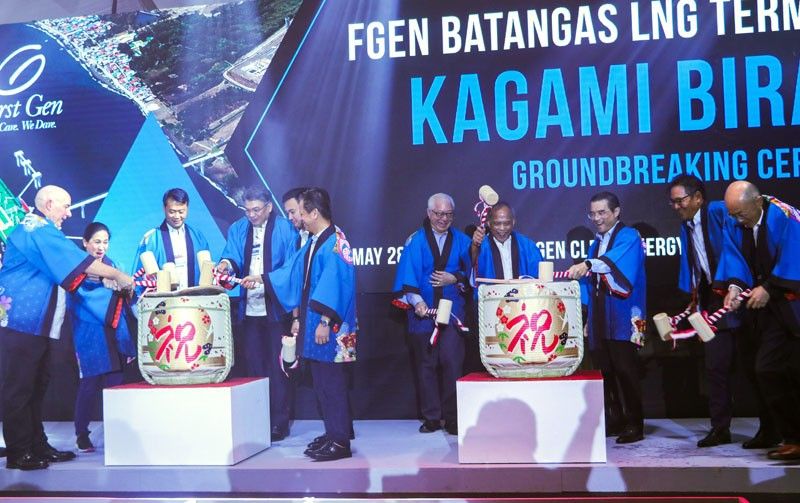 BATANGAS CITY , Philippines — Lopez-led First Gen Corp. broke ground for its liquefied natural gas terminal that is seen to put the Philippines in the regional supply chain for LNG.
The company plans to build two more generating LNG-fired units with a capacity of around 1,200 megawatts (MW) within its Batangas Clean Energy Complex, First Gen executive vice president and chief commercial officer Jon Russell said in an interview during the groundbreaking ceremony yesterday.
"Next to the San Gabriel site, we have two additional vacant lots which can take two new units. With changes in technology—San Gabriel is about 414 MW—the new technology is between 520 MW and 600 MW. So we'll have two more units, about 1,200 MW or 1.2 gigawatts (GW)," he said.
The plan is to start building the power plants by next year as First Gen foresees the need for new capacities beyond 2024 as demand continues to grow amid the lack of new power projects.
"There's a need for new capacity by 2024 so we'd like to start construction so that they can also start to deliver power using LNG by 2024. " Russel said.
First Gen, however, has yet to bid out the engineering, procurement and construction (EPC) contract before making a final investment decision (FID) on the two power plants.
Russell said there are three prospective EPC contractors, namely Siemens, GE and Mitsubishi Heavy Industries.
"We haven't taken a final investment decision yet because we haven't decided which contractor to choose. The big three turbine suppliers, they may decide to do EPC or they may decide to partner with another company," he said.
First Gen president and chief operating officer Giles Puno said the construction of the power projects would complement the planned LNG terminal of First Gen and Tokyo Gas Co. Ltd.
"Given the joint development agreement between Tokyo Gas and First Gen, we consider that the holding of a Kagami Biraki ceremony is an appropriate way for First Gen and Tokyo Gas to celebrate our collaboration, the completion of the significant pre-development work, and the commencement of the next phase of the development of the project," First Gen chairman and CEO Federico Lopez said.
First Gen and Tokyo Gas' investment in an LNG terminal places the country as an important part of the LNG supply chain in the region, Energy Secretary Alfonso Cusi said in the same event.
First Gen hopes to finalize its engineering, procurement and construction (EPC) contractors and additional partners for the LNG terminal by yearend so full-blast construction can commence early next year.
Once it completes the LNG terminal, the country will be able to import LNG and ensure a continuing stable supply of clean energy once the Malampaya gas field is depleted.
The Lopez firm believes First Gen LNG terminal will play a critical role in ensuring the energy security of the Philippines, and the Luzon grid particularly when the indigenous Malampaya gas resource no longer produces sufficient fuel for the country's existing gas-fired power plants, and certainly not for additional gas-fired power plants.
The entry of LNG will encourage both industrial and transport industries to consider it as a replacement to more costly and polluting fuels, it said.