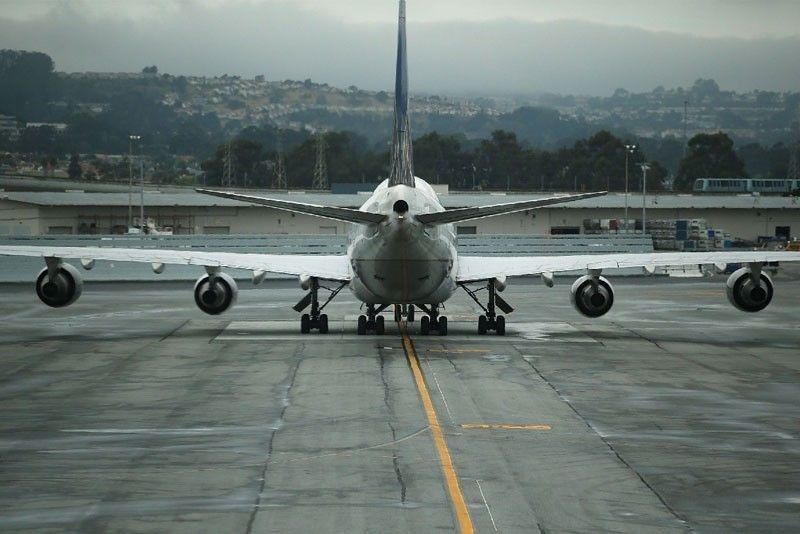 A church worker inspects a bell from the 18th century St. Catherine of Alexandria after its bell tower was destroyed following a 6.3 magnitude earthquake that struck the town of Porac, pampanga province on April 23, 2019. Philippine rescuers were scrambling April 23 to reach dozens of people feared buried under a building near Manila that collapsed a day earlier in a powerful earthquake, as the death toll climbed to 11.
AFP, File
LIST: Flights canceled on Tuesday after strong quake
MANILA, Philippines — Several flights were grounded on Tuesday, April 23, after a magnitude 6.1 earthquake was felt in some parts of Luzon and badly hit Pampanga on Monday.
The Civil Aviation Authority of the Philippines reported that there was broken glass at Clark International Airport's control tower.
The Department of Transportation said the tower is not being utilized as it is undergoing damage assessment.
Clark International Airport Corporation and the DOTr said they are conducting further checks on the integrity of the airport terminal structure and facilities.
They added that the CIA did not sustain any damage on the runways and taxiways but it is closing operations for 24 hours for safety reasons and to pave way for the continuous assessment check. The closure of operations started at 7:40 p.m. on Monday.
The flights affected were international and domestic flights of Cebu Pacific, Air Asia and Philippine Airlines.
These airlines said it already notified the affected passengers and advised them to take any of the following options:
Rebook their flights for travel within 30 days from original departure date, free of charge
Get a full refund
Re-route to flights to other airports
Cebu Pacific said its passengers can re-route the flights to Clark, Hong Kong or Cebu via Manila. It added that passengers may opt to place the full cost of the ticket in a travel fund.
Air Asia, on the other hand, said its passengers can retain the value of their fare in their AirAsia BIG Loyalty account for future travel with AirAsia.
"The online credit account is to be redeemed for booking within 90 calendar days from the issuance date for your travel with us. The actual travel dates can be after the expiry date as long as our flight schedule is out;" Air Asia management said.
Meanwhile, according to the Manila International Airport Authority, it is business as usual in Ninoy Aquino International Airport terminals as there was no significant damage to the runways.
View the list of flight cancellations on Tuesday here:
Philippine Airlines
PR835/836 Clark - Cebu - Clark
PR831/832 Clark - Davao - Clark
PR1833/1834 Cebu - Clark -Cebu
PR492/493 Clark - Incheon - Clark
PR2351/2352 Clark - Cagayan de Oro - Clark
PR2871/2872 Clark - Tagbilaran - Clark
PR2331/2332 Clark - Bacolod - Clark
P2340/2342 Clark - Puerto Princesa - Clark
PR2376/2377 Clark - Caticlan - Clark
PR2696/2697 Clark - Basco - Clark
PR2698/2699 Clark - Busuanga - Clark
PR2877/2878 Clark - Siargao - Clark
PR2675/2676 Clark - Catarman - Clark
PR2875/2876 Clark - Siargao - Clark
PR2205/2206 Clark - Antique - Clark
PR2678/2679 Clark - Busuanga - Clark
PR2671/2672 Clark - Calbayog - Clark
PR2323/2324 Clark - Cagayan de Oro - Clark
PR2612/2613 Clark -Cauayan -Clark
PR2662/2663 Clark - San Vicente - Clark
PR2691/2692 Clark - Busuanga - Clark
PR2684/2685 Clark - Busuanga - Clark
PR2688/2689 Clark - Basco - Clark
PR2687/2686 Clark - Busuanga - Clark
PR6062 Kalibo - Clark
PR 2061 Clark - Kalibo
Cebu Pacific
5J 607 Clark-Cebu
5J 606 Cebu-Clark
5J 613 Clark-Bohol (Tagbilaran)
5J 614 Bohol (Tagbilaran)-Clark
5J 913 Clark-Caticlan (Boracay)
5J 914 Caticlan (Boracay)-Clark
5J 537 Clark-Singapore
5J 150 Clark-Hong Kong
5J 149 Hong Kong-Clark
5J 538 Singapore-Clark
5J 985 Clark-Davao
5J 986 Davao-Clark
Air Asia
Z2 0951 - Clark to Puerto Princesa
Z2 0952 - Puerto Princesa to Clark
Z2 5038 - Clark to Seoul
Z2 5039 - Seoul to Clark
Z2 901 - Cebu to Clark
Z2 902 - Clark to Cebu