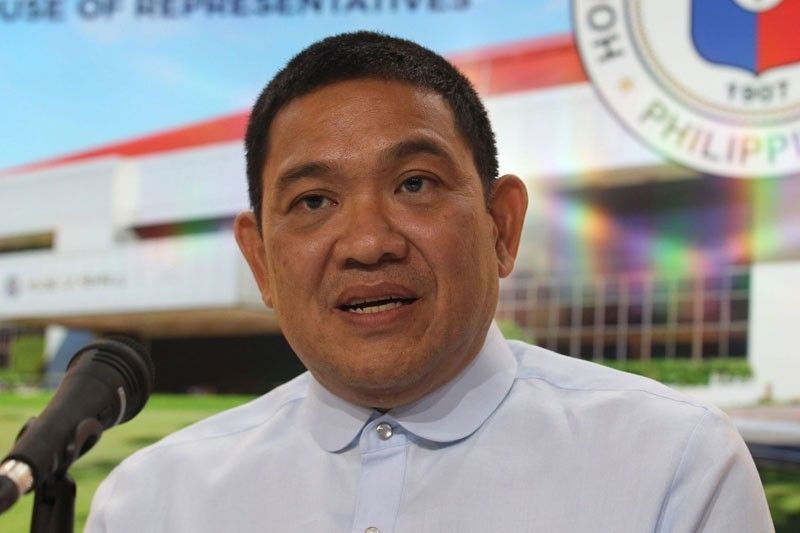 House Appropriations Committee Chairman Rolando Andaya Jr. (Camarines Sur) said a veto message that would be prepared by Budget Secretary Benjamin Diokno — whom he accused of several budget anomalies — "will surely perpetuate unanswered issues."
The STAR/Michael Varcas
Andaya: House may 'elevate' to Supreme Court possible Duterte veto vs 'pork'
(Philstar.com) - February 6, 2019 - 3:21pm
MANILA, Philippines — Lawmakers would run to the Supreme Court to seek "clarification" should President Rodrigo Duterte decide to veto the "pork" funds allegedly inserted in the P3.757-trillion budget for 2019, a House leader said Wednesday.
This was after Sen. Panfilo Lacson urged Duterte to "display your strong political will" and use his line-item veto power to remove any questionable placement of congressional funds in the new budget, whose passage has been delayed as both chambers of Congress trade accusations of pork barrel insertions.
In a statement, House Appropriations Committee Chairman Rolando Andaya Jr. (Camarines Sur) said a veto message that would be prepared by Budget Secretary Benjamin Diokno — whom he accused of several budget anomalies — "will surely perpetuate unanswered issues."
Diokno has continuously snubbed the House's inquiry on alleged irregularities in the 2019 budget that his department prepared, saying Andaya's allegations were "illusory."
READ: Diokno slams Andaya over 'illusory' allegations | House to Benjamin Diokno: Explain absence in budget probe
"I am in full support of the call for the president to use his line-item veto power to remove all pork barrel insertions in the 2019 national budget," Andaya said. "A veto message prepared by Sec. Diokno will surely perpetuate these unanswered issues, unfortunately with the president as unwitting victim."
"The House panel will elevate the veto message to the Supreme Court to clarify, not to defy, the veto message. We need to know the clear implications of the line items to be vetoed," the lawmaker added.
Pork barrel, or the Priority Development Assistance Fund, was declared unconstitutional by the Supreme Court in 2013 after it was discovered that billions of discretionary government funds were channeled to fictitious non-government organizations.
Lacson earlier bared the presence of billions of pesos of "pork" in the proposed budget for 2019, including at least P160 million for each House member.
Even some senators had been found to have individual amendments totaling P23 billion, reports say.
Asked for reaction to Lacson's suggestion, Executive Secretary Salvador Medialdea said in a text message: "Let us not preempt the President."
Under the Constitution, the president has the power to veto any items in an appropriation, revenue, or tariff bill.
'Intervene'
Legislators went on their Christmas vacation last December without passing the proposed budget for this year, forcing the national government to run using a re-enacted budget beginning January.
Under a re-enacted budget, new programs and projects proposed for 2019 will be unfunded since the previous outlay will be reused this year, threatening an economy that needs state spending to fuel growth.
Duterte's economic managers recently said they will ask the Commission on Elections to exempt big-ticket infrastructure projects from the election spending ban to prevent delays and to minimize slowdown in economic growth — a plan that Andaya said must be scrutinized by lawmakers.
READ: NEDA: Exempt flagship projects from ban on election spending
"Likewise, we will seek to intervene in the exemption being sought by the DBM from the Comelec on the infrastructure ban," Andaya said.
"We need to be informed what types of projects are to be exempted from the election ban and the sourcing of funds for these projects," he added.
Andaya on Monday gave assurance that the national outlay would be ratified within the week before Congress goes on recess for the election campaign. — Ian Nicolas Cigaral