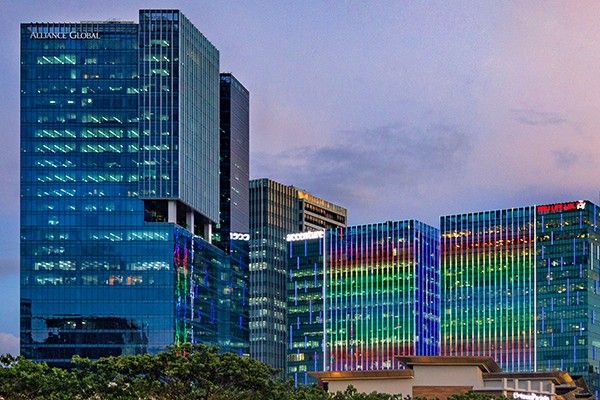 Alliance Global Group Inc.'s major subsidiaries, namely Megaworld Corp., Golden Arches Development Corp., and Travellers International Hotel Group Inc., delivered a good topline performance.
Released
AGI nets P3.5 billion for first quarter of 2018
(philstar.com) - May 22, 2018 - 11:07am
MANILA, Philippines — Alliance Global Group Inc. (AGI), the investment holding company of billionaire Dr. Andrew Tan, registered consolidated revenues of P35.3 billion in the first quarter this year, growing 5 percent from last year's P33.7 billion.
All of the group's major subsidiaries delivered a good topline performance led by its real estate arm Megaworld Corp., liquor subsidiary Emperador Inc., and quick service restaurants business under Golden Arches Development Corp. (GADC). Even its gaming and leisure operations under Travellers International Hotel Group Inc. sustained its quarterly recovery in gaming revenues.
Higher interest charges and unrealized forex losses, however, capped the growth in the group's profits, bringing consolidated net income up by only 1 percent year-on-year to P5.4 billion. Net income to owners stood at P3.5 billion, down 2 percent from P3.6 billion a year before.
"Our operating performance in the first quarter 2018 remained stable, attributed to the hefty investments we continue to pour into our various businesses as part of our long-term growth strategy," AGI president Kingson Sian said.
"As a group, we have spent over P360 billion over the last five years for our domestic and international expansion projects. We have an investment commitment of another P80 billion to fund our capex for this year alone," Sian added.
Megaworld, the country's largest developer of integrated urban townships, reported attributable net income of P3.2 billion in the first quarter, rising by 11 percent year-on-year. Consolidated revenues grew 9 percent to P13.1 billion, helped by a steep 17 percent growth in rental income to P3.4 billion and a 6 percent improvement in residential revenues to P8.8 billion.
Higher margin rentals from its office buildings and lifestyle malls now account for 26 percent of total revenues (from 24 percent a year before), further lifting group EBITDA margins to 36 percent from 35.5 percent a year before. The residential segment, which benefitted from healthy project completion, recorded a remarkable 23 percent growth in realized gross profit to P3.6 billion.
Emperador, the world's largest brandy company, registered attributable net income of P1.6 billion in the first quarter, up 6 percent from P1.5 billion a year before, buoyed largely by its fast-growing Scotch whisky and Spanish brandy operations.
Its domestic operations remained steady. Consolidated revenues grew 8.5 percent to P9.7 billion, as whisky revenues surged 13 percent year-on-year, while brandy revenues went up 6 percent for the same period. Overall margins improved, with gross profit margins higher at 35 percent (from 34 percent) while operating margins went up to 23 percent (from 21 percent).
Travellers International, owner and operator of Resorts World Manila (RWM), recorded steady first quarter EBITDA of P840 million and gross revenues of P5.5 billion versus their respective levels a quarter ago.
Gaming revenues rose 4 percent quarter-on-quarter to P4.5 billion, supported by improving volumes and higher blended hold rate of 5.6 percent. Non-gaming revenues stood at P978 million, with average hotel occupancy rates at 80 percent. Attributable net income reached P445 million versus P285 million a quarter ago, sustaining its recovery momentum.
Moving forward, Travellers expects to further enhance its operating performance with the partial launch last May 9 of the Grand Wing under its Phase 3 expansion. Targeted for completion this year, the Grand Wing should see an additional 940 hotel rooms, coupled with an expanded gaming capacity and high-end retail space.
Golden Arches or GADC, which holds the exclusive franchise to operate restaurants in the Philippines under the McDonald's brand, reported another sharp 23 percent year-on-year growth in net income to P329 million as sales revenues continued to expand by 12 percent to P6.6 billion for the same period. Driving top-line performance was the 6.6 percent same-store sales growth and its ongoing new store additions.
In the first quarter 2018, GADC's total store count stood at 572 throughout the country, compared with 566 stores in 2017. Despite rising cost pressures, the company also managed to maintain its gross profit margins at 23 percent while operating margins rose to 8.5 percent amid continued operating efficiencies.
"All our businesses are also operationally geared, such that any improvement in our topline can be amplified in our bottomline. We endeavor to remain cost efficient to protect our margins despite bouts of inflationary pressures," Sian explains.