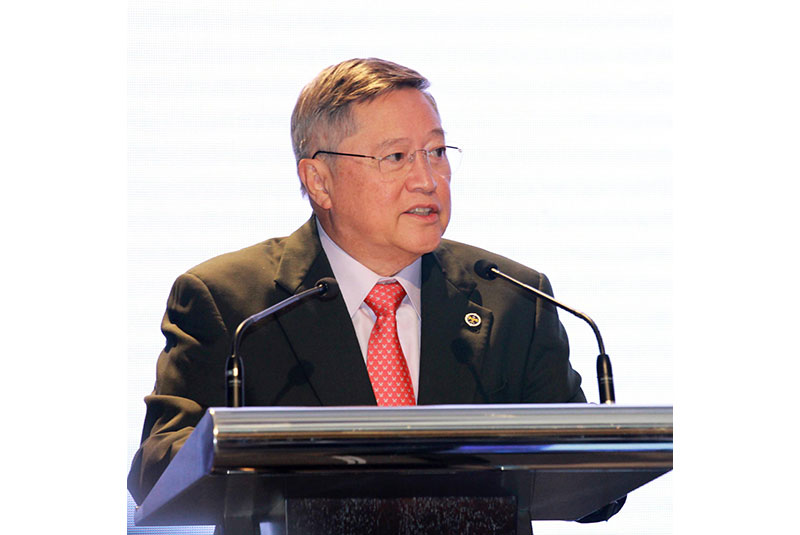 "I have to look at the figures closely but find it hard to believe that the implementation of TRAIN... had any significant effect on prices," Finance Secretary Carlos Dominguez III said in a statement. File
Dominguez: 'Hard to believe' TRAIN law has significant impact on January inflation
MANILA, Philippines — The uptick in consumer prices in January was unlikely due to effects of higher excise duties under the Duterte administration's tax reform law, the country's finance chief said Tuesday.
Headline inflation quickened to 4 percent in January, faster than the 3.3 percent posted in the previous month and matching the top-end of the central bank's 3.5-4 percent forecast. Last month's inflation rate was the fastest since October 2014's 4.3 percent.
Some economists attributed the surge in prices to the implementation of the Tax Reform for Acceleration and Inclusion Act, which took effect last January 1.
READ: Consumer prices surge to 3-year high in January
"I have to look at the figures closely but find it hard to believe that the implementation of TRAIN... had any significant effect on prices," Finance Secretary Carlos Dominguez III said in a statement.
"Unless of course merchants took advantage of the law & raised prices on old inventories," he added.
The TRAIN law cuts personal income tax rates while projected revenues to be foregone will be offset by higher excise levies on petroleum and automobiles, among others.
For his part, Socioeconomic Planning Secretary Ernesto Pernia said the push in inflation was "partly" due to the TRAIN law.
"With the initial inflationary effects of TRAIN, we must ensure faster provision of financial assistance through the unconditional cash transfer program," Pernia said.
In a statement, Bangko Sentral ng Pilipinas Governor Nestor Espenilla Jr. explained that the January inflation—which he said was driven by "combined" effects of the TRAIN law and higher oil and food prices—was expected.
"We think these are temporary drivers of inflation and would eventually stabilize," Espenilla said.
"Nevertheless, the BSP will be closely monitoring the situation and stand ready to take timely action based on our evaluation of all relevant data," he added.
Amid upward pressure on inflation, some economists expect the central bank to adjust monetary policy settings in its upcoming meetings, or at least signal a more hawkish tone at the rate-setting meeting of the BSP's Monetary Board on Thursday.
"The possibility of a rate hike from the BSP this Thursday has increased as a result of January's strong inflation figures, both headline and core," said Guian Angelo Dumalagan, market economist at the Land Bank of the Philippines.
"While average inflation this year is still expected to fall within the BSP's target range, the local central bank might take a proactive approach by hiking rates sooner rather than later, considering the natural time lag of monetary policy," he added.
As inflation remains manageable, the BSP has kept interest rates unchanged over the last three years since it raised policy rates in September 2014.