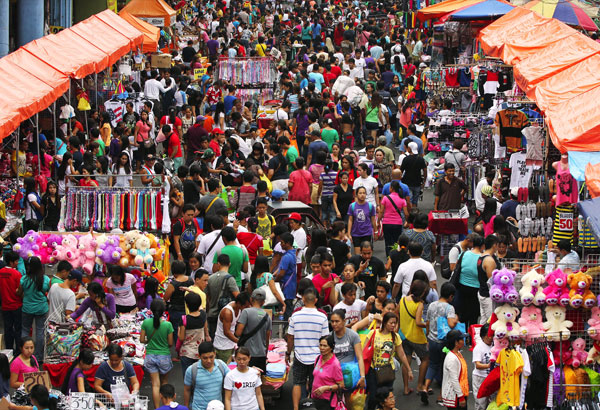 Headline inflation quickened to 4 percent in January, higher than the 3.3 percent posted in the previous month, matching the top-end of the central bank's 3.5-4 percent forecast, the Philippine Statistics Authority reported Tuesday. File
Consumer prices surge to 3-year high in January
MANILA, Philippines — Consumer prices surged to a three year high in January 2018 on the back of increments in food, alcoholic beverages, and tobacco prices.
Headline inflation quickened to 4 percent in January, faster than the 3.3 percent posted in the previous month and matching the top-end of the central bank's 3.5-4 percent forecast, the Philippine Statistics Authority reported Tuesday.
Last month's inflation rate was the fastest since October 2014's 4.3 percent.
"The uptrend was primarily due to the higher annual increment in the heavily-weighted food and non-alcoholic beverages index as it accelerated by 4.5 percent from previous month's growth of 3.5 percent," the PSA said.
"Moreover, the index for alcoholic beverages and tobacco registered double-digit annual mark-up at 12.3 percent in January 2018 from 6.4 percent in December 2017," it added.
Excluding selected food and energy items, core inflation picked up by 3.9 percent in January 2018 from 3.0 percent a month ago.
Economist: No other major explanation but TRAIN
Sought for comment, University of Asia and the Pacific Senior Economist Cid Terosa attributed the uptick in headline inflation to the implementation of the Duterte administration's first tax reform package, which took effect on January 1.
"There is no other major explanation given that January is usually characterized by slow or weak demand," Terosa said in an interview.
On December 19, President Rodrigo Duterte signed the Tax Reform for Acceleration and Inclusion Act, which aims to generate revenue to fund a multi-billion dollar infrastructure program key to the government's economic agenda.
The TRAIN law cuts personal income tax rates while projected revenues to be foregone will be offset by higher excise levies on petroleum and automobiles, among others.
In a statement, Bangko Sentral ng Pilipinas Governor Nestor Espenilla, Jr. said the January inflation—which he said came on account of first round effects of the TRAIN law and higher oil and food prices—was expected.
"We think these are temporary drivers of inflation and would eventually stabilize," Espenilla said.
"Nevertheless, the BSP will be closely monitoring the situation and stand ready to take timely action based on our evaluation of all relevant data," he added.
Amid upward pressure on inflation, some economists expect the central bank to adjust monetary policy settings in its upcoming meetings, or at least signal a more hawkish tone at the rate-setting meeting of the BSP's Monetary Board on Thursday.
"Should the next month see no signs of cooling off, we inclined to expect the BSP to begin hiking rates in March, not even ruling out the possibility of one this Thursday," Luis Limlingan of Regina Capital said in a commentary.
READ: BSP likely to keep policy rates steady
But for Terosa, a tightening move from the BSP is unlikely to happen at Thursday's meeting.
"A longer time frame have to be taken into account before changes will be made," he explained.