Heavy infra buildup to fuel up to 9% Philippine growth
November 13, 2017 | 4:00pm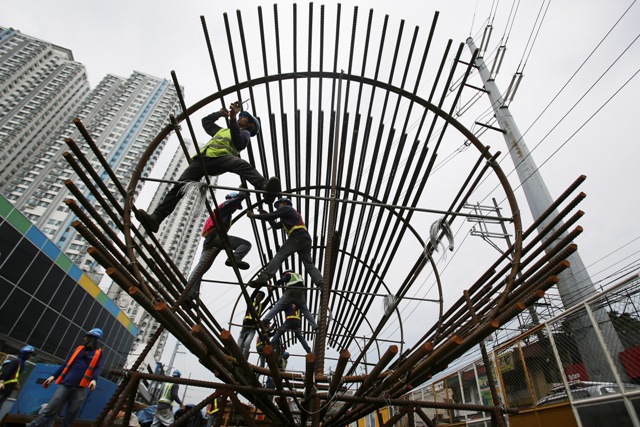 MANILA, Philippines — The Philippines needs to aggressively invest in infrastructure to attain as much as nine percent economic growth and make progress felt by more Filipinos, business leaders said yesterday.
During a forum on infrastructure development at the ASEAN Business and Investment Summit, Ayala Corp. CEO Jaime Augusto Zobel de Ayala said the consumption-based Philippine economy could be transformed into an investment-driven one, if adequate infrastructure is in place.
The domestic economy, he said, has to sustain a growth of up to nine percent annually for growth to be more equitable. To do this, the country has to invest heavily in infrastructure.
"We have to make the economy investment-driven. Growth has to kick up to seven, eight, nine percent to make it count for all," he said.
As funding remains a concern for infrastructure in the country and within the region, business leaders and multilateral development institutions urged ASEAN member-states to allow greater private sector participation in their infrastructure buildup to plug a $60 billion financing gap within the region and implement projects faster.
Enrique Razon, chairman and CEO of port giant International Container Terminal Services Inc., said connective infrastructure that immediately builds up capacity to service the needs of the growing economy must be undertaken immediately.
"We need to build out capacity, we need to have the capacity to absorb the activity of the economy," he said.
Implementing smaller connective infrastructure such as airports, roads and railways in secondary cities and provinces are also equally important as pursuing big-ticket ones as it will immediately contribute to attaining inclusive growth in the region, he added.
"Infrastructure is also building projects quickly like building smaller airports in the provinces and stimulating the economy," said Tony Fernandes, CEO of budget carrier AirAsia. "For us, we want smaller airports that will cost $100 million to $200 million (to build) rather than large ones that will cost $500 million."
Fernandes said building smaller airports in the region would unlock ASEAN's tourism potential which is supported by the cultural diversity of its member states.
"In terms of infra, airports are critical. For some reason, airports take a long time to build. So I would encourage more PPPs in airports. I think we should also look into secondary cities, there is great potential in there," he said. "ASEAN is seen as tourism market. We have 10 markets with much diversity."
Development partners likewise said more public-private partnerships would address the connectivity problem in the region faster. It will also enable governments to tap the technological expertise of the private sector.
"We have a long way to go. To get developments across, we need infrastructure and we need huge investments to fill the gap," said Diwakar Gupta, vice-president of the Asian Development Bank (ADB). "We need huge investments to fill the gap, $60 billion just to catch up. And from there, PPPs are a great way to move forward."
Pursuing more PPP contracts for infra projects, however, would require that an enabling environment and conflict-resolution mechanisms be firmly established.
"To attract more funding, we need dispute resolution mechanisms and an enabling environment," said Gupta.
Thomas Hardy, acting director of the US Trade and Development Agency, said PPPs would work best provided commitments are honored and there is transparency of procedure.
"PPP is interesting. But it all goes down to sanctity of law, commitment on both sides and transparency," he said.
Philippine economic managers recently said the government will award more big-ticket projects to the private sector on the condition that these projects are of good quality and can match the speed of execution of projects implemented using government funds and official development assistance (ODA).
The government will be accepting unsolicited proposals for large infrastructure projects but would demand that these projects break ground within a minimum of 18 months and would be subject to conditions such as non-provision of subsidies or guarantees. The proposal would still have to be subjected to a Swiss Challenge.
Economic managers recently met with top business leaders to assure them that the government is open to teaming up with the private sector on big-ticket infrastructure projects under the ambitious Build Build Build program through solicited and unsolicited proposals for PPP or joint venture (JV) schemes.
Solicited proposals should be consistent with conditions under the law such as the 50 percent cap on government undertakings on project cost. Negotiated JVs, on the other hand, can be initiated by the private sector or by the government if the competitive selection fails. This, however, would still be subjected to a Swiss Challenge.
The Public-Private Partnership (PPP) Center which used to be the main Philippine government agency handling PPP transactions for projects at the national scale, has shifted its focus to assisting local governments in the use of the PPP mode of project delivery for smaller but vital projects.
For its part, the Japan International Cooperation Agency (JICA) reaffirmed its support for ASEAN infrastructure initiatives.
"Connectivity is key in ASEAN so we support connectivity projects like airports and railways," said Shinya Ejima, senior vice president of JICA.
He noted, however, that projects proposed for funding must be consistent with national development plans.
"JICA and ASEAN have been good partners. In recent years, JICA has been emphasizing quality infrastructure for quality of growth. It should be consistent with the national growth plan," he said.