13-storey cruise ship debuts voyage to Palawan
MANILA, Philippines — A 13-storey cruise liner went on its maiden port-of-call to Puerto Princesa, Palawan, in a key move establishing the Philippines as a cruise destination.
Local officials including Palawan Governor Jose Alvarez and Bureau of Immigration Commissioner Siegfred Mison welcomed Star Cruises' MV SuperStar Aquarius as it dropped anchor in the island province's capital late Monday.
The Aquarius, a 623-feet Dreamward-class cruise ship, carried over a thousand tourists from Malaysia, Taiwan, Singapore, China and Hong Kong as well as traveling Filipinos on its inaugural visit for an overnight stay.
Michael Goh, Star Cruises senior vice president, said the company is proud to have Puerto Princesa as among the new destinations for its luxury, 51,309-gross ton liner.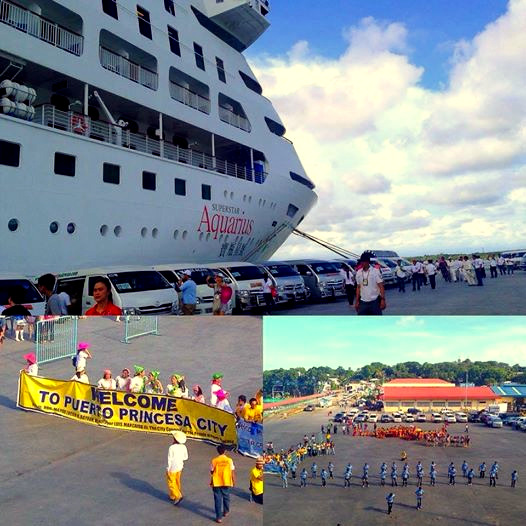 The MV SuperStar Aquarius docks at Puerto Princesa, Palawan. Star Cruises
"We are committed to promoting Puerto Princesa and the Palawan island province to travelers across the region and the world," Goh said in a state news report.
In his speech, Alvarez vowed that the local government will build harbors in the municipalities of Roxas, El Nido, Taytay and Coron to facilitate the influx of tourists.
He urged Star Cruises to have its liners stay longer in Palawan shores in future trips.
"We hope that on your next port call, you will stay for 48 hours because there is a lot to see in the city alone," Alvarez said.
The official also endorsed Balabac and Linapacan islands worthy of becoming next cruise ship spots.
"Balabac is another island municipality in southern Palawan that is worthy of world travel attention because Maldives cannot even compare to its beauty," Alvarez said.
Linapacan, meanwhile, has been named by a New York-based magazine as one of the 35 waters around the world to swim before one dies, he added.
"San Vicente too, is a town to look forward to as it has over a hundred kilometers of beach that is incomparable to Boracay," he said.
Alvarez said Palawan aims for a 3.5 million hike in tourist arrivals in the next ten years.
Kota Kinabalu in Malaysia is the MV SuperStar Aquarius' home port. - Camille Diola