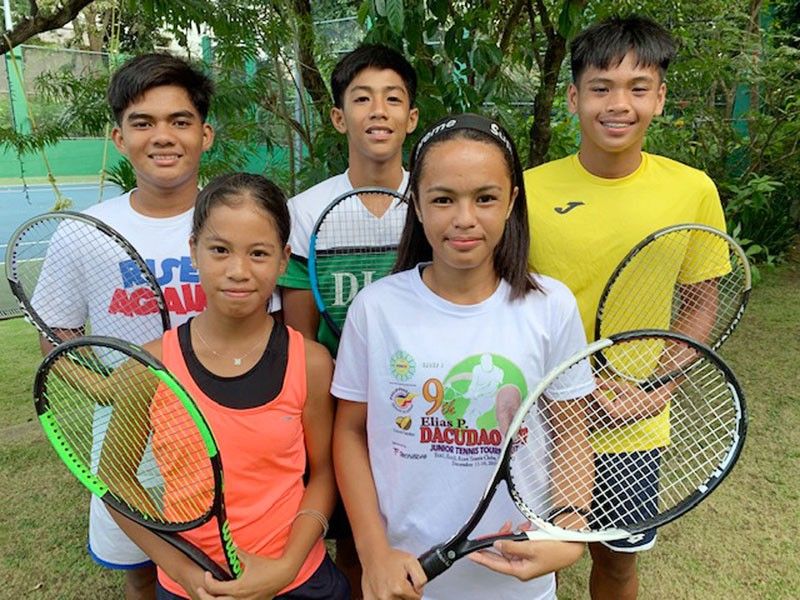 Philippine Tennis Academy recruits (front, from left) Maria Divinagracia and Jufe Ann Cocoy and (back, from left) Angil Balaoing, Khenz Justiniani and Joewyn Pascua.
MANILA, Philippines — The Philippine Tennis Academy (PTA) has brought in five recruits to restart its youth program, following in the footsteps of Iggy Pantino, Bryan Otico, Khim Iglupas, Roxanne Resma and Nino Alcantara who've taken their game to the next level.
It's a continuing effort by PTA which began recruiting kids from all over the country to hone their tennis skills in 2008. PTA maintains training centers in Cagayan de Oro with Tibs Palasan, La Carlota with Rex Jalandoon and Davao with Doy Diong. Over 50 players, boys and girls in the 10-15 age range, are being supervised in the satellite network. PTA is a private initiative backed by Rommie Chan, Oscar Hilado, Hanky Lee, Felix Barrientos, Raymund Suarez, Joey Torres and Tonico Climent.
Every summer, the top five players from each training center are brought to Manila for training with PTA coaches Jun Toledo, Ken Salvo and Joel Cabusas. This year, PTA chose five top prospects to stay in Chan's Alabang quarters, train and study. The five prospects are Joewyn Pascua, 14, Angil Balaoing, 15, Jufe Ann Cocoy, 14, Maria Divinagracia, 12 and Khenz Justiniani, 14. A sixth recruit Heinz Carbonilla, 13, is arriving from Lanao del Norte to join the Alabang group on Feb. 9.
PTA arranges for the players in the pool to compete overseas, improve their rankings and when possible, enroll in US universities. Alcantara is PTA's most outstanding graduate and now plays for the country after an NCAA career at Pepperdine. Resma finished at the University of Hawaii while Otico is now enrolled at Loyola Marymount and Iglupas at Arizona. Pantino is headed for the US in June and will complete his high school studies in San Diego before entertaining tennis scholarship offers from more than six universities.
"It's time to replenish our pool," said Chan. "Now that Bryan, Khim and Iggy are gone, we're rebuilding our youth core to find the next in line." Toledo said PTA is also open to talent from beyond the satellite network. For instance, Pascua was recommended to Chan by a friend and turned out to be a magical discovery. Pascua is from Dagupan and used to commute to Manila by bus to compete in tournaments. He's 5-10 and still growing. "Bihira yung tall and a powerful hitter at his age," said Toledo.
Pascua, whose father Reynaldo is a seaman, won the individual gold medal at the 2018 Palarong Pambansa. The oldest of three, Pascua has competed in Malaysia, Singapore and Thailand. The Grade 8 student from Joyland School in Pangasinan recently qualified to play for the Philippine Junior Davis Cup team with Balaoing. Another PTA protégé Rupert Tortal, who trains in Cagayan de Oro, is also on the squad.
Balaoing is from Koronadal and will make his second appearance in Junior Davis Cup. An only child, he started playing the game at eight and is now enrolled in Grade 9 at the La Salle Zobel Night School. Like Pascua, Balaoing has played in the Southeast Asian circuit. Cocoy, the youngest of four girls, is also in Grade 9 at La Salle Zobel. Her father Artemio is an OFW in Libya. She said her priority is to work on her consistency and her idol is Canadian standout Bianca Andreescu.
Divinagracia is PTA's "secret weapon," a discovery from Beijing where her parents Juvan and Espie are tennis teachers at AGTA Academy in the Haidian Foreign Language School. She lived in Beijing for four years and is now settled in Alabang to train and do Grade 5 home study. Divinagracia, who was named after Maria Sharapova, is ranked in the top 200 of the ATP U14 bracket. Justiniani is in Grade 8 at La Salle Zobel and comes from the La Carlota satellite.
Toledo said Carbonilla is the country's No. 1 U14 player and will join the World U14 qualifiers in Jakarta next month. Last November, he made it to the final of the Asian U14 championships in Bangkok. "He could be the next Iggy," said Toledo.
During the Christmas holidays, Chan's Alabang home was a beehive of tennis activity as PTA graduates, including Alcantara, dropped by to play and give advice to the new recruits. "We're excited with our new batch," said Toledo. "Nino won a gold in men's doubles at the Southeast Asian Games so he had a lot of stories to tell the young kids. PTA just paves the way and provides guidance. It's up to the players to determine how far they'll go."