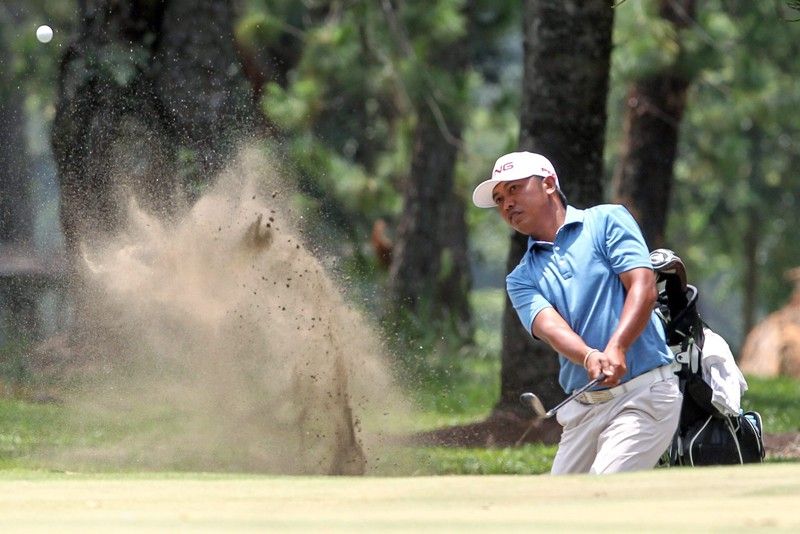 2 eagles net Ababa 2-shot lead
(The Philippine Star) - September 20, 2019 - 12:00am
MANILA, Philippines — Jhonnel Ababa came through with two pitch-in eagle feats to spike a second straight 67 as he broke off a tie with Tony Lascuña to grab a two-shot lead over Zanieboy Gialon halfway through the ICTSI Del Monte Championship at Del Monte Golf Club in Bukidnon yesterday.
Ababa sustained a bogey-free start Wednesday with a birdie-eagle charge on the first two holes but fumbled with four bogeys against the same number of birdies although his other eagle on the par-4 10th kept him on top at 10-under 134.
"My putting clicked although I misread some putts that led to bogeys," said Ababa, who highlighted his 33-34 card with a brilliant 60-degree wedge shot from 70 yards that dropped in on No. 2 and a 56-degree feat from 90 yards that rolled into the cup on No. 10.
In control of the stellar field, Ababa vowed to keep attacking the mountaintop course that virtually lay defenseless in the absence of the wind, enabling 23 others to turn in under-par scores for the second straight day.
"I'll still go for eagles tomorrow (today), hopefully at the par-5s," added the winningest player on the Philippine Golf Tour Asia with four victories.
Gialon, still in hunt for a first PGT crown since dominating the field by six at Calatagan, Batangas in 2017, sizzled with six birdies in a 10-hole stretch from No. 4 and shot the tournament-best 65 in hot conditions to wrest solo second at 136 for a spot in the final group in today's pivotal round of the P2.5 million tournament serving as the seventh leg of the 10th season of the circuit put up by ICTSI.
Lascuña also gunned down two eagles but on the layout's par-5s at the back (Nos. 14 and 18) but had four bogeys against two birdies for a 70 as he dropped to joint third at 137 with Elmer Saban and Ira Alido, who carded 68 and 69, respectively, heading to the last 36 holes of what looms to be a fiery shootout among the best and the brightest plus a couple of surprises.
Keanu Jahns fired a 68 for solo sixth at 138 while Johvanie Abaño rallied with a 66 to tie Richard Sinfuego and Dutch Guido Van der Valk, who both shot 69s, at 139.
Noel Langamin made a 68 for joint 10th with Greg Gonzalez of the US (70), and reigning Philippine Open champion Clyde Mondilla (69) while Juvic Pagunsan saved a 73 for a 142.