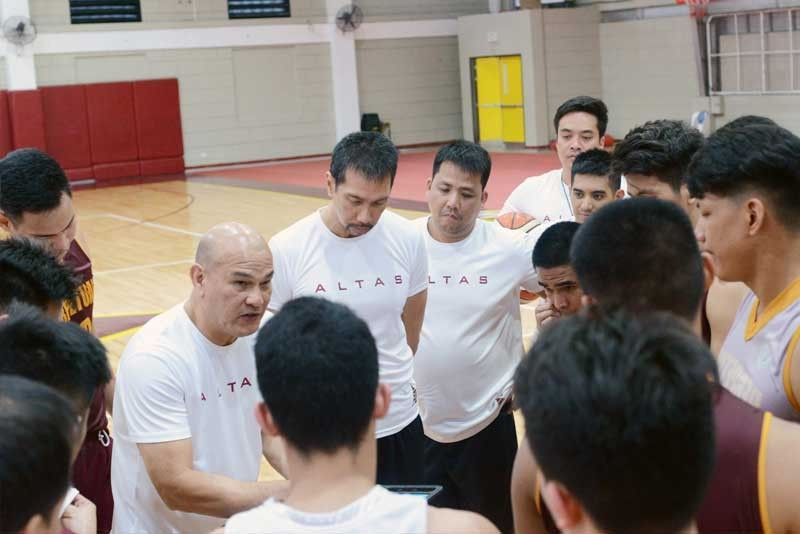 Perpetual Altas head coach Frankie Lim (center) gives instructions during the regular practice session at the newly built Home of the Altas Gym 2 in Las Pin?as.
Altas to field rebuilt lineup for D-League Aspirants Cup
(The Philippine Star) - January 21, 2019 - 12:00am
MANILA, Philippines — Perpetual Altas head coach Frankie Lim will parade his rebuilt lineup for the PBA Developmental League, which gets going Feb. 14 at the Ynares Sports Arena in Pasig.
Holdovers Edgar Charcos, Anton Tamayo, Tonton Peralta, Luke Sese, Jielo Razon, Kim Aurin and Jerome Pacia are remnants of the Las Piñas-based five that reached the Final Four of NCAA Season 94 basketball tournament.
Lim, on his second year as Altas coach, added six new players to power up his squad also in preparation for the upcoming NCAA season.
Among the notable transferees are center Ben Adamos, Lean Martel and Lele Guissani from San Beda, James Labarda from Arellano U, Jeffer Egan from Southern Philippines College, Cagayan de Oro City, Ramlee Lanoy from St. Francis of Assisi and 6-4 power forward JBoy Solis from Olivarez College.
Back as point guard is Kieth Pido, who is on his last year with the Altas after his injury last season.
"We are using D-League to see where we are right now and to get good games and proper adjustments, kung ano pa ang dapat gawin," said Lim.
"It's always best to play best teams, to make a better and competitive team, interesting to see how strong we are, kung kulang pa o pwede na sa NCAA," he added.