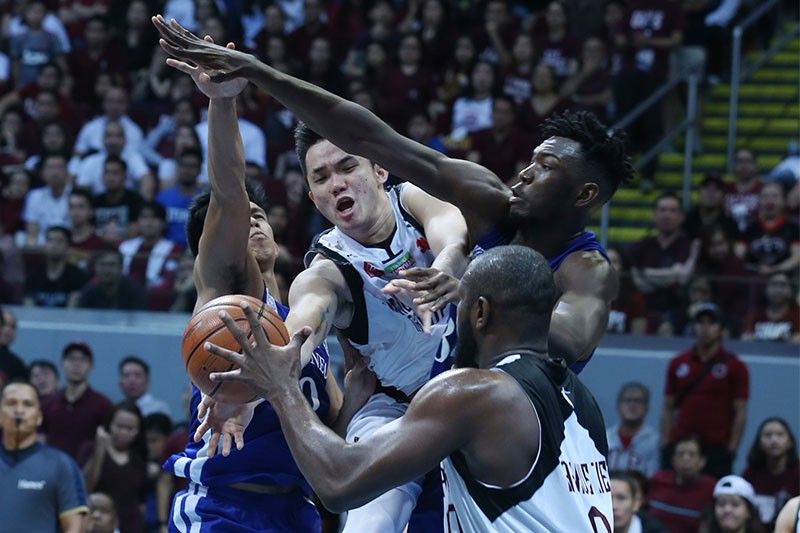 In this Dec. 1, 2018 photo, Ateneo players Thirdy Ravena and Angelo Kouame attempt to block UP players Paul Desiderio and Bright Akhuetie from gaining possession of the ball during Game 1 of the UAAP Season 81 men's basketball finals at the Mall of Asia Arena.
STAR/Joey Mendoza
UP president disowns regent for threat vs Ateneo players
MANILA, Philippines — The University of the Philippines system dissociated itself from the comments made by a Board of Regent member threatening the safety of Ateneo de Manila University basketball players.
In a Facebook post, Duterte-appointed UP Board of Regent member Frederick Mikhail "Spocky" Farolan suggested that three Ateneo Blue Eagles players would be injured by Wednesday.
The UP Fighting Maroons is scheduled to face the Ateneo Blue Eagles for the second game of the University Athletic Association of the Philippines Season 81 men's basketball finals on Wednesday.
"Sayang hindi kumpleto ang players ng Ateneo sa Wednesday. Tatlo injured. Pili na kayo kung sinu-sino mga yon. (Too bad the will not be complete on Wednesday. Three are injured. Just choose who these will be.)" Farolon said in a Facebook post, which has already been deleted.
Deleted post from UP Board of Regents member Mr. Frederick "Spocky" Farolan. Joke man or hindi, mismong estudyante ng UP hindi na safe ang pakiramdam sa UP Campus tapos may ganyang post pa? Maraming salamat sa paninindigan, Madam Nina Alentajan-Santiago. Saludo po ako sa iyo!!! pic.twitter.com/Ygtto1Sswp

— Titan (@_CEREALKILL3R) December 2, 2018
UP President Danilo Concepcion said that while Farolan has deleted the post and apologized for his remarks, the matter would be raised to the Board of Regents, the university's highest decision-making body.
Concepcion stressed that UP "takes these statements seriously and dissociates itself from the post and from the actuations of this regent."
"They do not in any way represent the values of the University, and the high esteem in which it holds sportsmanship, fair play, and civility in athletics as well as in other aspects of our academic and social life," Concepcion said in a statement released Sunday evening.
Farolan, meanwhile, insisted that there was "sarcasm" in his comment "which may not have been immediately and easily perceived by some."
"To be clear, as I mentioned in a comment there, violence, especially frat-related ones are barbaric, machismo, stupid and ignorant," Farolan said in a Facebook post.
Netizens were also quick to take a screenshot of the post and comments section on Farolan's deleted post, where he also suggested creating a "composite strike team of all UP frats."
"Pwede rin na ALL UP FRATS vs. ALL ATENEO FRATS sa Wednesday. Old school suntukan na lang. Walang gamit. Walang bodyguards. Good old barbaric stupid ignorant machismic hand-to-hand violence," Farolan said in a comment to his post.
Sen. Francis Pangilinan, on the other hand, called for the resignation of Farolan from the UP Board of Regents for his "unacceptable views."
"His views expressed on social media are totally unacceptable and a disgrace to the University of the Philippines," Pangilinan said in a statement released Monday morning.
Pangilinan served as UP student regent in 1986 and as ex officio member on 2003 as he was chairman of the Senate Committee on Education back then.
This would not be the first time that Farolan drew flak for his comments on social media. In April, he reaped criticism over his comments against critics who were complaining about the delays in the release of UPCAT results.
"F***ing feeling entitled millennials and their f***ing enabler parents/guardians. Mga letse sila," Farolan said, pointing out that UP was doing everything to fast-track the release of the exam results.