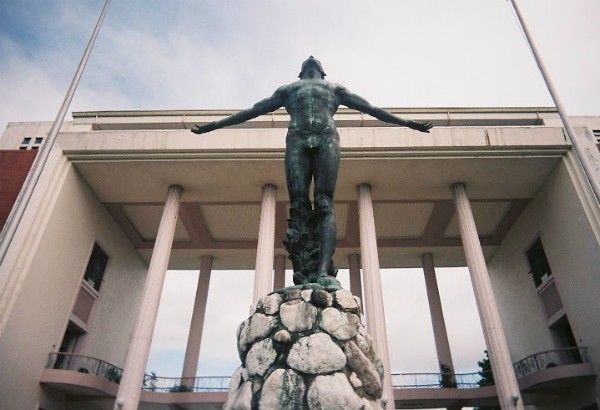 'Ingrates' screed meant for offensive commenters, ranty UP regent says
MANILA, Philippines — A regent of the University of the Philippines who reaped criticism on social media on Saturday for comments about some applicants for slots in the university said he responded to proper comments properly.
In an exchange with UP alumnus Benson Thomas Aquino, who called him out on his online behavior, Frederick Mikhail "Spocky" Farolan, a member of the university's Board of Regents, apologized for his temper and thanked Aquino for "taking the time to share your opinion in a better way."
He added: "Note that even in the original post, lahat ng maayos ang komento at kritisismo ay maayos kong sinagot (I answered all those who had sensible comments and criticism properly)."
"Yung mga bumanat ng pabalang at offensive ang tinamaan ng aking pabalang din na sagot (Those who had disrespectful and offensive comments got disrespectful comments in return)."
'Ingrates and entitled millennials'
Apparently fed up with insults from some graduating senior high school students waiting for the results of the UP College Admission Test, Farolan lashed out on his Facebook account, where he previously posted UPCAT updates.
"Forgive me for saying this, pero yung mga kung makahirit e parang hulog ng Diyos kayo para sa UP, siguraduhin niyo lang na papasa kayo sa UPCAT. Dahil kung hindi, lalaitin ko pati kaibuturan ng kaluluwa niyo (Those who comment as if you're God's gift to UP better be sure that you do pass the UPCAT. If you don't, I will mock you to the very core of your soul)," he wrote as a comment on one of his posts.
"Ipapatikim ko sa iyo ang purong panlalait ng isang tunay na pumasa ng UPCAT at nakapagtapos di lamang undergrad pati na ng Law sa UP. At kung makapasa kayo, sisigiraduhin ko na magkikita tayo at malalaman niyo ang katagang 'consequences of your actions' (I will let you experience the full contempt of someone who passed the UPCAT and who finished his undergrad as well as Law in UP. And if you do pass, I will make sure that we will see each other and you will find out what 'consequences of your actions' means), " he added.
Farolan, one of the three appointees of President Duterte to the highest governing body of the university, earlier said that UPCAT results would be released by April 30.
He said concerned offices and staff are doing everything they can to release the results at the soonest possible time.
"For the past two years, only a small number of examinees took the UPCAT due to the two-year hiatus caused by the K-12 program. Last year, I was told that only 5,000 took the UPCAT," he wrote.
"This is the first time after two years that UP had to deal with more than 82,000 examinees. Rest assured that everything is being done to fast-track the release of the results," he added.
His tone changed in later posts, expressing irritation over critics who slammed the delays in the release of the results.
"F***ing feeling entitled millennials and their f***ing enabler parents/guardians. Mga letse sila," he said, adding he will stop checking with UP management for updates on when the results will be released. "F***ing ingrates."
He said that he is not forcing anyone to wait for the UPCAT results and that there are other universities for them to attend.
"On UP's part, everything is being done to fasttrack the release," added the regent of the country's top state university.
Reservation deadlines for other universities
Several examinees had called UP out over the delay in the release of the results as some universities already require potential incoming students to pay reservation fees for their slots.
Some noted that the fees would not be refunded should they decide not to enroll in the said universities in case they pass the UPCAT.
In an earlier statement, the UP Office of Admissions said they understand the concerns of the students but have no control over the admission policies of other universities.
UP also warned the public against fake reports on the release of the results, saying they have repeatedly stated that it would be released between March and April.
UP Student Regent Shari Oliquino earlier said that the results may be released before the end of March.
"Having a range of dates for release of results is the usual practice of schools like UP that have a very large number of applicants, and require strict validation of results with a different test every year," UP said in a statement.
"The UP Office of Admissions had set its UPCAT 2018 timelines in consideration of many applicants' concerns regarding submission of documents, the implementation of Grade 12 and revision of program curricula, and UP's August school opening," it added.
Around 85,000 graduating senior high school students took the UPCAT last October.
Previous data showed that only around 15 percent of examinees are admitted to a program in one of the eight UP constituent universities in Diliman, Manila, Baguio, Los Baños, Cebu, Visayas (Iloilo and Tacloban), Mindanao and the Open University.
In case of failure to qualify in his or her preferred campus, the examinee is advised to try in other UP campuses or enroll in a different college and transfer to UP after earning 33 academic units.