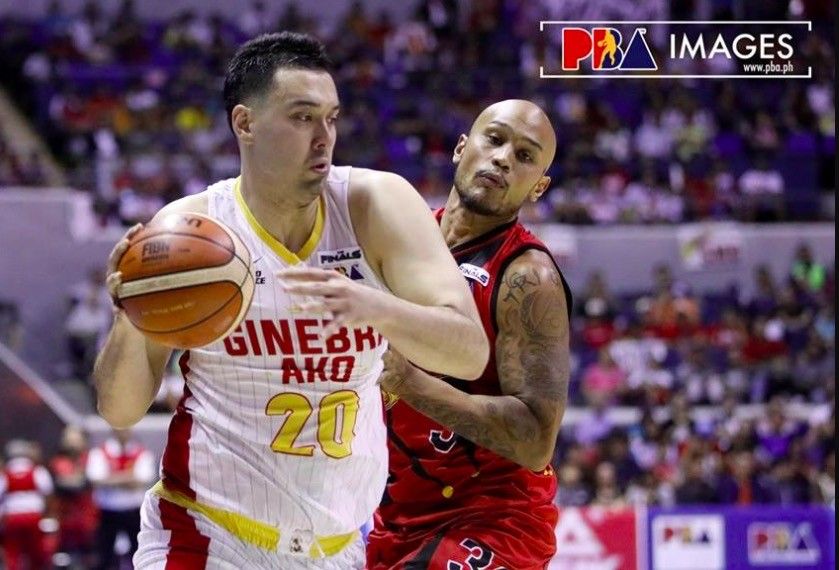 Greg Slaughter (left) works on the post against Kelly Nabong
PBA Media Bureau
Slaughter also deserves spotlight in Ginebra's title conquest, says Cone
MANILA, Philippines — Justin Brownlee and Scottie Thompson were the clear-cut vital cogs in Ginebra's championship run in the 2018 PBA Commissioner's Cup.
But Gin Kings' head coach Tim Cone said we should also beam the spotlight on Greg Slaughter.
"I'm amazed at the resilience of our players — the fight and the battle. Joe (Devance) battling through his [hurting] knee… Japeth (Aguilar) injured," Cone noted. "[But] I think the guy that we didn't really give a lot of credit to — maybe not enough — was Greg Slaughter."
"He was the difference-maker for us," the winningest PBA tactician offered. "Because he was the one guy that made them change the way they play."
"They usually just come down and feed (San Miguel's) June Mar (Fajardo) over and over again, but they just couldn't do that with Greg out there. Not consistently," he explained.
As far as scoring goes, Slaughter tallied double-digit scoring performances in all but one game in Ginebra's six-match conquest of the defending conference champions. He scored a low of nine in Game Three's loss, and a high of 19 in Game Four.
"[He] changed the way they played and that gave us a little bit of an edge. We were able to take them out of what they normally do," Cone said of his ward who was billed to as perennially billed as the only guy who could matchup the four-time Most Valuable Player in San Miguel's Fajardo.
"Teams have to double-down or help or collapse on June Mar all the time. Otherwise, June Mar completely dominates the game," the 21-time champion coach pointed out. "The difference in this series and why we were able to stay with them was the fact that we had Greg Slaughter."
"We didn't need to double down. We didn't need to collapse on (Fajardo), so that allowed us to stay on the shooters. So we didn't let Lassiter have a lot of open shots, Cabagnot did not have a lot of open shots. They didn't go to the post directly all the time, which they normally do. We took that away because of Greg's presence. So I thought he was the equalizer," he added.
Slaughter, who has been riddled by nagging knee and foot injuries, has now won two titles head-to-head against Fajardo — one from their days in the CESAFI and another in the pros.
"It was tough in 2016 when I tore my ACL. I missed a lot of opportunities," the Filipino-American center chimed in. "We played San Miguel in the Finals and we didn't beat them when I was out. It took me a while to get out in this last All-Filipino, also I got really unlucky before the playoffs and I sprained my ankle but I'm just glad we're able to be complete and just win this championship."
And as much as Slaughter enjoys the praise rained down by his mentor, he said he still couldn't have pulled through without his teammates' help.
"We pulled this off as a team, everyone stepped up, everyone played their role and we came out here and got it (championship), put all our egos aside, played our roles," Slaughter emphasized.
According to Cone, what rounded out all of the advantages they enjoyed — aside from Brownlee's steady hands and Thompson's typifiying of the 'NSD' spirit — was the tip-top shape of their own behemoth.
"That's the thing, they had a hard time matching up with Justin and we had an easier time matching up with June Mar this time because of Greg — a healthy Greg."