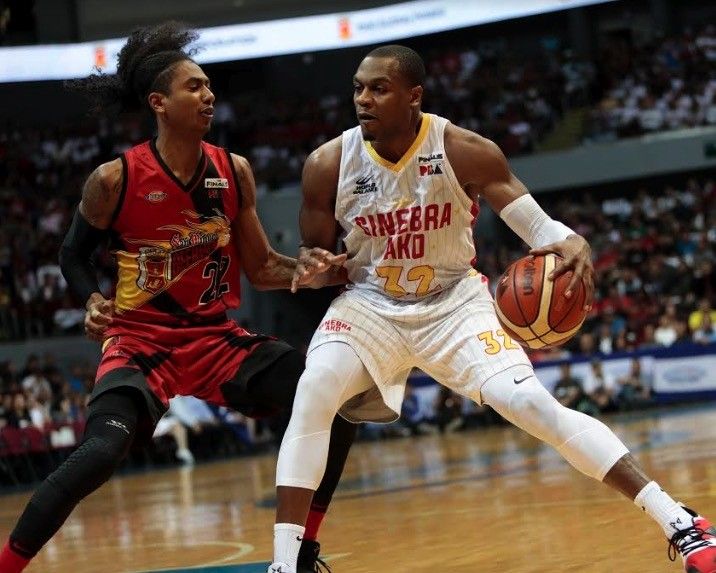 Justin Brownlee of Barangay Ginebra (right) during the PBA Finals Game 5, Wednesday night at the MOA Arena.
PBA Media Bureau
Gin Kings end Beermen dominance, win PBA Commissioner's Cup Finals
MANILA, Philippines — Barangay Ginebra banked on a furious third period to pull the rug on the San Miguel Beermen and clinch the 2018 PBA Commissioner's Cup, 93-77, Wednesday night at the Mall of Asia Arena.
Beloved import Justin Brownlee caught fire in the blistering period of Game Six, pouring 10 points. That led to Ginebra's overwhelming clamping down of the Beermen 27-8.
The American cager went on to keep his foot on the pedal in the payoff period. He finished the game with 31 points, 19 rebounds, and seven assists.
"They are just a great team, they had a tough shooting night tonight. I felt very fortunate that we were only down by 3 points at halftime. 38-35, I said wow, we scored 35 points and we're still in the game," head coach Tim Cone said of the Beermen. "That was amazing, I think they were 1 of 11 from the 3-point line.
"But I told them, we did such a great job of just staying close, staying around, if we can jump out and get a little bit of a lead in the second half, then maybe we can start to get them to panic a little bit," he added.
The victory affords the crowd darlings its first Commissioner's Cup title in 21 years. Their latest feat hikes their franchise championship count to 11.
Cone was at the losing end of that tussle. Now, he furthers his legend as the winningest coach in the PBA with his 21st title.
Brownlee, who earlier in the series won the Best Import plum, is the shortest foreign reinforcement — at 6-foot-4 — to win the title in the mid-season joust.
Scottie Thompson, who again tallied a tireless double-double in 12 markers and 13 boards, was named Finals Most Valuable Player.

San Miguel Beer, on the other hand, only drew three double-digit performances from their players. June Mar Fajardo had 29 points to go with 15 rebounds, while Puerto Rican import Renaldo Balkman 24 and 14. The other cager who had significant scoring contribution was Brian Heruela, who chimed in 11 points off the bench.
The loss deals Beermen head coach Leo Austria his first loss in his seven trips to the PBA Finals.
The Scores:
Ginebra (93): Brownlee 31, Slaughter 13, Thompson 12, Tenorio 11, Chan 10, Mercado 6, Ferrer 5, Devance 4, J. Aguilar 1
San Miguel (77): Fajardo 29, Balkman 24, Heruela 11, Cabagnot 6, Santos 5, Pessumal 2, Ross 0, Lassiter 0, Rosser 0, Vigil 0, Standhardinger 0
Quarter scores: 14-17, 35-38, 62-46, 93-77