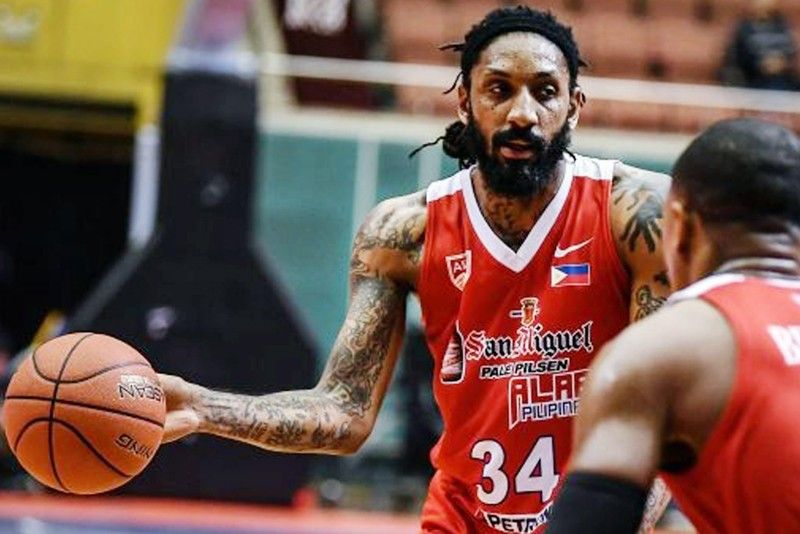 Renaldo Balkman
Aseanbasketballleague.com
Alab Pilipinas bucks shaky start, downs Hong Kong 5
HONGKONG – San Miguel Alab head coach Jimmy Alapag did a masterful job of steadying the ship under stormy weather as the Philippine team survived a poor start and stayed the course down the stretch to hack out a 98-94 win over defending champion Hong Kong Eastern Long Lions in Game 1 of the ABL best-of-3 semifinals at the Southorn Stadium in Wan Chai here Wednesday night.
The Lions raced to an 11-2 start but couldn't hold off Alapag's charges who opened and closed the second period with identical 9-0 blasts to lead, 50-43, at the half. Hong Kong battled back to knot the count, 94-all, with 0:56 left but San Miguel's Renaldo Balkman and Justin Brownlee knocked down two free throws each to seal it. Alab's Pao Javelona forced a travel on Lions' hotshot Ki Lee with 0:5.1 to go and San Miguel held on for its first win over Hong Kong this season.
Alapag never panicked in regrouping the troops after Hong Kong got off to a hot start and Alab withstood 21 points from the Lions' world import Marcus Elliott and Tyler Lamb in the fourth period to move a win away from advancing to the best-of-5 Finals against either Mono Vampire of Thailand or Chong Son Kung Fu of China. Balkman erupted for 46 points, Bobby Ray Parks fired 23 points and Brownlee had 16 points, 12 rebounds and nine assists in a three-pronged attack that took the starch out of the home team. Lamb, a Thai-American ASEAN heritage import, hit 32 points for Hong Kong while Elliott contributed 22. The Lions' other world import Ryan Moss of the Bahamas was held to five points.
"This team has gone through a lot of hard times," said Alapag. "But we hung in there. It was tough when Hong Kong came back in the final minute. Our guys just didn't want to lose. What a blessing that we've got Renaldo and Justin. Those guys held our defense together. They can switch to defend big or small. It didn't matter that Hong Kong played without their head coach (Edu Torres). They played like defending champions."
Torres flew back to Barcelona on a family emergency last Sunday and Spanish assistant coach Fernando Gordo called the shots instead. Torres is expected back in Hong Kong today and will be on the Lions' bench for Game 2 in Santa Rosa on Sunday. "We have to do a better job of getting back on defense, being patient and executing our offense," said Gordo. "The big difference was Balkman scored 46 and our big (Moss) had five. Now, we'll have to win in the Philippines to bring the series back to Hong Kong." Gordo referred to Torres as Catalan and himself as Spanish, making a distinction in reference to the civil rift that has long rocked Spain.
Fil-German ASEAN heritage import Christian Standhardinger almost stole the show from Alab. With Hong Kong down by three, time down to 1:29, Standhardinger blocked Balkman's layup then deflected an Alab inbound to force a turnover that led to a triple by Lee to tie the count. Balkman then went to the line for two free throws to put Alab back on top, 96-94. Lamb misfired on a triple and Brownlee sank two more foul shots to close the scoring. Standhardinger finished with 18 points and 15 rebounds.
Brownlee deferred to Balkman to exploit the mismatch inside against Moss who fouled out with 4:35 remaining in the fourth quarter. He repeatedly found Balkman for easy layups on backdoors and hi-lows as Alab registered more points in the paint, 62-30. But when it came to the closer, Brownlee delivered the free throws to ice it.
The scores
San Miguel Alab Pilipinas 98 – Balkman 46, Parks 23, Brownlee 16, Domingo 6, Javelona 3, Raymundo 2, Hontiveros 2, Urbiztondo 0, Alabanza 0, Celiz 0
Hong Kong Eastern 94 – Lamb 32, Elliott 22, Standhardinger 18, Lee 10, Moss 5, Lau 3, Tang 2
Quarterscores: 14-25; 50-43; 75-62; 98-94