Brisbane mayor confirms Pacquiao vs Horn rematch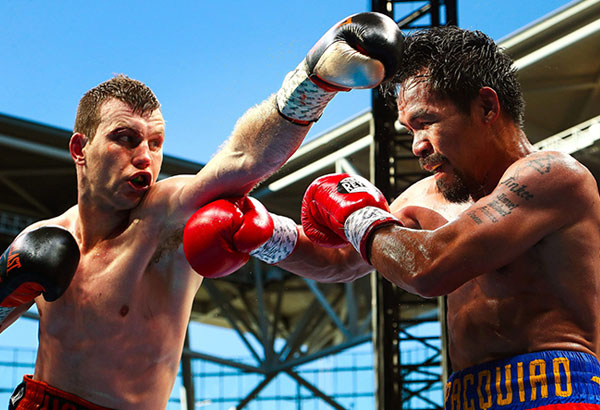 MANILA, Philippines – As far as the city of Brisbane in Australia is concerned, the rematch between Manny Pacquiao and Jeff Horn is a go.
This after Brisbane Lord Mayor Graham Quirk confirmed the other day that they have received word from the camp of Pacquiao saying they'll pursue another bout with the newly crowned WBO welterweight champion.
Brisbane played a key role in the staging of Pacquiao-Horn last July 2 at the 55,000-seat Suncorp Stadium, putting up a significant amount of money to meet Pacquiao's purse demand.
Now, Australia's third-largest city has again secured the rights to host Pacquiao-Horn 2, beating major cities such as Sydney and Melbourne.
"This (rematch) is now confirmed it will happen. I have had a meeting earlier today which has confirmed that Manny Pacquiao will definitely be in Brisbane this year for a rematch with Jeff Horn," Quirk said in a recent report by the Sydney Morning Herald.
Quirk said the rematch relied heavily on Pacquiao, who had a clause in the contract in their first fight granting him the chance to get back at Horn should he lose.
Pacquiao lost to Horn via a unanimous decision to surrender the WBO welterweight belt, and the Filipino earlier said he will exercise the rematch clause in a bid to take the title back.
"It was a matter of Manny Pacquiao deciding whether he wanted to take up that clause in the contract to give a rematch in the event that he lost."
Top Rank Inc chief Bob Arum said last week they are "pretty much there" regarding finalizing Pacquiao-Horn 2. The veteran promoter has reportedly penciled the rematch for November 12.
Quirk, for his part, said they have started working on the fight contract.
"The details around a renewed contract will have to be worked through but given what I have not been advised today through Duco and Top Rank, we are in a position now where Brisbane Marketing will be re-engaged to get involved in the negotiation plan," he added.
"The good news is Manny Pacquiao will definitely be here to fight Jeff Horn this year."