EDITORIAL - Hoarding paracetamol
January 13, 2022 | 12:00am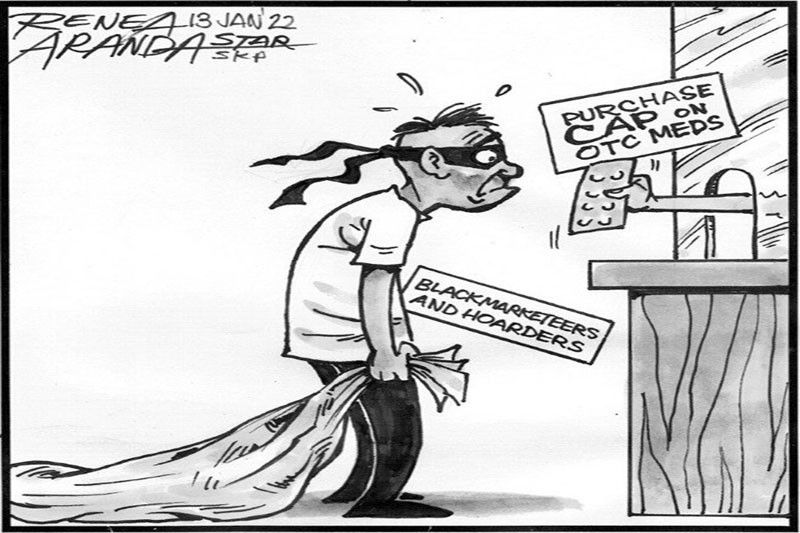 There must be some households with piles of toilet paper still left over from the panic buying and hoarding that marked the early weeks of the pandemic lockdowns in 2020. This was followed by a brief period when supplies of 70 percent alcohol ran out, but it ended quickly as even some manufacturers of alcoholic beverages shifted to the production of antiseptic alcohol and flooded the market.
This time, as a fresh surge believed driven by the Omicron variant sweeps Metro Manila and nearby regions, there are long lines for medications against fever, colds, cough, headache and body ache – symptoms of flu, and possibly COVID. Stocks are slowly being replenished, but due to continuing high demand, the government has imposed limits on the amount of the medications that consumers can buy. For example, each buyer is limited to 20 tablets of paracetamol; per household, the limit is 60.
It's not clear how pharmacists can verify if the purchase is for a household or for individual consumption. A household of 10 can separately send each member to buy 60 tablets each, either to the same pharmacy or to different drugstores; unless the pharmacist is a neighbor, the hoarding will be difficult to find out.
Individual cooperation is the best way to end the hoarding and panic buying. But the government must also address the root cause of the problem: paracetamol and similar medical preparations are being used by many people for self-medication at home instead of consulting doctors and undergoing COVID testing when possible symptoms of coronavirus infection emerge.
While the government is encouraging home isolation to prevent hospitals from being overwhelmed as Omicron drives the latest COVID surge, delaying or forgoing testing altogether could hamper containment of the virus and endanger lives particularly of the immune compromised and other vulnerable persons. But the high cost of reverse transcription-polymerase chain reaction tests is deterring many people from getting tested. Even the cheaper rapid antigen tests are a luxury for many and can be unreliable especially if done without professional supervision.
Beyond imposing a cap on paracetamol purchases, the government must move to make RT-PCR tests as well as telemedicine services more accessible. When COVID strikes, people will want professional help, instead of being forced to rely on trial-and-error self-medication with Biogesic.