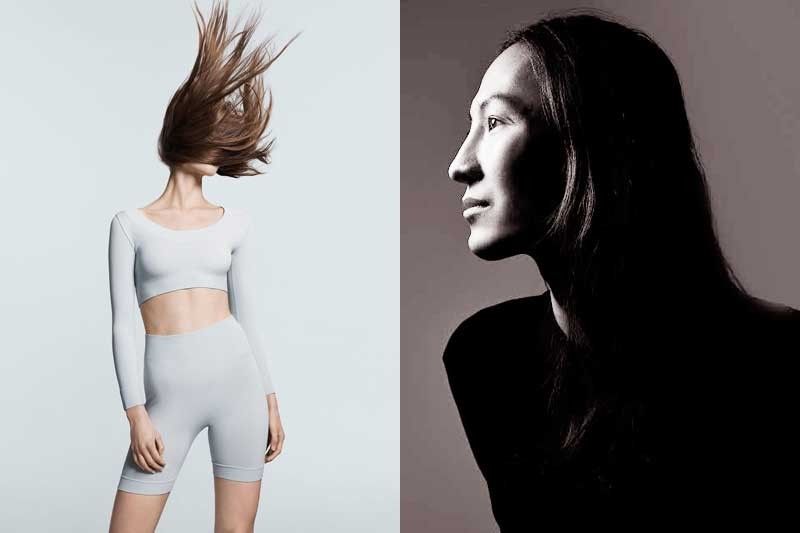 Alexander Wang wants you to wear Uniqlo underwear as outerwear.
The Uniqlo x Alexander Wang collaboration collection is now in stores at a new era in intimates where the fussy and the lacy are being replaced by the essential and the practical. Which is brilliant because, these days, it's simply too hot to wear fussy!
The Japanese apparel retailer's follow-up collab with the American designer continues both brands' narrative of perpetually evolving and re-contextualizing the urban uniform. In this case, it's functional innerwear (last season was all about HeatTech that was too cute to be covered). This spring/summer collection debuts the sheerest ever Airism fabric, developed with Alexander to feel like second skin and designed with his unfussy, athleisurely aesthetic. Comfy and sleek when worn on the inside, outside, you feel like there's a style, an aesthetic that can stand up on its own.
Five of the 10 women's items — the camisoles and slips — feature this new fabric. Another iteration of AIRism in the women's collection is a proprietary, new, seamless type that is designed for both indoor and outdoor use. This new AIRism fabric is supportive but not constrictive and can be experienced in the collab's bras and shorts.
New items for men feature the first-ever cotton blend AIRism fabric as T-shirts and tank tops. The fabric feels smooth and comfortable and is sufficiently thick so these innerwear items can also serve as regular outerwear. The men's boxer briefs and briefs also employ this fabric.
All waistbands are adorned with the Uniqlo and "alexanderwang" logo.
Alexander Wang is one of the most active names in the brand x designer collab movement in fashion and one of the designers who did away with the traditional fashion show style of presentation and instead focused on recreating the mood of his collections in party-like events that are more relevant to his super-hip clientele. The San Francisco native colloborated with Uniqlo only three years after launching his eponymous label in New York City.
Focusing his vision on the creative, he ceded his CEO role to Lisa Gersh in October 2017 and recently, always marching to the beat of his own drum, he's announced a move to the precollections calendar.
YStyle learns more about his collaboration with Uniqlo from the designer himself.
YSTYLE: How was it coming together with Uniqlo this second time around?
ALEXANDER WANG: It was easier coming together this time to accomplish a similar goal from various touch-points. Working with Uniqlo and understanding their various needs is something we had to quickly adapt to. We had to adjust our approach to the project to better understand the needs of the partnership from multiple perspectives. It felt like there was a mutual understanding of not only aesthetics but of each other's work ethic.
Going way back, how did your Uniqlo collaboration come about and what made you say yes?
We first collaborated in 2008 for a capsule collection (featuring five black, white, and grey mini dresses for summertime) and we've stayed in touch over the years. Mr. Yanai (Tadashi, Uniqlo's founder, CEO and president) has always been very supportive and said, "When you have an idea to do something, let's connect."
How do you choose which brands to collaborate with?
We enjoy working with brands that have something to say and have a distinctive point of view.
Uniqlo is now your go-to for everyday essentials like socks and underwear. What was your perception and relationship like with Uniqlo before you collaborated?
At the end of the day, our brand and Uniqlo LifeWear both have the same philosophy: we fully believe in innovative and functional design that creates a style as well as meeting the needs of everyday wear.
Why innerwear?
The idea of mixing innerwear and the technology of the Uniqlo fabric felt like the perfect opportunity to jumpstart a new collaboration. Following the success we saw in the collaboration for Uniqlo Heattech, we proposed taking the complementary strengths of Uniqlo's product features and my design sensibility to the line of AIRism products. I didn't want people to think that this was something that could only be worn under a certain context and so we really wanted to say something new about this concept of LifeWear.
Tell us about this collection. What are the details that we should take note of?
Innovation has always been at the forefront of our design and creative process, and functionality serves a huge purpose in the way I and our customers dress. Therefore, through the influence of innovation, technology and functionality, the special AIRism collection was born.
Beyond the technology of AIRism, our collection is centered around the idea of innerwear as outerwear — essentially, wearing functional pieces that keep you cool on hot summer days while also feeling and looking great.
There are two new AIRism fabrics in this collection: women's ultra-fine nylon that's developed to feel like second skin and the men's performance cotton blend that uses a premium cotton finish with an AIRism interior.