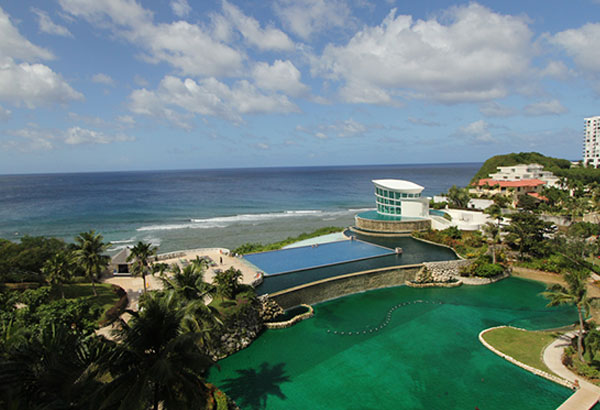 Surf and sky: A direct flight from Manila via Cebu Pacific take you to this bird's eye view of Sheraton Laguna Hotel's pools in Guam.
Jam Pascual
(The Philippine Star) - December 7, 2017 - 4:00pm
MANILA, Philippines — Guam is the kind of place that barely registers as a blip on the radar for most travelers. When you think of American territory, you don't think of this little island three to five hours away from the Philippines, via Cebu Pacific plane ride. When you think of shopping abroad, you think of gargantuan retail meccas like New York City or Ginza. When you think of great beaches, the first instinct is to love local, which is fine; but what a shame it is to limit your options as though each destination you'd normally consider has to fit neatly into a cookie-cutter mold of experience.
But Guam has a lot going on. It's a tropical island bolstered by the power of the American dollar. It has public beaches so pretty you'd assume they were private, and malls and outlet stores so nicely set up you wonder why Philippine cities aren't ever commercialized this neatly. That probably explains why there are so many Filipino residents here, roughly a quarter of the whole island's population. It's America (technically), it's got beautiful beaches, and partly because of a colonial history that shares striking similarities with ours, it feels a lot like home. Why is everybody sleeping on this place?
There are a lot of things to do in Guam, like surfing and learning about the history of the native Chamorros through various tours, which makes it a fantastic place to bring your beach-loving barkada. But allow us to focus on one of the best things you can do there: shopping. Guam is also known as a premier shopping destination, which means excitedly browsing through racks and shelves with your buds in the shared, wild joy of bargain hunting. I remember stepping into an outlet store in Guam for the first time, American simoleons feeling cartoonishly big in my hands, and thinking "Oh my God. This is, like, the ukay for the First World."
We want you to experience that too. We're sure you will find time for beach trips and museum visits, but from our end, here are some tips for attaining the maximum commercial Guam experience.
Rent a car
Part of the fun of getting out of the country for vacation is being exposed to sights you're not used to seeing, and that includes refreshingly clear roads. It's possible for you to use a ride share app, but because the island is so small and many attractions are so close to each other — and because trains aren't a thing there — you're better off renting a car. Buses and shuttles are cool too, but a car makes shopping and getting around a hell of a lot easier, and gives you a chance to bust out that smooth driving playlist you'd usually reserve for SLEX. And yes, they're cool with you using your local driver's license.
Book a hotel room
This shouldn't sound like a weird tip but it kind of does, considering how popular it's become to book an Airbnb. There are a bunch of hotels in Guam that stand near a bay, which means getting a room also means getting a bangin' view of the ocean. We stayed at Sheraton Laguna Hotel which has an infinity pool that overlooks the sea. Truly a boujee sight to behold. It might take a little work convincing your barkada to shell out a little extra, but they'll thank you at the breakfast buffet.
Visit Pale San Vitores Road
Another thing that makes Guam such an interesting island is how the sea is never far from the super urban commercial areas, which means convenient navigation, and the fun of quickly switching from a Saltwater State of Mind to full-on Mall Mode. One of those areas is Pale San Vitores Road, a neat strip of establishments that makes for a great nightlife spot, and also looks like Greenbelt 2's long-lost twin. Go the Plaza for shopping, Churrascuro for super good steaks, or The Sandcastle for Las Vegas-esque magic shows involving tigers.
Prepare for Black Friday
Any time of the year is a great time to visit Guam if you're there for the public beaches, and you're always bound to find a bargain in any of the island's outlet stores. But if you really wanna feel the rush and chaos of discount season, go to Guam on Black Friday. Plan your trip for late November, aka Thanksgiving weekend, and set aside an entire freakin' day to just visit all the outlet stores and go bananas. We shopped at Ross, Macy's and Micronesia Mall — three establishments that, if you look hard enough, hold a bunch of premium items that you can get for less than half the price. But if you miss Black Friday itself, that's cool! The weekend that follows also has outlet stores cleaning out their stocks. A good amount to allocate for shopping is $300 but honestly, you can bring one-third of that and still come home, pasalubong game strong.
Bring huge bags
I made the mistake of bringing a luggage bag only big enough to store what I was already bringing with me. As a result, I ended up coming home with one tiny stroller bag and a crapload of carry-ons in my arms. So you can either bring a huge bag for all your loot, or get a cardboard box (the Filipino way of doing things). Or, you can buy another piece of luggage altogether, if you're really in the mood to financially flex. I saw one guy do that. He came home happy.
* * *
Cebu Pacific flies between Guam and Manila thrice weekly — on Tuesdays, Thursdays and Saturdays. The airline currently has an ongoing promo until Dec. 15 for Guam-to-Manila trips. For every purchase of 40kg baggage allowance, passengers get an additional 25kg for free, granted upon check-in.