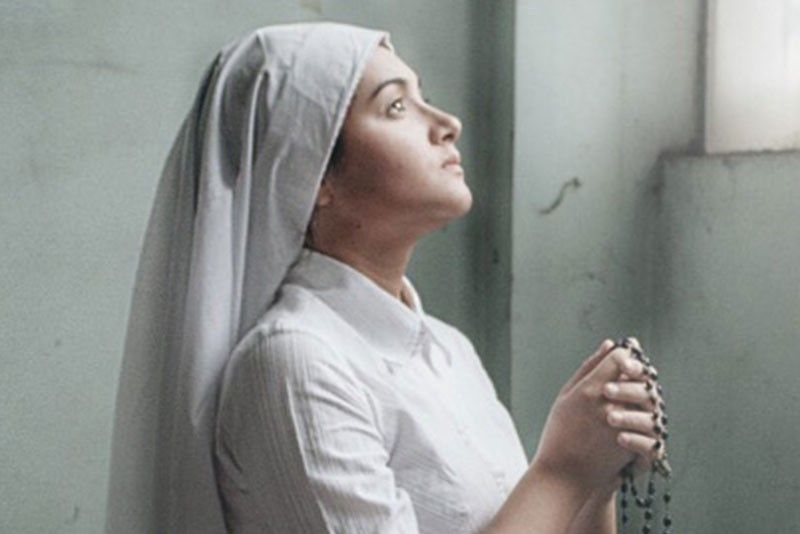 A revelation: young actress Becca Coates kept us on our toes during the entire staging of Agnes of God.
MANILA, Philippines - There is very little comfort in Agnes of God. The set itself is stark — two chairs, a small table, and walls of gray. It has a cast of three; there are no happy songs, and Whoopi Goldberg doesn't show up in the second act. But that discomfort is what keeps you at the edge of your seat throughout, demanding your attention until the very end. And when it does end, you're left with more questions than when you came in.
Agnes of God explores the lives of three women, and fleshes out their equally dark pasts. While they have their own tales of woe, they are tied together by a strange mystery, in which the titular young nun Agnes is accused of conceiving and killing her own baby in the convent. Attempting to draw out the truth is court-appointed psychiatrist Dr. Livingstone, who has her own distrust of religion. The foil to Dr. Livingstone is Mother Superior Miriam Ruth, Agnes' fierce protector and believer that this has been an immaculate conception.
With such intense, character-driven material, Agnes of God risks erring on the tedious side. After all, there is very little to work with beyond the dialogue. But the cast is stellar: Pinky Amador as Mother Miriam Ruth (who originally played Agnes in the '80s) meets Menchu Lauchengco-Yulo's Dr. Livingstone pound for pound. Their exchanges are tense, sometimes even slightly humorous. Their characters come from different sides, so you're torn between who you want to root for — you want both of them to be right. But between two veteran actresses, the true standout of the show is young Becca Coates, who plays the troubled Agnes. We last saw Becca at the Sandbox Collective's staging of Dani Girl, and she has proven her mettle with Agnes. She is the show's greatest enigma, and she switches between pitiful, maddening, and downright scary. In this show, we came for the play, but we ended up rooting for its very dark cast. There is no comfort, but it is full of wonder.
* * *
For updates and show schedules, log on to www.repertoryphilippines.ph, like and follow @repertoryphilippines on Facebook and Instagram, and follow @repphils on Twitter.